Not during the Mobile World Congress but online Huawei announced the Mate Xs. The successor to the Mate X will also have an 8-inch large screen but with a more solid screen and housing, without Google.
From the name you can deduce that the Mate Xs is not really a revolutionary successor but more of an evolutionary one. And that's not at all surprising when you consider that the foldable market is still in full swing and far from crystallised. It still has to find out, so to speak. For the Mate Xs, Huawei focuses on higher durability.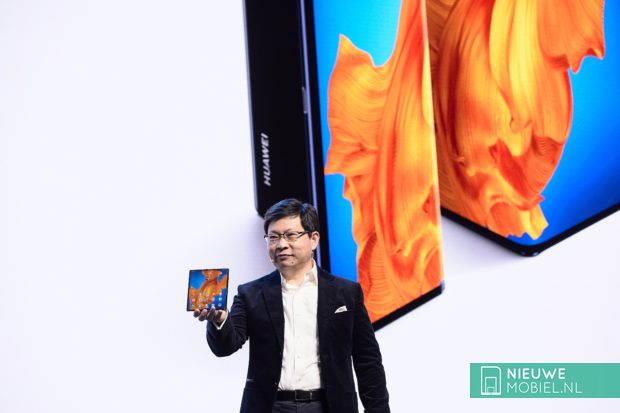 For example, the successor to the Mate X is made of Liquid Metal which is based on Zirconium; a material which is up to 30% stronger than a titanium alloy. The Flexible Display screen is also firmer thanks to an extra layer of polyimide. Huawei does not yet use glass like Samsung. The screen still measures 8 inches folded and is folded 6.38 inches at the back and 6.6 inches at the front. For the cameras, Huawei worked with Leica again. We find a 40 + 16 + 8 megapixel camera for everyday snapshots, ultra-wide-angle lens and telephoto lens. The latter can zoom 3x optically and up to 30x digitally. On top of this comes a ToF sensor for better depth recognition.
HMS Core
This year's battery measures 4500 mAh in capacity, can be charged up to 55W quickly and is even capable of charging your laptop. The Mate Xs runs the renewed EMUI 10 which is based on Android 10. However, you won't find Google apps on it. Huawei is still struggling with the American boycott, so Google is not allowed to provide apps and services. Android is open-source, so it can be used freely. In order to get a workable phone, Huawei made its own HMS Core. It has to replace Google's GMS Core 1-on-1 and has its own application store called AppGallery. Alternatives have been devised for each Google app. Think about maps, navigation and safety. Huawei has set aside money to get developers to port existing Android apps to their own HMS. Apps like Booking, Deezer, Opera and True Caller are already up and running.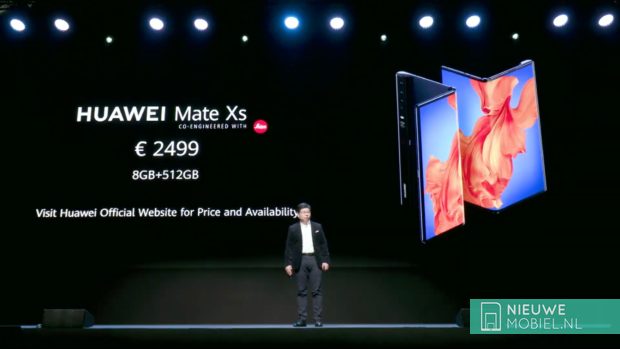 Huawei believes so strongly that HMS Core is a good enough alternative to Google's GMS Core that it simply releases the Huawei Mate Xs worldwide. He is also expected in the Netherlands, for a recommended retail price of €2499. You get the version with 8 GB of internal RAM and 512 GB of storage memory. Expect him in stores from April.