The date was mentioned by almost everyone, except by Samsung itself. Altho it did so unofficially thru Bixby. But now the invitation is send all over the world; August 11 is when the next foldable Samsung Galaxy phones will be announced. "Get ready to unfold".
"More than ever, we need flexible and versatile mobile devices that can keep up with our fast-paced lives and allow us to enjoy every moment to the fullest," the invitation reads. And the accompanying image leaves little to be desired. Wednesday August 11 we will get to see the Fold 3 and Flip 3; Samsung's next generation of foldable phones.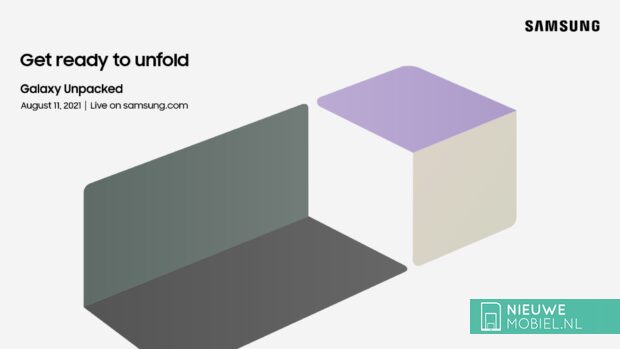 The event can be followed live on 11 August via youtube.com/samsung at 16:00 CEST. Besides two new foldables, the Galaxy Watch 4 series is also expected. This will consist of an Active and Classic version and will be available in two different sizes. And then we conveniently forget the Galaxy Buds 2 which is also expected. So it promises to be one of the busiest Unpacked in a long time.
Bixby hint
The date of August 11th has been mentioned for some time now, thanks in part to leaked reports from Samsung. A South Korean publication managed to get the date out of Samsung in early July. The best hint was revealed not long ago by @UniverseIce. He/she asked Bixby, Samsung's digital assistant, when the launch of the Fold3 would take place. Bixby responded to this in morse with "AUGUST 11". We always like a mysterious answer that turns out to be true.