The Alcatel 1S is a friendly priced entry-level Android phone with rear dual camera plus portrait mode. Speaking about cameras, it has another trick up its sleeve; at the front, next to the selfie camera, there is a selfie flash. What other surprises this 1S has in store for us is something we will discus here
Dual camera
The Alcatel 1S was announced at the MWC in Barcelona in early 2019. It is a new entrant with a 5.5 inch large screen with HD+ resolution that still has a neat screen-to-body ratio of 81.3% thanks to reasonably thin screen edges. That figure says something about how many percent of the front end is screen. Other specifications are a 13 megapixel camera with a second 2 megapixel camera. Together they work in portrait mode in which the background becomes extra out of focus. Very neat for such an entry-level camera. On the front is a 5 megapixel shooter for selfies and face unlocking and inside we find a 3060 mAh battery. It's not that big, but you will probably have to use it for a day.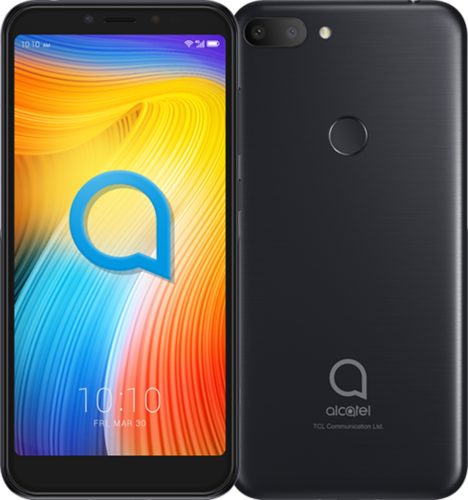 No miracles, but neat
Alcatel has selected a special chipset for the 1s; the SC9863A of the relatively unknown Spreadtrum. Don't expect miracles from this, you won't be able to play on it. What is very neat is that the device runs Android 9.0 Pie and has 32 GB of storage memory. That's another neat feature for the beginner to have. Also neat is the fingerprint scanner on the back. Others still want to cut back on that. Where Alcatel has cut back is in the housing. It looks metal, but it's plastic with a metallic layer of paint on top
Main Alcatel 1S specifications
5.5-inch FullView 18:9 HD+ screen
Fast mobile 4G on the go
Spreadtrum SC9863A processor at 1.6 GHz with 3 GB of RAM memory
Dualsim capability (2x nano-SIM)
13 + 2 megapixel camera + Full HD video recording
Memory car slot (up to 128GB)
Cheapest with double rear camera
All in all, the Alcatel 1S is an excellent entry-level phone, but no more than that. In this price category, you can also shop at Nokia and get a phone with guaranteed Android updates. With this 1S, updates are just the question. As far as we know, this is the cheapest Android smartphone with a double camera on the back. With the competition, you soon pay a few tens more for that.