---
---
Pro and cons Apple iPhone 11
Convenient wide-angle lens
More powerful and faster
New colours
Watertighter than before
No quick charger in the box
---
Apple iPhone 11 with contract
Monthly
Upfront
Duration
Minutes
Texts
Data
£ 14,00
£ 308,99
24 mo
unlimited
unlimited
30GB
View deal
£ 13,00
£ 332,99
24 mo
unlimited
unlimited
10GB
View deal
£ 14,00
£ 311,99
24 mo
unlimited
unlimited
10GB
View deal
£ 15,00
£ 289,99
24 mo
unlimited
unlimited
30GB
View deal
£ 15,00
£ 292,99
24 mo
unlimited
unlimited
10GB
View deal
£ 16,00
£ 270,99
24 mo
unlimited
unlimited
30GB
View deal
£ 17,00
£ 250,99
24 mo
unlimited
unlimited
30GB
View deal
£ 16,00
£ 284,99
24 mo
unlimited
unlimited
50GB
View deal
£ 21,00
£ 169,99
24 mo
unlimited
unlimited
5GB
View deal
£ 18,00
£ 242,99
24 mo
unlimited
unlimited
50GB
View deal
£ 14,00
£ 339,00
24 mo
unlimited
unlimited
100GB
View deal
£ 16,00
£ 294,99
24 mo
unlimited
unlimited
100GB
View deal
£ 15,00
£ 319,99
24 mo
unlimited
unlimited
100GB
View deal
£ 23,00
£ 129,00
24 mo
unlimited
unlimited
100GB
View deal
£ 23,00
£ 129,99
24 mo
unlimited
unlimited
20GB
View deal
£ 19,00
£ 227,99
24 mo
unlimited
unlimited
50GB
View deal
£ 18,00
£ 254,99
24 mo
unlimited
unlimited
unlimited
View deal
£ 17,00
£ 279,00
24 mo
unlimited
unlimited
unlimited
View deal
£ 21,00
£ 184,99
24 mo
unlimited
unlimited
6GB
View deal
£ 19,00
£ 234,99
24 mo
unlimited
unlimited
unlimited
View deal
£ 23,00
£ 139,00
24 mo
unlimited
unlimited
unlimited
View deal
Click here to view all deals
Looking for the lowest prices and best deals. One moment please, it's definitely worth the wait!
---
Price Apple iPhone 11 SIM Free
---
Apple iPhone 11 reviews
| | | |
| --- | --- | --- |
| 5 stars | | 3 reviews |
| 4 stars | | 0 reviews |
| 3 stars | | 0 reviews |
| 2 stars | | 0 reviews |
| 1 star | | 0 reviews |
---
---
Apple iPhone 11 in the news
---
Apple iPhone 11 product description
The Apple iPhone 11 is the captain of the iPhone 11 series and therefore the new entry-level model. That sounds a bit negative because this iPhone 11 certainly has enough to offer. What exactly, what's in it for you and if it might not be better to go for the Pro model you can read here.
Captain with dual camera
With the iPhone 11, Apple is finally creating more clarity in naming. The 11 is the entry level model, the 11 Pro the bigger brother and the 11 Pro Max the bigger brother. Both look the same at first glance; a notch with face release and a borderless Retina screen. The old design with large bars above and below the screen with the large button with fingerprint recognition has been definitively retired. While its predecessor was a colourful mid-range model with some entry-level specifications, this year Apple is taking it much more seriously. For example, the iPhone 11 on the back has a double camera with impressive features.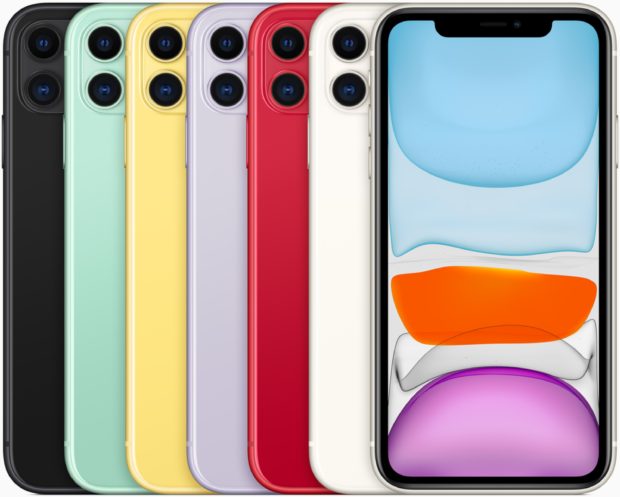 Wide-angle lens and nite mode
For example, the second camera is not used to zoom in but to zoom out. It is in fact a camera with a 120 degree wide-angle lens. This allows you to get more in focus, which is ideal for capturing landscapes. Zooming in is done digitally this year, which is always accompanied by loss of quality. Let the sensor now be 12 megapixels which is enough to zoom in a bit without being noticed. If you want to have a physical zoom camera you have to be at the iPhone 11 Pro. The camera of the iPhone 11 gets even more camera capabilities including a nite mode. With Nite Mode enabled, you still shoot useable photos in low light instead of one black area. Compared to other manufacturers, Apple seems to opt for a more natural nite mode, which results in slightly less exposed photos but appears more natural.
Main Apple iPhone 11 specifications
Borderless Liquid Retina screen of 6.1 inch large
2x 12 megapixel camera with 4K video and 120° wide-angle lens
12 megapixel TrueDepth self shot camera with new portrait exposures
Gigabit fast mobile 4G internet
Support for Dualsim (built-in eSIM)
Waterproof housing, wireless charging
Dolby Atmos support for spatial sound
Apple A13 Bionic
This year's video is shot in up to 4K at 60fps, zoom in then the sound also zooms in and there are new portrait exposures including for pets. Still, the most impressive new feature is one you'll never have to turn on: the next generation Smart HDR. Even before you take a photo, iPhone 11 captures and analyses images. Up to 11 images are merged to perfectly match exposure, detail and colour. You won't notice a thing except that it produces a perfect picture in almost every situation. The new Smart HDR feature is powered by the new A13 Bionic processor. It's so powerful, you'll have a fast iPhone at your fingertips and processing power for camera tricks like this.
More colourful and cheaper
The Apple iPhone 11 is made of two sheets of glass that are so seamless together that it is more waterproof than its predecessor. It has an IP rating of IP68; the same as the iPhone 11 Pro (Max). Yet the iPhone 11 survives 30 minutes at a depth of 2 metres, 2 metres less than the Pro. Strange because the IP rating is the same. Other differences between the Pro and this entry level 11 is the screen. Apple again uses a Liquid Retina LCD which is slightly less colourful than the Super Retina XDR of the Pro. If you are looking for more colour then you really need to be with the iPhone 11. At the time of release a total of 6 different colours are available, compared to 4 of the 11 Pro. If you want to spend a bit less money then you have to be with this 11, because the price difference is a few hundred euros.
---
Apple iPhone 11 specification summary
Dimensions
150,9 x 75,7 x 8,3 mm
Weight
194 gr
EAN code
9509348511588, 9509343919136, 9509333934934, 9509332724178, 9509327445798, 9509322355139, 9509313397513, 9509298925862, 9508819967275, 9508816423293, 9508211995791, 9508211763420, 9508198432838Show 236 others

, 9508192978721, 9508192139627, 9508174666417, 9508174453390, 9508167263135, 9508155458130, 9506657852753, 9506478547753, 9504565321613, 9504551752261, 9503311676731, 9503295645846, 9503294818463, 9502888312424, 9502887951853, 8720195023807, 8720195023791, 8720195023760, 8720195023722, 8720195023715, 8720195023685, 8720195023678, 8720195023647, 8720195023630, 8720195023609, 8720195023593, 8720195022756, 8720195022749, 8720195022732, 8720195022718, 8720195022701, 8720195022695, 8720195022671, 8720195022664, 8720195022657, 8720195022633, 8720195022626, 8720195022619, 8720195022596, 8720195022589, 8720195022572, 8720195022558, 8720195022541, 8720195022534, 8720039733237, 8720039733213, 8720039733206, 8720039733190, 8720039733183, 8720039733176, 8720039733169, 8720039733152, 8720039733145, 7423416299203, 7423416284254, 7423416280270, 7423416280225, 7423416277218, 7423416266267, 7423414381313, 7423414368307, 7423403889851, 7423403887888, 5413729237025, 5413729237018, 5413729237001, 5413729236998, 5413729236981, 5413729236974, 5413729236967, 5413729236950, 0400063416310, 0400063415498, 0400063415474, 0400063414576, 0400063414552, 0400063414545, 0400063414538, 0400063414514, 0400063414507, 0400063414491, 0400063414484, 0400063414460, 0400063414453, 0400063414446, 0400063414422, 0400063414415, 0400063414408, 0400063414392, 0400063414378, 0400063414286, 0400063414262, 0400063413586, 0400063413579, 0400063413562, 0400063413555, 0400063413531, 0400063413524, 0400063413517, 0400063413500, 0400063413494, 0400063413487, 0400063413470, 0400063413463, 0400063413449, 0400063413432, 0400063413425, 0400063413401, 0400063413043, 0400063413036, 0400063413029, 0400063413012, 0400063413005, 0400063412985, 0400063412978, 0400063412961, 0400063412954, 0400063412947, 0400063412930, 0400063412916, 0400063412909, 0400063412893, 0400063412886, 0400063412879, 0400063412794, 0194252102633, 0194252102329, 0194252102015, 0194252101704, 0194252101391, 0194252101087, 0194252100776, 0194252100462, 0194252100158, 0194252099841, 0194252099537, 0194252099223, 0194252098912, 0194252098684, 0194252098608, 0194252098370, 0194252098295, 0194252098066, 0194252097984, 0194252097755, 0194252097670, 0194252097366, 0190199227538, 0190199227439, 0190199227217, 0190199227163, 0190199227064, 0190199226845, 0190199226791, 0190199226692, 0190199226470, 0190199226425, 0190199226326, 0190199226104, 0190199226050, 0190199225954, 0190199225770, 0190199225732, 0190199225688, 0190199225589, 0190199225404, 0190199225367, 0190199225312, 0190199225213, 0190199224940, 0190199224841, 0190199224575, 0190199224476, 0190199224209, 0190199224100, 0190199223929, 0190199223837, 0190199223745, 0190199223738, 0190199223554, 0190199223462, 0190199223363, 0190199223356, 0190199223189, 0190199223097, 0190199222991, 0190199222779, 0190199222724, 0190199222625, 0190199222465, 0190199222403, 0190199222359, 0190199222250, 0190199222038, 0190199221987, 0190199221888, 0190199221703, 0190199221666, 0190199221611, 0190199221512, 0190199221338, 0190199221291, 0190199221246, 0190199221147, 0190199220973, 0190199220966, 0190199220928, 0190199220522, 0190199220515, 0190199220508, 0190199220492, 0190199220485, 0190199220478, 0190199220461, 0190199220454, 0190199220447, 0190199220430, 0190199220423, 0190199220416, 0190199220409, 0190199220393, 0190199220386, 0190199220379, 0190199220362, 0190199220355, 0190199219595, 0190199219267, 0190199218932, 0190199218604, 0190199218277, 0190199217942, 0003000000018, 0003000000001, 0002000000011, 0002000000004, 0001000000021, 0001000000014

iOS
13
Colour display
6.1 inch, Liquid Retina, notch
Camera
12 MP, 12 MP, dual camera sensor
Dirt and waterproof
Front camera
12 MP
Processor
Apple A13 Bionic
Dual SIM
4G (LTE)
Internal memory
128 GB (Storage), 256 GB (Storage), 64 GB (Storage)
Memory card slot
Battery
3110 mAh
Fast charging
Wireless charging
Audio jack plug
---
Apple iPhone 11 alternatives
Scroll the table below to see more
| | | | | | |
| --- | --- | --- | --- | --- | --- |
| | | | | | |
| | | | | | |
| | Current product | | | | |
| iOS | 13 | 14 | | | |
| Colour display | 6.1 inch, Liquid Retina, notch | 6.1 inch, Super Retina XDR, notch | 6.4 inch, Curved Dynamic AMOLED Quad HD+, hole-punch display | 6.55 inch, Fluid AMOLED, hole-punch display | 6.55 inch, Fluid AMOLED, notch |
| Camera | 12 MP, 12 MP, dual camera sensor | 12 MP, 16 MP, dual camera sensor | 12 MP, 12 MP, 16 MP | 16 MP, 2 MP, 48 MP | 12 MP, 16 MP, 48 MP |
| Dirt and waterproof | | | | | |
| Front camera | 12 MP | 12 MP | 10 MP, 8 MP | 16 MP | 16 MP |
| Processor | Apple A13 Bionic | Apple A14 Bionic, hexa core | 1.7 GHz, 2.4 GHz, 2.8 GHz, octa core | 1.8 GHz, 2.42 GHz, 2.84 GHz, Qualcomm Snapdragon 865, octa core | 2.96 GHz, Qualcomm Snapdragon 855+, octa core |
| Dual SIM | | | | | |
| 4G (LTE) | | | | | |
| Internal memory | 128 GB (Storage), 256 GB (Storage), 64 GB (Storage) | 128 GB (Storage), 256 GB (Storage), 64 GB (Storage) | 1 TB (Storage), 128 GB (Storage), 512 GB (Storage) | 128 GB (Storage), 256 GB (Storage) | 128 GB (Storage) |
| Memory card slot | | | | | |
| Battery | 3110 mAh | 2815 mAh | 4100 mAh | 4300 mAh | 3800 mAh |
| Fast charging | | | | | |
| Wireless charging | | | | | |
| Audio jack plug | | | | | |
Complete comparison between the Apple iPhone 11 and these alternatives or compare with other models
---