---
---
Pro and cons iPhone 12 Pro Max
Larger & sturdier screen
Significant camera improvement
Suitable for 5G
MagSafe for iPhone
High price and you don't even get a charger
---
Apple iPhone 12 Pro Max with contract
Monthly
Upfront
Duration
Minutes
Texts
Data
£ 27,00
£ 489,00
24 mo
unlimited
unlimited
100GB
View deal
£ 28,00
£ 484,99
24 mo
unlimited
unlimited
100GB
View deal
£ 29,00
£ 464,99
24 mo
unlimited
unlimited
100GB
View deal
£ 30,00
£ 444,99
24 mo
unlimited
unlimited
100GB
View deal
£ 37,00
£ 279,00
24 mo
unlimited
unlimited
100GB
View deal
£ 32,00
£ 399,99
24 mo
unlimited
unlimited
100GB
View deal
£ 31,00
£ 424,99
24 mo
unlimited
unlimited
100GB
View deal
£ 33,00
£ 379,99
24 mo
unlimited
unlimited
100GB
View deal
£ 35,00
£ 339,99
24 mo
unlimited
unlimited
100GB
View deal
£ 36,00
£ 324,99
24 mo
unlimited
unlimited
100GB
View deal
£ 30,00
£ 469,99
24 mo
unlimited
unlimited
100GB
View deal
£ 29,00
£ 494,99
24 mo
unlimited
unlimited
100GB
View deal
£ 31,00
£ 449,99
24 mo
unlimited
unlimited
100GB
View deal
£ 38,00
£ 284,99
24 mo
unlimited
unlimited
100GB
View deal
£ 32,00
£ 429,99
24 mo
unlimited
unlimited
100GB
View deal
£ 39,00
£ 264,99
24 mo
unlimited
unlimited
100GB
View deal
£ 33,00
£ 409,99
24 mo
unlimited
unlimited
100GB
View deal
£ 34,00
£ 389,99
24 mo
unlimited
unlimited
100GB
View deal
£ 35,00
£ 369,99
24 mo
unlimited
unlimited
100GB
View deal
£ 36,00
£ 349,99
24 mo
unlimited
unlimited
100GB
View deal
£ 37,00
£ 329,99
24 mo
unlimited
unlimited
100GB
View deal
Click here to view all deals
Looking for the lowest prices and best deals. One moment please, it's definitely worth the wait!
---
Price Apple iPhone 12 Pro Max SIM Free
Webshop
Model
Price
Incl. delivery

128 GB Graphite

Refurbished

£ 899,00
£ 899,00
View

Blue

£ 1.092,00
£ 1.092,00
View

Blue

£ 1.099,00
£ 1.099,00
View

Blue

£ 1.099,00
£ 1.099,00
View

128 GB Pacific Blue

£ 1.099,00
£ 1.099,00
View

256 GB Pacific Blue

£ 1.199,00
£ 1.199,00
View

256 GB Pacific Blue

£ 1.199,00
£ 1.199,00
View
£ 1.221,11
£ 1.221,11
View
---
Apple iPhone 12 Pro Max reviews
| | | |
| --- | --- | --- |
| 5 stars | | 1 review |
| 4 stars | | 0 reviews |
| 3 stars | | 0 reviews |
| 2 stars | | 0 reviews |
| 1 star | | 0 reviews |
---
---
Apple iPhone 12 Pro Max in the news
---
Apple iPhone 12 Pro Max product description
The Apple iPhone 12 Pro Max is Apple's top model for 2020/2021. It has the most extensive specifications, the best materials and is also the largest iPhone that Apple sells. If money is no issue then this is your next new mobile.
A little bit more please?
Of course we're a bit laughable about it but the fact is that with a starting price of 1379 the iPhone 12 Pro Max is not a cheap phone. Luckily you now get 128GB of storage in return instead of last year's scandalous 64GB. The design will be overhauled this year. The notch is still present but the screen edges are a little smaller and the screen a little bigger. This combination ensures that the device does not differ much from the 11 Pro Max. The screen doesn't differ much, it can be a bit brighter and still supports HDR video. However, it will be better protected this year. Together with Corning, known from Gorilla Glass, Apple has equipped the iPhone 12 Pro Max with what they call 'Ceramic Shield'. According to Apple, this is the sturdiest glass on a smartphone that is 4x more resistant to drops.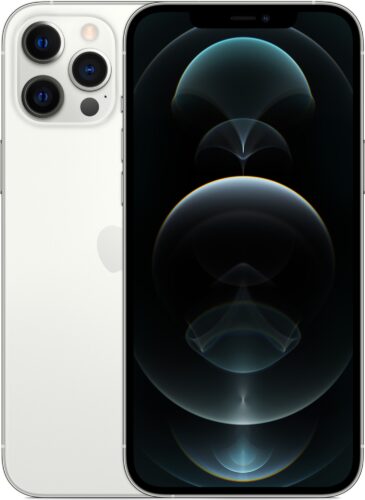 It's all about the 5G
If the iPhone 12 is still made of an aluminium side, the 12 Pro and this Max have a firmer and more premium stainless steel side. This looks glossy and immediately distinguishes it from the regular iPhone 12 people. Of course, the 12 Pro Max is all about seeing and being seen. The case is still IP68 waterproof. New is the 5G support. This may not be a good idea at the time of release, but it might be different about 3 years. And let people do more and more with their phone. Then you don't have to buy a new iPhone if 5G is totally hip and happening.
Main Apple iPhone 12 Pro Max specifications
6.7 inch Super Retina XDR screen with Ceramic Shield protection
12+12+12MP camera with 120° wide angle, 2.5x optical zoom, Smart HDR 3 and Nite mode
Apple A14 Bionic with 6GB of RAM memory and choice of 128, 256 or 512GB storage
Waterproof IP68 body from stainless steel
5G support but thanks to Smart Data mode automatically switches back to 4G to save battery
Faster wireless charging with MagSafe and possibility for new accessories
Sensor shift stabilisation and LiDAR
The iPhone 12 Pro Max is not only Apple's largest iPhone model, it also has most of the camera features. What's new this year is the more light-sensitive camera that benefits you especially in the evening. Optical zooming is possible up to 2.5x where the regular 12 Pro goes up to a maximum of 2. Another difference between this Pro Max and the Pro is the way of optical image stabilisation. Instead of moving the heavy lens to compensate for unintended shocks, the much lighter sensor is now moved. Apple borrows this technique from the DSLR market and it produces much less shaky photos and videos. On the back is now also a LiDAR scanner with which your iPhone can detect depth. This is not so much used to shoot better pictures, but is intended for AR applications and games. All in all, nice jumps on camera that together mean a big step forward.
One More Thing: MagSafe
And then there's One More Thing. Hidden from the eye but on the back of the iPhone there are several magnets that should make a whole new kind of ecosystem of accessories possible. In the first place for Apple's own MagSafe charger. The old technology of laptops is dusted off and comes back in the form of its own wireless charger. It charges up to 15 watts and automatically clicks into place. There will also be MagSafe protective covers to which the charger can be attached. The MagSafe accessories are therefore stackable. Expect more of these types of new applications in the future. It should get us ready for a portless iPhone. And to get you used to it, there's no more charger in the box. You can use last year's charger. Altho the included USB C to Lightning cable won't fit.
---
Apple iPhone 12 Pro Max specification summary
Dimensions
160,8 x 78,1 x 7,4 mm
Weight
228 gr
EAN code
7423414547559, 7423414538564, 7423414535594, 7423401962921, 7423401959990, 7423401958900, 7423401956951, 7423401953912, 7423401943937, 5413729237629, 5413729237612, 5413729237605, 5413729237599Show 55 others

, 5413729237575, 5413729237568, 5413729237490, 5413729237483, 0194252093405, 0194252093399, 0194252093382, 0194252093375, 0194252093368, 0194252093351, 0194252093344, 0194252093337, 0194252093320, 0194252093313, 0194252093306, 0194252093290, 0194252024942, 0194252024850, 0194252024652, 0194252024607, 0194252024515, 0194252024317, 0194252024263, 0194252024171, 0194252023976, 0194252023921, 0194252023839, 0194252023631, 0194252023587, 0194252023495, 0194252023297, 0194252023242, 0194252023150, 0194252023013, 0194252022955, 0194252022900, 0194252022818, 0194252022610, 0194252022566, 0194252022474, 0194252022276, 0194252022221, 0194252022139, 0194252021934, 0194252021880, 0194252021798, 0194252021590, 0194252021545, 0194252021453, 0194252021200, 0194252021118, 0194252020913, 0194252019641, 0194252019047, 0194252018743, 0000000014052

iOS
14
Colour display
6.7 inch, Super Retina XDR, notch
Camera
12 MP, 12 MP, 12 MP
Dirt and waterproof
Front camera
12 MP
Processor
Apple A14 Bionic, hexa core
Dual SIM
4G (LTE)
5G
Internal memory
128 GB (Storage), 256 GB (Storage), 512 GB (Storage)
Memory card slot
Battery
3687 mAh
Fast charging
Wireless charging
Audio jack plug
---
Video about the Apple iPhone 12 Pro Max
See in 51 seconds what Apple announced in October 2020 including this iPhone 12 Pro Max.
---
Apple iPhone 12 Pro Max alternatives
Scroll the table below to see more
| | | | | | |
| --- | --- | --- | --- | --- | --- |
| | | | | | |
| | | | | | |
| | Current product | | | | |
| iOS | 14 | 13 | | | |
| Colour display | 6.7 inch, Super Retina XDR, notch | 6.5 inch, Super Retina XDR, notch | 6.8 inch, Dynamic AMOLED Infinity-O Display | 6.78 inch, Fluid AMOLED, hole-punch display | 6.9 inch, Dynamic AMOLED Infinity-O Display |
| Camera | 12 MP, 12 MP, 12 MP | 12 MP, 12 MP, 12 MP | 12 MP, 12 MP, 16 MP, VGA camera | 48 MP, 48 MP, 5 MP, 8 MP | 108 MP, 12 MP, 12 MP |
| Dirt and waterproof | | | | | |
| Front camera | 12 MP | 12 MP | 10 MP | 16 MP | 10 MP |
| Processor | Apple A14 Bionic, hexa core | Apple A13 Bionic | Octa core | 1.8 GHz, 2.42 GHz, 2.84 GHz, Qualcomm Snapdragon 865, octa core | 2.0 GHz, 2.5 GHz, 2.7 GHz, Samsung Exynos 990, octa core |
| Dual SIM | | | | | |
| 4G (LTE) | | | | | |
| 5G | | | | | |
| Internal memory | 128 GB (Storage), 256 GB (Storage), 512 GB (Storage) | 256 GB (Storage), 512 GB (Storage), 64 GB (Storage) | 256 GB (Storage), 512 GB (Storage) | 128 GB (Storage), 256 GB (Storage) | 128 GB (Storage), 256 GB (Storage), 512 GB (Storage) |
| Memory card slot | | | | | |
| Battery | 3687 mAh | 3500 mAh | 4300 mAh | 4510 mAh | 4500 mAh |
| Fast charging | | | | | |
| Wireless charging | | | | | |
| Audio jack plug | | | | | |
Complete comparison between the Apple iPhone 12 Pro Max and these alternatives or compare with other models
---
FAQs about the Apple 12 Pro Max