---
---
Pro and cons iPhone 12 mini
Compact high-end iPhone
Duo camera with nite mode
Sharp Retina XDR screen
5G, 4G & 3G support
---
Apple iPhone 12 mini with contract
Monthly
Upfront
Duration
Minutes
Texts
Data
£ 17,00
£ 279,00
24 mo
unlimited
unlimited
unlimited
View deal
£ 21,00
£ 199,00
24 mo
unlimited
unlimited
unlimited
View deal
£ 21,00
£ 199,99
24 mo
unlimited
unlimited
100GB
View deal
£ 24,00
£ 133,99
24 mo
unlimited
unlimited
100GB
View deal
£ 24,00
£ 134,00
24 mo
unlimited
unlimited
unlimited
View deal
£ 24,00
£ 135,00
24 mo
unlimited
unlimited
100GB
View deal
£ 24,00
£ 139,99
24 mo
unlimited
unlimited
unlimited
View deal
£ 28,00
£ 49,00
24 mo
unlimited
unlimited
unlimited
View deal
£ 26,00
£ 99,99
24 mo
unlimited
unlimited
100GB
View deal
£ 14,00
£ 399,99
24 mo
unlimited
unlimited
100GB
View deal
£ 15,00
£ 379,99
24 mo
unlimited
unlimited
100GB
View deal
£ 29,00
£ 44,00
24 mo
unlimited
unlimited
unlimited
View deal
£ 29,00
£ 44,99
24 mo
unlimited
unlimited
100GB
View deal
£ 29,00
£ 45,00
24 mo
unlimited
unlimited
unlimited
View deal
£ 16,00
£ 359,99
24 mo
unlimited
unlimited
100GB
View deal
£ 31,00
£ 0,00
24 mo
unlimited
unlimited
unlimited
View deal
£ 18,00
£ 314,99
24 mo
unlimited
unlimited
100GB
View deal
£ 17,00
£ 339,99
24 mo
unlimited
unlimited
100GB
View deal
£ 30,00
£ 29,99
24 mo
unlimited
unlimited
unlimited
View deal
£ 19,00
£ 294,99
24 mo
unlimited
unlimited
100GB
View deal
£ 16,00
£ 369,99
24 mo
unlimited
unlimited
100GB
View deal
Click here to view all deals
Looking for the lowest prices and best deals. One moment please, it's definitely worth the wait!
---
Price Apple iPhone 12 mini SIM Free
---
Apple iPhone 12 mini reviews
| | | |
| --- | --- | --- |
| 5 stars | | 0 reviews |
| 4 stars | | 1 review |
| 3 stars | | 0 reviews |
| 2 stars | | 0 reviews |
| 1 star | | 0 reviews |
---
---
Apple iPhone 12 mini in the news
---
Apple iPhone 12 mini product description
With its 5.4-inch screen, the Apple iPhone 12 mini is an incredibly compact iPhone. With this, Apple finally has another small iPhone in its line-up and it is the ideal phone for those who had difficulty with the ever growing iPhones of recent times.
Smaller, not less
For years there were rumours that Apple would work on a smaller iPhone and to be honest we had a hard head that he would ever come but he is finally there! The iPhone 12 mini still has a 5.4 inch screen but because of the thin screen edges it's no bigger than an iPhone 8. Also good news; despite its mini size you still get the maximum Apple has to offer today. It contains the same powerful chipset, the same high resolution and clear OLED screen and the same cameras as the larger iPhone 12. Even the new MagSafe isn't missing.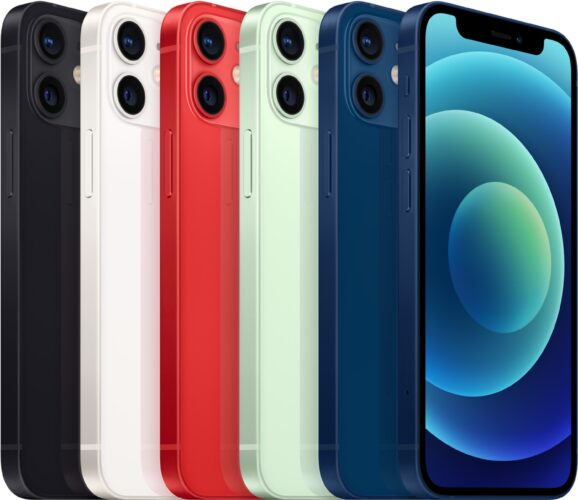 Hello speed
With its compact glass and aluminium casing, the iPhone 12 mini is even the smallest 5G phone in the world. This gives you a phone in your hands with which you will soon be able to surf the internet via 5G mobile. The advantages of 5G are faster download speeds, a lower latency so you can also play online and upload faster. Useful for streaming high resolution movies and uploading 4K video. The iPhone 12 mini automatically switches back to 4G to save battery power but switches back as soon as you need more speed. That speed is also guaranteed by the A14 Bionic processor. It's 50% more powerful than before, making it remotely the fastest processor in a mobile phone today.
Main Apple iPhone 12 mini specifications
5.4 inch Super Retina XDR Display with Ceramic Shield front
Duo 12+16 MP camera with 120° wide-angle lens and Nite Mode
12MP selfie camera with f/2.2 lens and Face ID facial recognition
Powerful A14 Bionic processor with choice of 64, 128 or 256 GB storage
Waterproof IP68 housing made of glass and aluminium
Built-in stereo speakers
Dual camera, fast wireless charging
On the back of the iPhone 12 mini we find 2 cameras; a 12MP camera with improved light sensitivity and a 16MP ultra-wide-angle for wide shots. Ideal for landscapes or when you want to stand further back with no room for that. The nite mode has been improved and now works just like all other iPhone 12 models with the selfie camera. Shoot video in Dolby Vision to capture more colours. Playback is on-screen Super Retina XDR, just like high-end iPhones. The same goes for the presence of MagSafe. This type of wireless charger clicks into place on the back and charges 2x faster than you're used to. Unfortunately it's not in the box so you'll have to buy it separately. Unfortunately, the same goes for the regular charger that Apple is not using this year.
---
Apple iPhone 12 mini specification summary
Dimensions
131,5 x 64,2 x 7,4 mm
Weight
135 gr
EAN code
8720663170026, 8720663170019, 8720195025962, 8720195025931, 8720195025924, 8720195025894, 8720195025887, 8720195025856, 8720195025849, 8720195025818, 8720195025801, 8592978316815, 8592978316808Show 114 others

, 8592978316792, 8592978316785, 8592978316778, 8592978316761, 7423414564532, 7423414562576, 7423414561548, 7423407286274, 7423407265248, 7423407263299, 7423407261295, 7423401942923, 7423401936960, 7423401934928, 7423401930944, 7423401929993, 7423401928941, 5413729239074, 5413729239067, 5413729237476, 5413729237469, 5413729237452, 5413729237445, 5413729237438, 5413729237421, 5413729237414, 5413729237407, 5413729237391, 5413729237384, 5413729237377, 5413729237360, 5413729237353, 5413729237346, 5413729237339, 0194252432549, 0194252432440, 0194252432327, 0194252432273, 0194252432242, 0194252432143, 0194252432020, 0194252431979, 0194252431948, 0194252431849, 0194252431726, 0194252431672, 0194252122020, 0194252122013, 0194252122006, 0194252121993, 0194252121986, 0194252121979, 0194252121962, 0194252121955, 0194252121948, 0194252121931, 0194252121924, 0194252121917, 0194252121900, 0194252121894, 0194252017975, 0194252017883, 0194252017685, 0194252017630, 0194252017548, 0194252017340, 0194252017296, 0194252017203, 0194252017043, 0194252017005, 0194252016954, 0194252016862, 0194252016664, 0194252016619, 0194252016527, 0194252016398, 0194252016367, 0194252016329, 0194252016275, 0194252016183, 0194252016022, 0194252015988, 0194252015933, 0194252015841, 0194252015711, 0194252015643, 0194252015599, 0194252015506, 0194252015308, 0194252015254, 0194252015162, 0194252014967, 0194252014912, 0194252014820, 0194252014622, 0194252014578, 0194252014486, 0194252014325, 0194252014288, 0194252014233, 0194252014141, 0194252013946, 0194252013892, 0194252013809, 0194252013601, 0194252013557, 0194252013465, 0194252013267, 0194252013212, 0194252013120, 0194252012925, 0194252011508, 0194252010907, 0194252010600, 0194252010303

iOS
14
Colour display
5.4 inch, Super Retina XDR, notch
Camera
12 MP, 16 MP, dual camera sensor
Dirt and waterproof
Front camera
12 MP
Processor
Apple A14 Bionic, hexa core
Dual SIM
4G (LTE)
5G
Internal memory
128 GB (Storage), 256 GB (Storage), 64 GB (Storage)
Memory card slot
Battery
2227 mAh
Fast charging
Wireless charging
Audio jack plug
---
Apple iPhone 12 mini alternatives
Scroll the table below to see more
| | | | |
| --- | --- | --- | --- |
| | | | |
| | | | |
| | Current product | | |
| iOS | 14 | 15 | |
| Colour display | 5.4 inch, Super Retina XDR, notch | 5.4 inch, Super Retina XDR, notch | 5.7 inch, IPS |
| Camera | 12 MP, 16 MP, dual camera sensor | 12 MP, 12 MP, dual camera sensor | 12 MP |
| Dirt and waterproof | | | |
| Front camera | 12 MP | 12 MP | 8 MP |
| Processor | Apple A14 Bionic, hexa core | Apple A15 Bionic, hexa core | 2.0 GHz, Qualcomm Snapdragon 660, octa core |
| Dual SIM | | | |
| 4G (LTE) | | | |
| 5G | | | |
| Internal memory | 128 GB (Storage), 256 GB (Storage), 64 GB (Storage) | 128 GB (Storage), 256 GB (Storage), 512 GB (Storage) | 128 GB (Storage) |
| Memory card slot | | | |
| Battery | 2227 mAh | 2438 mAh | 4000 mAh |
| Fast charging | | | |
| Wireless charging | | | |
| Audio jack plug | | | |
Complete comparison between the Apple iPhone 12 mini and these alternatives or compare with other models
---
FAQs about the Apple 12 mini