---
---
Pro and cons Apple iPhone 13 Pro
Fast 120Hz display
More sensitive cameras
Up to 1TB of storage
2.5 hours longer battery life
---
Apple iPhone 13 Pro with contract
Monthly
Upfront
Duration
Minutes
Texts
Data
£ 32,00
£ 409,99
24 mo
unlimited
unlimited
100GB
View deal
£ 30,00
£ 459,99
24 mo
unlimited
unlimited
20GB
View deal
£ 39,00
£ 249,00
24 mo
unlimited
unlimited
100GB
View deal
£ 29,00
£ 494,00
24 mo
unlimited
unlimited
100GB
View deal
£ 30,00
£ 472,99
24 mo
unlimited
unlimited
100GB
View deal
£ 30,00
£ 474,99
24 mo
unlimited
unlimited
100GB
View deal
£ 31,00
£ 454,99
24 mo
unlimited
unlimited
100GB
View deal
£ 31,00
£ 455,99
24 mo
unlimited
unlimited
25GB
View deal
£ 30,00
£ 479,99
24 mo
unlimited
unlimited
100GB
View deal
£ 33,00
£ 409,99
24 mo
unlimited
unlimited
100GB
View deal
£ 32,00
£ 434,99
24 mo
unlimited
unlimited
100GB
View deal
£ 39,00
£ 269,00
24 mo
unlimited
unlimited
100GB
View deal
£ 33,00
£ 414,99
24 mo
unlimited
unlimited
100GB
View deal
£ 35,00
£ 369,99
24 mo
unlimited
unlimited
100GB
View deal
£ 35,00
£ 369,99
24 mo
unlimited
unlimited
100GB
View deal
£ 30,00
£ 489,99
24 mo
unlimited
unlimited
6GB
View deal
£ 34,00
£ 394,99
24 mo
unlimited
unlimited
100GB
View deal
£ 32,00
£ 444,99
24 mo
unlimited
unlimited
100GB
View deal
£ 36,00
£ 349,99
24 mo
unlimited
unlimited
100GB
View deal
£ 35,00
£ 374,99
24 mo
unlimited
unlimited
100GB
View deal
£ 39,00
£ 279,00
24 mo
unlimited
unlimited
100GB
View deal
Click here to view all deals
Looking for the lowest prices and best deals. One moment please, it's definitely worth the wait!
---
Price Apple iPhone 13 Pro SIM Free
---
Apple iPhone 13 Pro reviews
| | | |
| --- | --- | --- |
| 5 stars | | 1 review |
| 4 stars | | 0 reviews |
| 3 stars | | 0 reviews |
| 2 stars | | 0 reviews |
| 1 star | | 0 reviews |
---
---
Apple iPhone 13 Pro in the news
---
Apple iPhone 13 Pro product description
The Apple iPhone 13 Pro is the entry-level Pro model for 2021/2022 and is the first iPhone with a high refresh rate. Once experienced, you'll never want anything else. What you also get is a pro-worthy camera system but one that needs some explanation. And that's exactly what we're going to do here.
First iPhone with ProMotion
A 6.1 inch screen. Just as big as the iPhone 13. And yet they look nothing alike. That's because this iPhone 13 Pro features a Super Retina XDR display with ProMotion. This is the first time we've seen ProMotion on an iPhone, finally. This allows the screen to switch refresh rates. Normally it's stuck at 60Hz (60x per second) but during fast animations you'd prefer it to be higher. The 13 Pro can scale up to 120Hz and scale back to 10Hz when the screen doesn't detect motion. All this makes for smooth-looking animations without putting extra strain on the battery. And just like with Retina displays, you'll never want to leave.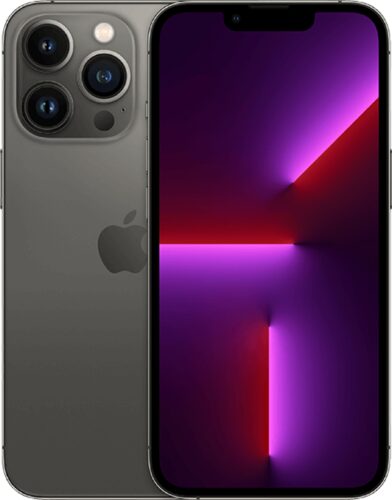 Camera a little more professional
The look of the iPhone 13 Pro is virtually unchanged. A glossy side made of stainless surgical steel, a front made of Ceramic Shield and a back available in 4 new colours including the all-new Sierra Blue. All of this is still IP68 waterproof. There is still a notch on the front altho it is a bit narrower this year. Bigger are the differences in the camera. Altho you can hardly tell from the specifications. The telephoto lens can zoom in further (up to 3x), the ultra wide angle is much more sensitive to light and the main wide angle now has Sensor-Shift image stabilisation. New is the ability to take macro photos. This allows you to take sharp pictures from 2cm up, for example of flowers or insects. Nite mode has also been improved thanks to the 2.2x more light-sensitive ultra-wide-angle camera. Furthermore, a video mode has been added: Cinematic Mode. With this mode you can shoot cinema-like movies without any post-processing.
Main Apple iPhone 13 Pro Specifications
6.1 inch Super Retina XDR display with smooth 120Hz ProMotion
3x12MP camera with 120° ultra wide angle, 3x telephoto zoom and 4K video
12MP TrueDepth camera with portrait exposure, nite mode and 4K video
Apple A15 Bionic processor with 5-core GPU
Waterproof IP68 case with Ceramic Shield
2.5 hours longer battery life than last year's model
5G support for extra-fast mobile internet
A little more
Inside the iPhone 13 Pro, we find the A15 Bionic processor. This is just a bit more powerful and makes all the new camera features possible. Especially the graphics performance is more powerful thanks to a 5-core GPU. That's one core more than iPhone 13. Where the iPhone 13 Pro also has more of is battery life. Compared to its predecessor, you get up to 2.5 hours more out of the battery. That's partly due to all the optimisations, but also due to the application of a larger battery. Charging it goes as usual. Wired via Lightning with up to 20W (charger sold separately), or wirelessly via MagSafe (15W) or the universal Qi (max 7.5W). New this year is the version with 1TB storage. That should be enough for everyone, right?
---
Apple iPhone 13 Pro specification summary
Dimensions
146,7 x 71,5 x 7,65 mm
Weight
203 gr
Product code
A2638
EAN code
0194252719664, 0194252719589, 0194252719428, 0194252719398, 0194252719312, 0194252719121, 0194252719046, 0194252718858, 0194252718773, 0194252718612, 0194252718582, 0194252718506, 0194252718391Show 29 others

, 0194252718315, 0194252718230, 0194252718049, 0194252717967, 0194252717806, 0194252717776, 0194252717691, 0194252717509, 0194252717424, 0194252717264, 0194252717233, 0194252717158, 0194252717042, 0194252716960, 0194252716885, 0194252716694, 0194252716618, 0194252716427, 0194252716342, 0194252716236, 0194252716182, 0194252716151, 0194252716076, 0194252715963, 0194252715918, 0194252715888, 0194252715802, 0194252715611, 0194252715536, 0194252715376

iOS
15
Colour display
6.1 inch, Super Retina XDR, notch
Camera
12 MP, 12 MP, 12 MP
Dirt and waterproof
Front camera
12 MP
Processor
Apple A15 Bionic, hexa core
Dual SIM
4G (LTE)
5G
Internal memory
1 TB (Storage), 128 GB (Storage), 256 GB (Storage), 512 GB (Storage)
Memory card slot
Battery
3125 mAh
Fast charging
Wireless charging
Audio jack plug
---
Videos about the Apple iPhone 13 Pro
Always wanted to make an award-winning movie? Let Oscar-winner Kathryn Bigelow explain how to use the Apple iPhone 13 Pro to do just that
The Pro camera in the Apple iPhone 13 Pro makes it feel like having Hollywood in your pocket.
A faster processor, a premium display, and the biggest update to the camera system ever! That in a nutshell is the Apple iPhone 13 Pro. But judge for yourself
---
Apple iPhone 13 Pro alternatives
Scroll the table below to see more
| | | | | | |
| --- | --- | --- | --- | --- | --- |
| | | | | | |
| | | | | | |
| | Current product | | | | |
| iOS | 15 | 14 | | | |
| Colour display | 6.1 inch, Super Retina XDR, notch | 6.1 inch, Super Retina XDR, notch | 6.2 inch, Infinity-O Display, hole-punch display | 6.58 inch, OLED, hole-punch display | 6.41 inch, Optic AMOLED, notch |
| Camera | 12 MP, 12 MP, 12 MP | 12 MP, 12 MP, 12 MP | 12 MP, 12 MP, 64 MP | 12 MP, 40 MP, 50 MP | 48 MP, 5 MP, dual camera sensor |
| Dirt and waterproof | | | | | |
| Front camera | 12 MP | 12 MP | 10 MP | 32 MP | 16 MP |
| Processor | Apple A15 Bionic, hexa core | Apple A14 Bionic, hexa core | 2.4 GHz, 2.8 GHz, 2.9 GHz, Samsung Exynos 2100, octa core | 1.95 GHz, 2.36 GHz, 2.86 GHz, octa core | 2.84 GHz, Qualcomm Snapdragon 855, octa core |
| Dual SIM | | | | | |
| 4G (LTE) | | | | | |
| 5G | | | | | |
| Internal memory | 1 TB (Storage), 128 GB (Storage), 256 GB (Storage), 512 GB (Storage) | 128 GB (Storage), 256 GB (Storage), 512 GB (Storage) | 128 GB (Storage), 256 GB (Storage) | 256 GB (Storage) | 128 GB (Storage), 256 GB (Storage) |
| Memory card slot | | | | | |
| Battery | 3125 mAh | 2815 mAh | 4000 mAh | 4200 mAh | 3700 mAh |
| Fast charging | | | | | |
| Wireless charging | | | | | |
| Audio jack plug | | | | | |
Complete comparison between the Apple iPhone 13 Pro and these alternatives or compare with other models
---
FAQs about the Apple 13 Pro