---
---
Pro and cons iPhone 13 Pro Max
120Hz ProMotion display
2.5 hours longer battery life
Even more professional camera
Version with 1TB storage
A notch nowadays is no longer acceptable for a flagship
---
Apple iPhone 13 Pro Max with contract
Monthly
Upfront
Duration
Minutes
Texts
Data
£ 39,00
£ 349,00
24 mo
unlimited
unlimited
100GB
View deal
£ 34,00
£ 481,00
24 mo
unlimited
unlimited
100GB
View deal
£ 35,00
£ 464,99
24 mo
unlimited
unlimited
100GB
View deal
£ 36,00
£ 449,99
24 mo
unlimited
unlimited
100GB
View deal
£ 37,00
£ 429,99
24 mo
unlimited
unlimited
100GB
View deal
£ 38,00
£ 409,99
24 mo
unlimited
unlimited
100GB
View deal
£ 35,00
£ 484,99
24 mo
unlimited
unlimited
100GB
View deal
£ 39,00
£ 389,99
24 mo
unlimited
unlimited
100GB
View deal
£ 35,00
£ 489,99
24 mo
unlimited
unlimited
100GB
View deal
£ 39,00
£ 394,99
24 mo
unlimited
unlimited
100GB
View deal
£ 36,00
£ 469,99
24 mo
unlimited
unlimited
50GB
View deal
£ 40,00
£ 374,99
24 mo
unlimited
unlimited
100GB
View deal
£ 36,00
£ 474,99
24 mo
unlimited
unlimited
50GB
View deal
£ 38,00
£ 435,99
24 mo
unlimited
unlimited
50GB
View deal
£ 40,00
£ 389,99
24 mo
unlimited
unlimited
unlimited
View deal
£ 38,00
£ 439,99
24 mo
unlimited
unlimited
50GB
View deal
£ 39,00
£ 416,99
24 mo
unlimited
unlimited
100GB
View deal
£ 36,00
£ 494,99
24 mo
unlimited
unlimited
5GB
View deal
£ 38,00
£ 449,99
24 mo
unlimited
unlimited
40GB
View deal
£ 37,00
£ 478,99
24 mo
unlimited
unlimited
100GB
View deal
£ 37,00
£ 481,00
24 mo
unlimited
unlimited
unlimited
View deal
Click here to view all deals
Looking for the lowest prices and best deals. One moment please, it's definitely worth the wait!
---
Price Apple iPhone 13 Pro Max SIM Free
---
Apple iPhone 13 Pro Max reviews
| | | |
| --- | --- | --- |
| 5 stars | | 2 reviews |
| 4 stars | | 0 reviews |
| 3 stars | | 0 reviews |
| 2 stars | | 0 reviews |
| 1 star | | 0 reviews |
---
---
Apple iPhone 13 Pro Max in the news
---
Apple iPhone 13 Pro Max product description
The Apple iPhone 13 Pro Max is the largest model in the iPhone 13 family. It's no longer the most comprehensive model this year as the differences with the smaller 13 Pro have largely disappeared. But that's not to say there's no progress. What exactly and what you get out of it we explain to you here.
Less difference, more movement
Last year, Apple tried to add some distinction between the entry-level Pro and larger Pro Max. Think further zoom and the presence of Sensor-shift image stabilisation. Those differences have been straightened out this year, so you'll find them on the smaller Pro as well. The choice to go for this 13 Pro Max mainly comes down to whether you want a larger screen with a larger battery. That makes choosing a lot easier. Completely new this year is the display. For the first time on an iPhone, we find ProMotion here. Something that some iPads already had. The 6.7-inch Super Retina XDR screen with ProMotion can switch the refresh rate between 10 and 120 Hz. Depending on how much motion there is. This delivers much smoother animations and it also saves battery life.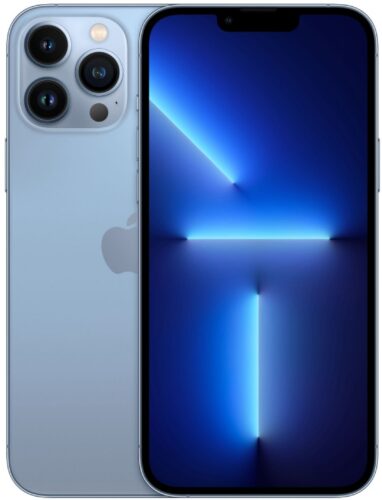 Professional camera
Apple mentions as the biggest difference compared to last year the renewed camera system. On paper it seems almost the same but the differences are deeper. The ultra wide-angle camera is completely renewed this year and much more sensitive to light. It captures up to 2.2x more light and therefore also does nite photography. And the presence of autofocus creates a macro mode that lets you take sharp photos and videos at very close range. The telephoto lens can zoom up to 3x optically, which corresponds to a 77mm focal length. The entire camera system now has a 6x optical zoom to get even closer. There are also differences in the software area. There is now Cinematic mode where you can play with sharpness/depth more. Filming in Dolby Vision or ProRes is also possible. Altho the latter mode does not work if you have the 128GB model.
Main Apple iPhone 13 Pro Max Specifications
6.7-inch Super Retina XDR display with ProMotion at up to 120Hz
12+12+12MP camera with ultra-wide angle, 3x telephoto and 4K video
TrueDepth camera with 12MP sensor, nite mode and Face ID
Waterproof IP68 stainless steel and Ceramic Shield
128GB, 256GB, 512GB or 1TB storage available
Apple A15 Bionic processor delivers powerful graphics
5G support for blazing-fast mobile internet
Energy-efficient A15 Bionic
Apple is powering the iPhone 13 Pro Max with its latest chipset, the A15 Bionic. Consisting of nearly 15 billion transistors, this is the most powerful chipset ever in a mobile phone. Especially its graphics performance is impressive thanks to a 5-core GPU. The battery is slightly larger this year and offers up to 2.5 hours longer battery life than its predecessor. Charging can be done via a Lightning cable or wirelessly. You can Choose between Apple's own MagSafe (up to 15W) or the Qi standard (up to 7.5W). Apple also brings a new storage capacity. Who always runs out of space can now choose a 1TB version.
---
Apple iPhone 13 Pro Max specification summary
Dimensions
160,8 x 78,1 x 7,65 mm
Weight
238 gr
EAN code
0194252702031, 0194252701959, 0194252701768, 0194252701683, 0194252701492, 0194252701416, 0194252701256, 0194252701225, 0194252701140, 0194252700983, 0194252700952, 0194252700877, 0194252700761Show 31 others

, 0194252700686, 0194252700600, 0194252700419, 0194252700334, 0194252700228, 0194252700143, 0194252700068, 0194252699959, 0194252699874, 0194252699799, 0194252699683, 0194252699607, 0194252699522, 0194252699416, 0194252699331, 0194252699256, 0194252699140, 0194252699065, 0194252698983, 0194252698877, 0194252698792, 0194252698716, 0194252698600, 0194252698525, 0194252698440, 0194252698334, 0194252698259, 0194252698174, 0194252698068, 0194252697986, 0194252697900, 0194252697795

iOS
15
Colour display
6.7 inch, Super Retina XDR, notch
Camera
12 MP, 12 MP, 12 MP
Dirt and waterproof
Front camera
12 MP
Processor
Apple A15 Bionic, hexa core
Dual SIM
4G (LTE)
5G
Internal memory
1 TB (Storage), 128 GB (Storage), 256 GB (Storage), 512 GB (Storage)
Memory card slot
Battery
4373 mAh
Fast charging
Wireless charging
Audio jack plug
---
Apple iPhone 13 Pro Max alternatives
Scroll the table below to see more
| | | | | | |
| --- | --- | --- | --- | --- | --- |
| | | | | | |
| | | | | | |
| | Current product | | | | |
| iOS | 15 | 13 | | | |
| Colour display | 6.7 inch, Super Retina XDR, notch | 6.5 inch, Super Retina XDR, notch | 6.8 inch, Dynamic AMOLED Infinity-O Display | 6.78 inch, Fluid AMOLED, hole-punch display | 6.7 inch, Infinity-O Display, hole-punch display |
| Camera | 12 MP, 12 MP, 12 MP | 12 MP, 12 MP, 12 MP | 12 MP, 12 MP, 16 MP, VGA camera | 48 MP, 48 MP, 5 MP, 8 MP | 12 MP, 12 MP, 64 MP |
| Dirt and waterproof | | | | | |
| Front camera | 12 MP | 12 MP | 10 MP | 16 MP | 10 MP |
| Processor | Apple A15 Bionic, hexa core | Apple A13 Bionic | Octa core | 1.8 GHz, 2.42 GHz, 2.84 GHz, Qualcomm Snapdragon 865, octa core | Octa core |
| Dual SIM | | | | | |
| 4G (LTE) | | | | | |
| 5G | | | | | |
| Internal memory | 1 TB (Storage), 128 GB (Storage), 256 GB (Storage), 512 GB (Storage) | 256 GB (Storage), 512 GB (Storage), 64 GB (Storage) | 256 GB (Storage), 512 GB (Storage) | 128 GB (Storage), 256 GB (Storage) | 128 GB (Storage) |
| Memory card slot | | | | | |
| Battery | 4373 mAh | 3500 mAh | 4300 mAh | 4510 mAh | 4500 mAh |
| Fast charging | | | | | |
| Wireless charging | | | | | |
| Audio jack plug | | | | | |
Complete comparison between the Apple iPhone 13 Pro Max and these alternatives or compare with other models
---
FAQs about the Apple 13 Pro Max