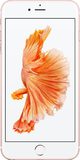 ---
Apple iPhone 6s Plus reviews
| | | |
| --- | --- | --- |
| 5 stars | | 0 reviews |
| 4 stars | | 0 reviews |
| 3 stars | | 0 reviews |
| 2 stars | | 0 reviews |
| 1 star | | 0 reviews |
---
---
Apple iPhone 6s Plus product description
The Apple iPhone 6s Plus is the largest iPhone that Apple has in store for us at the end of 2015 and 2016. The device has an almost disproportionate 5.5-inch screen that may rightly call itself a phablet. What the 6s Plus all more can we try to sum up here.
Differences with iPhone 6s
The main difference between the iPhone 6s Plus and the regular iPhone 6s is its screen. The one on the 6s Plus measures 5.5 inches diagonally. And especially because there's a lot of 'device' above and below the screen, it's quite large. Another difference between both models is that the camera in this iPhone 6s Plus has optical image stabilisation. However, what they have in common is the new 3D Touch controls, the 12 megapixel iSight camera, 5 megapixel FaceTime HD camera and the handful of other improvements.
Main Apple iPhone 6s Plus specifications
Display of 5.5 inches including Gorilla Glass
Dual-core processor (Apple A9) + 2GB of RAM
Choice of 16, 64 and 128GB of memory
Support for 4G internet
High 5 megapixel selfie camera
12 megapixel rear camera with 4K video
3D Touch operation
Until now, a touch screen was rather 2D. With 3D Touch, Apple is trying to add a dimension to it. How hard you press determines the action that follows. A soft touch results in an old and familiar action, while pressing hard(er) conjures up an options menu. Pressing hard on an app ikon opens up a variety of shortcuts. Think directly to the selfie mode by pressing hard on the camera ikon. The 3D Touch control also works in Mail. Pressing lightly on an email opens a prevue. If you press a fraction harder, the mail opens. This new method opens up new possibilities, making the iPhone 6s Plus just that little bit easier and faster to use.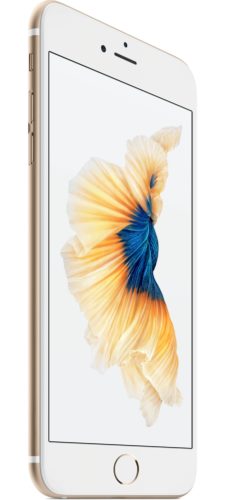 A lot more megapixels
The Apple iPhone 6s Plus comes with two new cameras, both with significantly more megapixels than before. For example, the iSight camera on the back gets 50% more pixels. And because of the new 12 megapixel sensor, it's also possible to record 4K video. This higher resolution also means that photos and videos have more detail. Besides more detail, photos also get more depth. Because the iPhone 6s Plus secretly shoots a short video when you take a picture, you can relive a moment later. This makes your photo come alive and plays including sound. These so called Live Photos can be viewed by randomly clicking on such a photo. You can also set Live Photos as background.
---
Apple iPhone 6s Plus specification summary
Dimensions
158,2 x 77,9 x 7,3 mm
Weight
192 gr
Product code
A1634
EAN code
8806086191869, 8720039738737, 8720039738720, 8720039738713, 8720039738706, 8719743777804, 8719743776012, 8719743773486, 8719743773479, 8719743773462, 8719743773455, 8719743489776, 8719481701987Show 163 others

, 8719481701970, 8719481701963, 8719481701956, 8719481701949, 8719481701932, 8719481701925, 8719481701918, 8719481701901, 8719481701895, 8719481701888, 8719481701871, 8719481701826, 8719481701741, 8719481701734, 8719481701727, 8719481701710, 8719481701703, 8719481701697, 8719481701680, 8719481701673, 8719481701666, 8719481701659, 8719481701642, 8719481701635, 8719325211863, 8719325211771, 8719244276592, 8719244276585, 8719244276578, 8719244276561, 8719244276554, 8719244276547, 8719244276530, 8719244276523, 8719244276516, 8719244276509, 8719244276493, 8719244276486, 8719244275410, 8719244275403, 8719244275397, 8719244275380, 8719244275373, 8719244275366, 8719244275359, 8719244275342, 8719244275335, 8719244275328, 8719244275311, 8719244275304, 8719244274239, 8719244274222, 8719244274215, 8719244274208, 8719244274192, 8719244274185, 8719244274178, 8719244274161, 8719244274154, 8719244274147, 8719244274130, 8719244274123, 8719244271153, 8719244271146, 8719244271139, 8719244271122, 8719244271115, 8719244271108, 8719244271092, 8719244271085, 8719244271078, 8719244271061, 8719244271054, 8719244271047, 8712421532320, 8712421526008, 8712421525971, 8712421525964, 8712421525834, 8712421525810, 8712421525780, 8712421525766, 8712421525759, 8712421525742, 6013748579596, 6013721369336, 6013712511577, 6013711660627, 6013711555534, 6013708499421, 6013707917902, 6013706573529, 6013702623693, 6013701791751, 6013701378365, 6013701167105, 4719331326173, 2750049560482, 2750049560130, 2750049560123, 2750049560109, 2750049560086, 2750049560079, 2750049560031, 0888462780780, 0888462780674, 0888462571432, 0888462571166, 0888462571111, 0888462571074, 0888462570800, 0888462570756, 0888462570718, 0888462570442, 0888462570398, 0888462570350, 0888462570107, 0888462570084, 0888462570039, 0888462569996, 0888462569736, 0888462569729, 0888462569637, 0888462569385, 0888462569361, 0888462569316, 0888462569279, 0888462569002, 0888462568913, 0888462568647, 0888462568555, 0888462568289, 0888462568197, 0888462568081, 0888462567930, 0888462567923, 0888462567831, 0888462567718, 0888462567565, 0888462567473, 0888462567350, 0888462567206, 0888462542913, 0759776468438, 0759776468421, 0759776467820, 0759776467783, 0759776465048, 0759776462672, 0759776462634, 0759776383656, 0190198062314, 0190198062253, 0190198061942, 0190198061904, 0190198061850, 0190198061546, 0190198061508, 0190198061454, 0190198061294, 0190198061102, 0190198061058, 0190198060891, 0000000650526

Fingerprint recognition
iOS
10.1
Colour display
IPS
Camera
12.0 MP
Front camera
5.0 MP
Processor
Apple A9, Dual Core
LTE (4G)
Internal memory
128 GB (Storage), 16 GB (Storage), 64 GB (Storage)
Memory card slot
Battery
2750 mAh
---
Apple iPhone 6s Plus alternatives
Scroll the table below to see more
| | | |
| --- | --- | --- |
| | | |
| Photos at scale | | |
| | Current product | |
| Fingerprint recognition | | |
| iOS | 10.1 | 10.1 |
| Colour display | IPS | IPS |
| Camera | 12.0 MP | 12.0 MP, dual camera sensor |
| Front camera | 5.0 MP | 5.0 MP |
| Processor | Apple A9, Dual Core | Apple A10 Fusion, Quad Core |
| LTE (4G) | | |
| Internal memory | 128 GB (Storage), 16 GB (Storage), 64 GB (Storage) | 128 GB (Storage), 256 GB (Storage), 32 GB (Storage) |
| Memory card slot | | |
| Battery | 2750 mAh | 2900 mAh |
Complete comparison between the Apple iPhone 6s Plus and these alternatives or compare with other models
---
FAQs about the Apple 6s Plus