---
---
Pro and cons Apple iPhone 7 Plus
Zoom in up to 2x without loss of quality
Splash, dust and water resistant body
Stereo speakers
Slightly faster, slightly better battery life
---
Apple iPhone 7 Plus with contract
Monthly
Upfront
Duration
Minutes
Texts
Data
£ 19,00
£ 229,00
24 mo
unlimited
unlimited
10GB
View deal
£ 17,00
£ 289,00
24 mo
unlimited
unlimited
10GB
View deal
£ 23,00
£ 159,00
24 mo
unlimited
unlimited
10GB
View deal
£ 23,00
£ 169,00
24 mo
unlimited
unlimited
5GB
View deal
£ 21,00
£ 219,00
24 mo
unlimited
unlimited
10GB
View deal
£ 24,95
£ 129,00
24 mo
unlimited
unlimited
25GB
View deal
£ 21,00
£ 229,00
24 mo
unlimited
unlimited
6GB
View deal
£ 25,00
£ 149,00
24 mo
unlimited
unlimited
10GB
View deal
£ 23,00
£ 199,00
24 mo
unlimited
unlimited
6GB
View deal
£ 26,00
£ 129,00
24 mo
unlimited
unlimited
25GB
View deal
£ 22,00
£ 229,00
24 mo
unlimited
unlimited
30GB
View deal
£ 26,00
£ 139,00
24 mo
unlimited
unlimited
25GB
View deal
£ 24,00
£ 199,00
24 mo
unlimited
unlimited
30GB
View deal
£ 29,00
£ 89,00
24 mo
unlimited
unlimited
25GB
View deal
£ 26,00
£ 169,00
24 mo
unlimited
unlimited
30GB
View deal
£ 29,00
£ 99,00
24 mo
unlimited
unlimited
15GB
View deal
£ 32,00
£ 29,00
24 mo
unlimited
unlimited
50GB
View deal
£ 32,00
£ 39,00
24 mo
unlimited
unlimited
25GB
View deal
£ 33,00
£ 19,00
24 mo
unlimited
unlimited
10GB
View deal
£ 28,00
£ 139,00
24 mo
unlimited
unlimited
30GB
View deal
£ 32,00
£ 49,00
24 mo
unlimited
unlimited
100GB
View deal
Click here to view all deals
Looking for the lowest prices and best deals. One moment please, it's definitely worth the wait!
---
Price Apple iPhone 7 Plus SIM Free
---
Apple iPhone 7 Plus reviews
| | | |
| --- | --- | --- |
| 5 stars | | 0 reviews |
| 4 stars | | 0 reviews |
| 3 stars | | 1 review |
| 2 stars | | 0 reviews |
| 1 star | | 0 reviews |
---
---
Apple iPhone 7 Plus product description
The Apple iPhone 7 Plus was announced together with the iPhone 7 in September 2016. Where the iPhone 7 hardly differs from its predecessor, this iPhone 7 Plus has a lot of innovations. We're going to cheque them out here.
Why 2 is better than 1
We'll start with the biggest change right away. On the back is now a double 12 megapixel iSight camera. Two see more than one, but that's not what Apple uses it for. The iPhone 7 Plus uses its dual camera to zoom in sharper. Usually we don't recommend zooming in on a mobile phone because this is done digitally. Pixels have to be 'made up' and that never results in sharp images. If you still want sharp pictures up close, you really have to move yourself. With the iPhone 7 Plus, Apple has cleverly solved that 'problem'. One camera has a wide-angle lens while the other is equipped with a telephoto zoom lens. If you zoom in, the iPhone 7 Plus automatically switches to that last camera. This all happens without you even noticing it, and completely automatically. You can zoom in optically up to 2x, digitally up to 10x. You also have an extra recording mode thanks to the 2nd camera. You can choose the new depth-of-field mode. This makes the background extra out of focus so that your subject jumps out of the picture even better. This creates the same effect as expensive DSLR cameras.
Main Apple iPhone 7 Plus specifications
Double 12 megapixel camera with 2x optical zoom, 10x digital
Dustproof and waterproof thanks to IP67 housing
Sharp 7 megapixel selfie camera with better colour registration
Quadcore processor (Apple A10 Fusion) is faster and more power efficient
Retina HD screen of 5.5 inches with wider colour gamut and up to 25% brighter
Available in 32, 128 and 256GB storage, Jet Black starts at 128GB
Faster 4G internet speeds (up to 450Mbit/s)
Wired headset only thru adaptor (dongle)
Outer differences
This year's Apple iPhone 7 Plus is fully dust and water resistant. The case is completely sealed off from the elements. One victim did demand this; the headphone jack had to give way. If you want to use your own favourite headphones from now on, you'll need an adaptor. It comes standard with the iPhone 7 Plus. In terms of appearance, there's still something new to report; for example, the home button has been completely revamped. At first glance it looks the same, but appearances can be deceiving. It's no longer a mechanical button. Just like the Force Touch trackpads in MacBook laptops, it's a pressure-sensitive button that creates the illusion of pushing a button with just a little vibration. It may take some getting used to at first, but it opens up new possibilities for app developers, for example.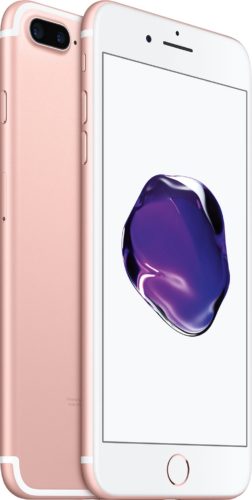 Faster, better and more
Apple provides the iPhone 7 Plus with a faster A10 Fusion processor that's 40% more powerful than its predecessor. Compared to the very first iPhone, the chip in this iPhone 7 Plus is no less than 120 times faster. Graphically, that's even 240 times! Apps start up faster and games look better. Apple also tinkered with the Retina display. Now it can display more colours and is up to a quarter brighter. It's still pressure-sensitive. Thanks to this 3D Touch, you can view a message without opening it at the touch of a button. Apple has also been able to increase the battery life of your device. Now it lasts an hour longer. Apple also hopes to make up for the lack of a headphone jack with stereo speakers. Apple doesn't really add an extra speaker, it uses the speaker to make calls. It provides 50% extra sound.
---
Apple iPhone 7 Plus specification summary
Dimensions
158,2 x 77,9 x 7,3 mm
Weight
188 gr
Product code
A1785
EAN code
8719743775312, 8719743773714, 8719743773707, 8719743773691, 8719743773684, 8719743773677, 8719743773653, 8719743773646, 8719743773639, 8719743773622, 8719743773615, 8719743773608, 8719481709037Show 205 others

, 8719481709020, 8719481709006, 8719481708993, 8719481708979, 8719481708962, 8719481708948, 8719481708931, 8719481708917, 8719481708900, 8719481708887, 8719481708870, 8719481708856, 8719481708849, 8719481708825, 8719481708818, 8719481708795, 8719481708788, 8719481708764, 8719481708757, 8719481708733, 8719481708726, 8719481702960, 8719481702953, 8719325212754, 8719325212525, 8719325212280, 8719325211955, 8719244276899, 8719244276882, 8719244276875, 8719244276868, 8719244276837, 8719244276820, 8719244276813, 8719244276806, 8719244276790, 8719244276783, 8719244276776, 8719244276769, 8719244275717, 8719244275700, 8719244275694, 8719244275687, 8719244275656, 8719244275649, 8719244275632, 8719244275625, 8719244275618, 8719244275601, 8719244275595, 8719244275588, 8719244274536, 8719244274529, 8719244274512, 8719244274505, 8719244274475, 8719244274468, 8719244274451, 8719244274444, 8719244274437, 8719244274420, 8719244274413, 8719244274406, 8719244272648, 8719244272631, 8719244272624, 8719244272617, 8719244272594, 8719244272587, 8719244272570, 8719244272563, 8719244272556, 8719244272549, 8719244272532, 8719244272525, 8712421546181, 8712421538742, 8712421532207, 8712421532191, 8712421532184, 8712421532177, 8712421532160, 8712421532153, 8712421532146, 8712421532139, 8712421532122, 8712421532115, 8712421532092, 8712421532085, 8712421532078, 8712421532061, 6013727639693, 6013725411468, 6013718997986, 6013717349304, 6013716362328, 6013716163192, 6013708641639, 6013702841813, 6013702679669, 6013702598588, 6013702284252, 6013702164189, 6013702021093, 6013700961933, 6013700744789, 3500000000040, 3500000000002, 2750064876346, 2750064876339, 2750064505154, 2750064505147, 2750064488624, 2750064488594, 2750064486699, 2750064484879, 2750064484848, 1250000000015, 1250000000008, 0766970282609, 0766970282586, 0766970282562, 0766970282500, 0766970282487, 0759776446405, 0690292516480, 0400055816159, 0400055816142, 0400055816135, 0400055816128, 0400055808895, 0400055807584, 0400055807553, 0400055807546, 0400055804248, 0400055804231, 0400055804224, 0400055804217, 0190199121591, 0190199121577, 0190199121553, 0190199121379, 0190199121355, 0190199121331, 0190199121317, 0190198544032, 0190198543776, 0190198355263, 0190198354990, 0190198354785, 0190198354525, 0190198157294, 0190198157171, 0190198157027, 0190198156983, 0190198156938, 0190198156815, 0190198156662, 0190198156570, 0190198156457, 0190198156440, 0190198156303, 0190198156211, 0190198156099, 0190198155948, 0190198155900, 0190198155856, 0190198155832, 0190198155818, 0190198155795, 0190198154378, 0190198047090, 0190198046963, 0190198046734, 0190198046420, 0190198046376, 0190198046109, 0190198046062, 0190198046017, 0190198045744, 0190198045652, 0190198045317, 0190198045294, 0190198045027, 0190198044938, 0190198044815, 0190198044662, 0190198044624, 0190198044570, 0190198044457, 0190198044303, 0190198044266, 0190198044211, 0190198044099, 0190198043948, 0190198043900, 0190198043856, 0190198043733, 0190198043580, 0190198043542, 0000190198532, 0000000736435, 0000000734431, 0000000734417, 0000000734325, 0000000734257

Fingerprint recognition
iOS
10.1
Colour display
IPS
Camera
12 MP, dual camera sensor
Dirt and waterproof
Front camera
5 MP
Processor
Apple A10 Fusion, Quad Core
4G (LTE)
Internal memory
128 GB (Storage), 256 GB (Storage), 32 GB (Storage)
Memory card slot
Battery
2900 mAh
Audio jack plug
---
Video about the Apple iPhone 7 Plus
How does the Apple iPhone 7 Plus battery compare to the Asus Zenfone 3 Zoom? Cheque it out
---
Apple iPhone 7 Plus alternatives
Scroll the table below to see more
| | | |
| --- | --- | --- |
| | | |
| | | |
| | Current product | |
| Fingerprint recognition | | |
| iOS | 10.1 | 11.0 |
| Colour display | IPS | IPS |
| Camera | 12 MP, dual camera sensor | 12 MP, dual camera sensor |
| Dirt and waterproof | | |
| Front camera | 5 MP | 7 MP |
| Processor | Apple A10 Fusion, Quad Core | Apple A11 Bionic |
| 4G (LTE) | | |
| Internal memory | 128 GB (Storage), 256 GB (Storage), 32 GB (Storage) | 128 GB (Storage), 256 GB (Storage), 64 GB (Storage) |
| Memory card slot | | |
| Battery | 2900 mAh | 2691 mAh |
| Audio jack plug | | |
Complete comparison between the Apple iPhone 7 Plus and these alternatives or compare with other models
---
FAQs about the Apple 7 Plus