The Asus ZenFone 8 is a compact, powerful and somewhat quirky smartphone. That combination is something we don't see much nowadays and that makes the ZenFone 8 fairly unique. But does that make it useable in every-day use and is it a worthy alternative to other popular flagships? Let's find out
Compact flagship
Besides this ZenFone 8, name another compact Android flagship. Right, there aren't any. Sony used to make compact Xperia phones with high-end specifications, but those days are behind us. Therefore, the ZenFone 8 has no real competition except for the Apple iPhone 12 mini, but you have to be willing to trade Android for iOS to do that. Compact it is thanks to a 5.9 inch screen with a smooth 120Hz display and high HDR10+ colour reproduction. An excellent screen that thanks to thin screen bezels give a very slim and compact phone. If you come from a larger phone then the smaller screen will take some getting used to.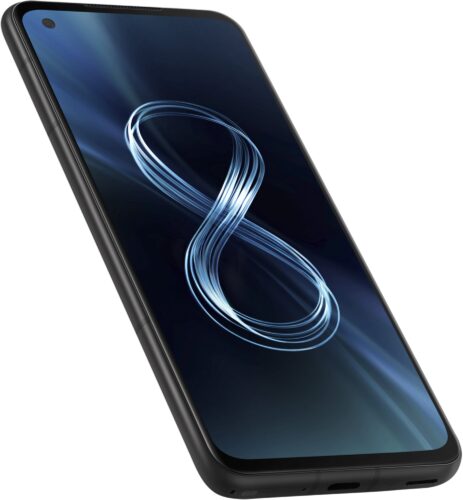 Camera focuses on sound
On the back of the ZenFone 8 we find two cameras; a 64MP with f/1.8 wide angle for every-day use and a 12MP ultra-wide angle that you can also use for macro photography. A separate lens for zooming is missing (telephoto), altho you can always zoom in digitally. Asus has equipped the ZenFone 8 with 3 different microphones so that video sound is recorded spatially and can also be filtered of wind noise. Video playback sounds extra good thanks to the stereo speakers with Hi-Res Audio sound reproduction tuned by the specialists of Dirac. There is also a 3.5mm headphone port to plug in your own favourite headphones
Main Asus Zenfone 8 specifications
Compact 5,9-inch AMOLED display with smooth 120Hz playback
Powerful performance thanks to Snapdragon 888 processor and up to 16GB of RAM
4000 mAh battery with 30W HyperCharge fast charging
64+12MP camera with wide and ultra-wide-angle lens and 8K video
12MP selfie camera with portrait mode
128 or 256GB non-expandable storage (UFS3.1)
IP65/68 waterproof body made out of Gorilla Glass Victus
Snapdragon 888 delivers peak performance
As a true flagship, the ZenFone 8 is equipped with the powerful Snapdragon 888. It delivers the fastest possible performance and we therefore find the chipset in almost all other flagships. The Asus ZenFone 8 has an extra edge because it uses virtually stock Android. Unnecessary software (bloatware) is therefore missing and that will not hold it back unnecessarily. Inside, we find a 4000 mAh battery and that seems to be on the generous side considering the screen size. Still, the battery life can be called average. Fast charging is possible with up to 30W but only wired, wireless charging is missing. What is not missing is a waterproof housing with an official IP65/IP68 rating.