---
Pro and cons Asus Zenfone 8 Flip
Interesting design
Shoots the best selfies
Uninterrupted front
Excellent performance
Pretty heavy and not waterproof
---
Asus Zenfone 8 Flip reviews
| | | |
| --- | --- | --- |
| 5 stars | | 0 reviews |
| 4 stars | | 0 reviews |
| 3 stars | | 0 reviews |
| 2 stars | | 0 reviews |
| 1 star | | 0 reviews |
---
---
Asus Zenfone 8 Flip product description
The Asus Zenfone 8 Flip is one of those phones that makes you look twice. Am I seeing this correctly? And in doing so, Asus has already achieved its goal; to deliver a striking phone that turns heads. Or in his case, cameras. Because with an innovative camera system, you can take the very best selfies. How exactly we'll explain here.
Uninterrupted display
The front of the Zenfone 8 Flip consists of a 6.67-inch screen with a Samsung AMOLED panel. That's extra colourful, so much so that it has HDR10+ colour support. The screen is also fluid because thanks to the 90 Hz refresh rate, animations look extra smooth. The screen also features a fingerprint scanner. What is not included is a selfie camera. In previous years, these were still hidden in an ugly notch or later in a punch-hole. None of that is to be found on the Zenfone 8 Flip, and that makes for an unflinching experience.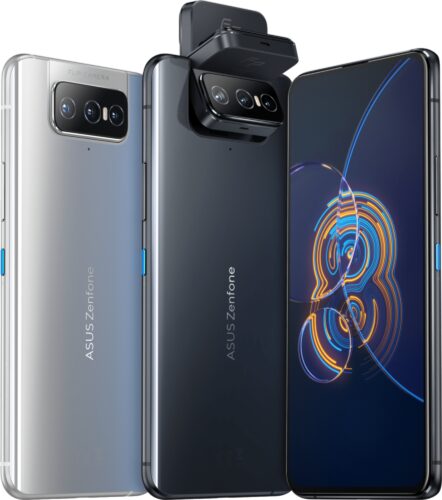 Flip Camera
To take selfies anyway, the main camera flips over. The advantage of taking selfies with the main camera is that your selfies come out much better. You have the best camera on your phone at your disposal, and that is usually on the back. This creates a unique situation; you can take the best selfies with a phone that has no selfie camera at all. A disadvantage of all this is that it weighs a bit. With 230 grammes, the Zenfone 8 Flip feels a bit heavy. It is also not waterproof which is a shame.
Main Asus Zenfone 8 Flip Specifications
Continuous and borderless 6.67-inch AMOLED display with 90Hz playback
64+12+8MP camera with ultra wide-angle, macro and 3x optical zoom can rotate
Snapdragon 888 processor with 5G and 8GB of RAM
128 or 256GB storage memory, expandable up to 2TB
Dual SIM support (2x nano-SIM + memory card)
Dual speakers for stereo playback with Dirac HD sound quality
Speedy 5G internet on the go, WiFi 6e at home
Large 5000 mAh battery with 30W fast charge
Not shy for a good selfies
On the Flip there are 3 cameras; a 64 main, 12MP ultra wide-angle and an 8MP telephoto with 3x optical zoom. The ultra wide angle can be used as a macro camera to take sharp close-ups from 4cm away. Asus also applies cool camera features. One is Auto Panorama. Instead of moving yourself, you let the Flip Camera create your panorama. By moving in steps. The photos you shoot will fit together better and be sharper. There are also extra video functions. There is Object Focus, for instance. With this, the autofocus of the Zenfone 8 Flip automatically switches from back to front. This makes a video of a car approaching stand out. Furthermore, there is HyperSteady for stable videos, Free Zoom to zoom smoothly to what you click, Wind Filter to filter out background noise and Mic Focus to play back the sound of what you are aiming at.
Powerful performance
The Zenfone 8 Flip comes with a generous 5000mAh battery, big enough to last you more than a day. And maybe even longer. There is support for fast charging but no wireless charging. Asus further uses the Snapdragon 888 processor with built-in 5G modem. This is a high-end chipset for the most powerful performance. There is a whopping 8GB of RAM memory and the storage comes in two flavours; 128 or 256GB. This is even expandable with a microSD card up to 2TB. It is also nice that the memory card does not take up a SIM card slot. You can also place two of them. There are also two speakers for stereo sound with Dirac HD support for extra spatial sound.
---
Asus Zenfone 8 Flip specification summary
Dimensions
165,04 x 77,28 x 9,6 mm
Weight
230 gr
EAN code
4711081127741, 4711081127710
Fingerprint recognition
Android
11
Colour display
6.67 inch, AMOLED
Camera
12 MP, 64 MP, 8 MP
Processor
2.84 GHz, Qualcomm Snapdragon 888, octa core
Front camera
Dual SIM
4G (LTE)
5G
Internal memory
128 GB (Storage), 256 GB (Storage)
Battery
5000 mAh
Fast charging
Audio jack plug
---
Video about the Asus Zenfone 8 Flip
What's the difference between the Asus Zenfone 8 and the Asus Zenfone 8 Flip? And you don't feel like using our comparator? And you feel like watching a video? How about that?
---
Asus Zenfone 8 Flip alternatives
Scroll the table below to see more
| | | | | | |
| --- | --- | --- | --- | --- | --- |
| | | | | | |
| | | | | | |
| | Current product | | | | |
| Fingerprint recognition | | | | | |
| Android | 11 | 9.0 (Pie) | 9.0 (Pie) | | 8.1 |
| Colour display | 6.67 inch, AMOLED | 6.4 inch, Curved Dynamic AMOLED Quad HD+, hole-punch display | 6.8 inch, Dynamic AMOLED Infinity-O Display | 6.7 inch, Infinity-O Display | 6.4 inch, Infinity Super AMOLED Quad HD+ |
| Camera | 12 MP, 64 MP, 8 MP | 12 MP, 12 MP, 16 MP | 12 MP, 12 MP, 16 MP, VGA camera | 12 MP, 5 MP, 5 MP, 64 MP | 12 MP, 12 MP, dual camera sensor |
| Processor | 2.84 GHz, Qualcomm Snapdragon 888, octa core | 1.7 GHz, 2.4 GHz, 2.8 GHz, octa core | Octa core | 1.8 GHz, 2.2 GHz, octa core | 1.8 GHz, 2.7 GHz, Samsung Exynos 9810, octa core |
| Front camera | | | | | |
| Dual SIM | | | | | |
| 4G (LTE) | | | | | |
| 5G | | | | | |
| Internal memory | 128 GB (Storage), 256 GB (Storage) | 1 TB (Storage), 128 GB (Storage), 512 GB (Storage) | 256 GB (Storage), 512 GB (Storage) | 128 GB (Storage) | 128 GB (Storage), 512 GB (Storage) |
| Battery | 5000 mAh | 4100 mAh | 4300 mAh | 4500 mAh | 4000 mAh |
| Fast charging | | | | | |
| Audio jack plug | | | | | |
Complete comparison between the Asus Zenfone 8 Flip and these alternatives or compare with other models
---
FAQs about the Asus 8 Flip