The Cat B35 is a feature phone announced in 2018 that is, as we are used to from Cat, very robust. In addition to being drop resistant, it is dust, splash and waterproof. Even more waterproof than its predecessor. It also has a much larger battery with a long standby time. This time it also features 4G so you can quickly use the internet on the go
Likes to play outside
Not everyone needs a smartphone that you have to charge every day. Sometimes you just want to be able to call, look something up quickly and above all be reachable. This Cat B35 seems to meet that description. Wrapped in an almost indestructible casing this seems the ideal phone for people who work outdoors. The housing of this B35 with its IP68 certification is a lot more waterproof than its predecessor. Forget it for more than half an hour at a depth of about a metre and you can rinse it under the tap. No problem. Also no problem is dropping it off the ladder. A distance of 1.8 metres on a hard surface like concrete is no problem. This makes it not only the ideal builder's phone, it is also very suitable for people who are just very clumsy or have grabby toddlers walking around at home.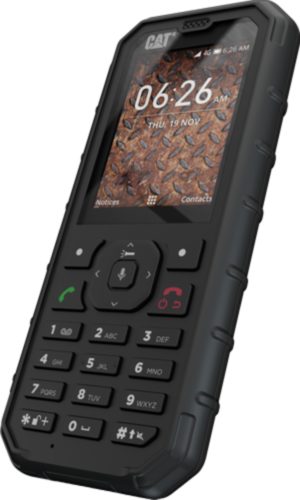 Feature phone with lots of features
In addition to a rugged inclosure, the Cat B35 has even more features that work for you. A compact 2.4-inch colour display makes everything easy to see. Listen to your radio on the go thanks to the built-in FM receiver via plugged in headphones or the loud speaker on the back. Take photos with a 2 megapixel camera. Unfortunately a flash is missing this year. The addition of GPS is useful though. This allows you to show place on a map. You can also use Google Maps to navigate from customer A to B. In the car you can also pair your carkit because the B35 has Bluetooth. A new feature this year is 4G support so you can quickly browse the web on the go. At home you can simply use WiFi because that is also supported this year
Main Cat B35 Dual SIM specifications
Compact 2,4 inch colour display
Rugged housing with MIL SPEC 810G and IP68 certificate
4GB of storage expandable with microSD card
4G support for fast mobile internet and VoLTE
2 megapixel camera for simple photos
Dualcore Qualcomm 8905 processor at up to 1.3 GHz
Thanks to KaiOS 2.5 operating system not a 'dumb' phone
Built-in FM radio
Smart feature phone thanks to KaiOS
Cat uses the KaiOS control system for the B35. This is specially designed for simple phones, the so-called feature phones. Still, you can use it to download and use apps thanks to a special app store. Think of apps such as Facebook, Twitter and YouTube. Even Google's Google Assistant is present, which is actually only seen on much more expensive smartphones. In addition to apps, there is also room for entertainment thanks to the games on offer. None of this is a major drain on your battery. At 2300 mAh, it is remarkably large for such a device. A long battery life is therefore guaranteed. Cat itself gives a standby time of 30 days but then you won't have to use it. If you do, and you're not overdoing it on a jet device, you'll have to make it for a week without recharging in between.