If the Cat S42 would be an animal it would be a workhorse. It is particularly suited to professions where careful handling of a phone is not possible or practical. For example, at high altitudes, in rough conditions or wet environments. Learn more about this remarkable work phone
Resists the elements
The Cat S42 is a water and dust resistant phone with a rugged body that makes a case unnecessary. The non-slip casing feels rubbery thanks to the TPU material. Dirt can be rinsed off by simply holding it under the tap. The housing is also resistant to extreme temperature changes and shocks. For this it has received the military MIL-SPEC 810H certificate. The screen is protected by Gorilla Glass 5 which is more resistant to falls. The S42 is also helped by a rubber edge around the screen. Everything for a safe working environment.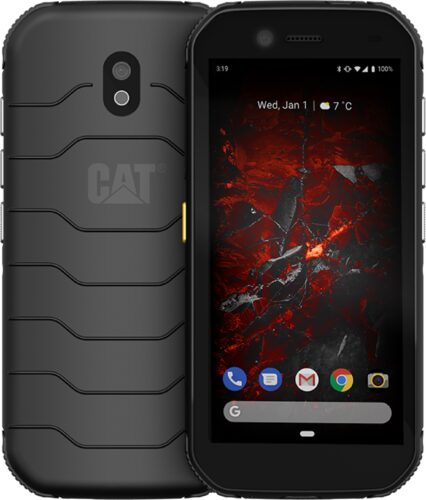 Also an ordinary phone
You would almost not say it but the Cat S42 is otherwise a regular phone. One that features a 5.5-inch screen with HD+ resolution and in a modern 18:9 ratio. There are still bars below the screen and Cat doesn't use them for buttons this time around. There is an extra button that you can set yourself. You can use it to open your favourite app, for example. The battery is big enough for a whole day of hard work with 4200 mAh. It is a shame that there is relatively little storage memory. The 32GB is in practise so full. Fortunately, you can expand it with up to 256GB by inserting a memory card
Main Cat S42 specifications
5.5-inch Super Bright Display with glove and wet finger mode
Robust and waterproof IP68/69 body with MIL-SEC 810H rating
13MP camera with f/2.0 lens and fast PDAF autofocus
5MP front selfie camera
Simple MediaTek Helio A20 processor with 3GB RAM
32GB storage memory expandable up to 256GB
4G support for fast internet on the go
Room for dual nanosim (Dual SIM)
Glove mode
Furthermore, this S42 features a 13MP rear camera with fast and accurate autofocus and a bright f/2.0 lens. On the front is a 5MP shooter for selfies or video calls. Under the hood, this S42 is powered by a MediaTek Helio A20 chipset. Unfortunately, not the most powerful processor. Also, this S42 doesn't offer a fingerprint scanner but that won't work with gloves on either. The screen does because it does work with gloves on. And even wet fingers it recognises effortlessly.