---
---
Pro and cons Cat S62 Pro
Sharper thermal images
Rugged, yet refined
Dual SIM capability
Reasonable amount of RAM memory
Does not have laser and air quality sensor anymore
---
Cat S62 Pro with contract
Monthly
Upfront
Duration
Minutes
Texts
Data
£ 26,00
£ 0,00
24 mo
unlimited
unlimited
25GB
View deal
£ 21,00
£ 129,99
24 mo
unlimited
unlimited
6GB
View deal
£ 17,00
£ 231,99
24 mo
unlimited
unlimited
10GB
View deal
£ 14,00
£ 306,99
24 mo
unlimited
unlimited
30GB
View deal
£ 13,00
£ 331,99
24 mo
unlimited
unlimited
10GB
View deal
£ 23,00
£ 94,99
24 mo
unlimited
unlimited
6GB
View deal
£ 14,00
£ 310,99
24 mo
unlimited
unlimited
10GB
View deal
£ 15,00
£ 288,99
24 mo
unlimited
unlimited
30GB
View deal
£ 15,00
£ 291,99
24 mo
unlimited
unlimited
10GB
View deal
£ 16,00
£ 269,99
24 mo
unlimited
unlimited
30GB
View deal
£ 17,00
£ 249,99
24 mo
unlimited
unlimited
30GB
View deal
£ 19,00
£ 209,00
24 mo
unlimited
unlimited
10GB
View deal
£ 16,00
£ 283,99
24 mo
unlimited
unlimited
50GB
View deal
£ 26,00
£ 44,99
24 mo
unlimited
unlimited
6GB
View deal
£ 22,00
£ 140,99
24 mo
unlimited
unlimited
30GB
View deal
£ 21,00
£ 168,99
24 mo
unlimited
unlimited
10GB
View deal
£ 17,00
£ 264,99
24 mo
unlimited
unlimited
50GB
View deal
£ 18,00
£ 241,99
24 mo
unlimited
unlimited
50GB
View deal
£ 23,00
£ 129,00
24 mo
unlimited
unlimited
10GB
View deal
£ 19,00
£ 226,99
24 mo
unlimited
unlimited
50GB
View deal
£ 24,00
£ 116,99
24 mo
unlimited
unlimited
30GB
View deal
Click here to view all deals
Looking for the lowest prices and best deals. One moment please, it's definitely worth the wait!
---
Price Cat S62 Pro SIM Free
---
Cat S62 Pro reviews
| | | |
| --- | --- | --- |
| 5 stars | | 0 reviews |
| 4 stars | | 0 reviews |
| 3 stars | | 0 reviews |
| 2 stars | | 0 reviews |
| 1 star | | 0 reviews |
---
---
---
Cat S62 Pro product description
The Cat S62 Pro is a professional phone with rugged appearance and built-in heat camera. New to this FLIR camera is its improved resolution; up to 4x better than its predecessors. What this workhorse has even more in store is something we are going to find out here.
The ultimate work phone?
Cat himself calls the S62 Pro "the ultimate work phone". Now we are not so much superlatives ourselves but according to us the phone comes pretty close. This is mainly because Cat has succeeded in putting a modern smartphone in an attractively designed and virtually indestructible housing. All too often, robust phones look the same; bulky, large and not very sophisticated. Not the S62 Pro. It has curves and is made of different materials. The result is a water, sand and salt spray resistant IP68 housing that is drop resistant up to 1.8 metres thanks to its MIL-SPEC 810G certificate. And it also looks good.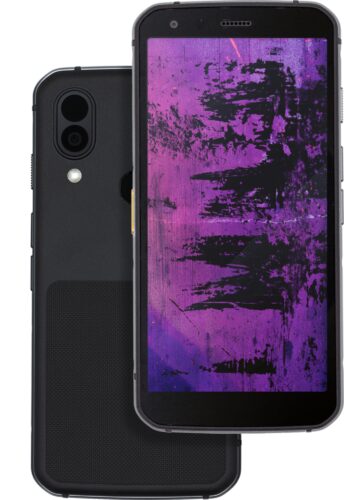 FLIR Lepton® 3.5 sensor
Yet the star of the show is the renewed FLIR camera. This is a professional heat camera and works this time with a Lepton 3.5 sensor. This gives your thermal images 4x more detail and sharpness so you can detect heat, moisture, leaks, short circuits, etc. even better. With one look and from a distance. Ideal for the professional and that in a phone. A fairly unique combination if you ask us. The FLIR camera of S62 Pro works together with the 12 megapixel Sony camera in which the thermal images are placed over the visible image in order to take clearly distinguishable snapshots. This technique is called Multi-Spectral Dynamic Imaging (MSX) and you don't need to have a training to be able to interpret images. So you can start right away.
Main Cat S62 Pro specifications
Workable 5.7-inch screen with FHD+ resolution and 18:9 ratio
Inbuilt FLIR heat camera with 4x more detail than before
Solid and robust housing withstands the elements
Solid 4000 mAh battery with up to 2 days battery life + Quick Charge 4.0 fast charging
128GB of storage memory, expandable by up to 256GB via memory card
Dual SIM capability (slot shared with memory card)
Snapdragon 660 processor with 6GB of RAM memory
Promised update to Android 11
Furthermore, the Cat S62 Pro is of course also just a phone. One with a 5.7 inch screen with modern Full HD+ resolution, space for 2 SIM cards and a solid 4000 mAh battery. According to Cat this is in most cases sufficient for 2 days. It seems a bit optimistic but fortunately there is support for fast charging. The S62 Pro uses the proven Snapdragon 660 processor from Qualcomm. That is already a fairly old beast but one that has proven to stand his ground. Moreover, it has access to a large 6 GB of RAM memory so it always feels nice and fast. Cat initially released the S62 Pro with Android 10 but has promised to upgrade it to Android 11. A reassuring thought. Owners coming from an S61 will miss the laser rangefinder and air quality sensor. Unfortunately they did not make it to the S62 Pro.
---
Cat S62 Pro specification summary
Dimensions
158,8 x 76,7 x 11,9 mm
Weight
248 gr
EAN code
5060472352163, 5060472352125, 5060472352095
Fingerprint recognition
Android
10
Colour display
5.7 inch, IPS
Camera
12 MP
Dirt and waterproof
Front camera
8 MP
Processor
2.0 GHz, Qualcomm Snapdragon 660, octa core
Rugged casing
Dual SIM
4G (LTE)
Internal memory
128 GB (Storage)
Battery
4000 mAh
Fast charging
---
Videos about the Cat S62 Pro
Take the Cat S62 Pro to hell and back, he doesn't care.
The Cat S62 Pro features a customisable button. Use it for Push-To-Talk (PTT), for example. How to set that is shown in this video.
The new FLIR Lepton heat camera in the Cat S62 Pro sees up to 4x more detail. Ideal for troubleshooting on the shop floor
---
Cat S62 Pro alternatives
Scroll the table below to see more
| | | |
| --- | --- | --- |
| | | |
| | | |
| | Current product | |
| Fingerprint recognition | | |
| Android | 10 | 9.0 (Pie) |
| Colour display | 5.7 inch, IPS | 5.7 inch, IPS |
| Camera | 12 MP | 12 MP |
| Dirt and waterproof | | |
| Front camera | 8 MP | 8 MP |
| Processor | 2.0 GHz, Qualcomm Snapdragon 660, octa core | 2.3 GHz, MediaTek helio P35, octa core |
| Rugged casing | | |
| Dual SIM | | |
| 4G (LTE) | | |
| Internal memory | 128 GB (Storage) | 64 GB (Storage) |
| Battery | 4000 mAh | 3100 mAh |
| Fast charging | | |
Complete comparison between the Cat S62 Pro and these alternatives or compare with other models
---
FAQs about the Cat S62 Pro