The Doro 7030 is an easy-to-use folding phone with some extras. For example, you can use it to send messages via WhatsApp and to meet friends on Facebook. All of this is also possible on the go thanks to 4G support. As we are used to from Doro, there is an assistance button on the back, the speaker is extra loud and the 7030 is suitable for hearing aids (T4/M4)
Advantages of a folding phone
A folding phone has its advantages. You never have to wonder whether you have hung up. Simply fold it and put it away. The phenomenon of "pocket calling" is also prevented. Once unfolded, a 2.8 inch screen becomes visible. This is not touch sensitive, instead you use the round control button underneath. Despite the simple character of the 7030, it does have apps like WhatsApp and Facebook. You can also access the web thanks to the built-in internet browser, even when you're away from home. There is 4G support for fast internet on the go.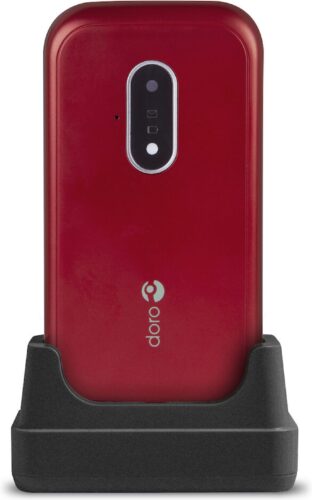 Handheld assistant button
Just like many other Doro phones, the 7030 has an assistant button. It is located on the back and can be set in two ways. In the assistance mode, it calls one by one to a list of calls until someone answers. It also sends a text message with the location of the Doro 7030. In the MyDoro mode, there are even more possibilities. For example, someone can remotely control the phone, but a MyDoro account is required for this. It is also handy that the speaker can be extra loud and the device can work with hearing aids (M4/T4)
Main Doro 7030 specifications
2.8" screen inside with modest QVGA resolution
Practical folding design
3MP camera on the outside, VGA camera inside
Programmable assist button
4G support for internet on the go
WiFi for internet at home
Loud and clear sound with hearing aid support
Pre-installed WhatsApp and Facebook app
Can also take selfies
The Doro 7030 comes with a handy charger holder in which the device can be placed. By putting it in a fixed place, you don't have to search for it every time someone calls you. An additional advantage is that it is always charged. The 7030 is also equipped with a simple camera. A 3 megapixel camera on the outside and a 0.3 megapixel camera inside. So it is even possible to take selfies with the 7030.