Similar to the Pixel 4 and available
---
---
Google Pixel 4 reviews
| | | |
| --- | --- | --- |
| 5 stars | | 0 reviews |
| 4 stars | | 0 reviews |
| 3 stars | | 0 reviews |
| 2 stars | | 0 reviews |
| 1 star | | 0 reviews |
---
---
Google Pixel 4 in the news
---
Google Pixel 4 product description
The Google Pixel 4 is already the fourth generation of Google's own phones. This is what an Android smartphone should look like according to Google. New this year is a radar with which you can control it by hand gestures and a camera with which you can capture the stars.
Not the best good looking
Of course with a Pixel phone you'll get a good camera but Google will try something different this year. You have to praise them for that because mobile phones look a lot like each other lately. There's still a lot to be said about the elaboration and application, but more about that later. The Pixel 4 has a 5.7 inch screen which is compact for today's standards. The bar underneath the screen at the bottom has disappeared, at the top it's still there. Not much attention has been paid to the design. It is difficult to identify it from a row of phones. There is also little colour choice available; black and white.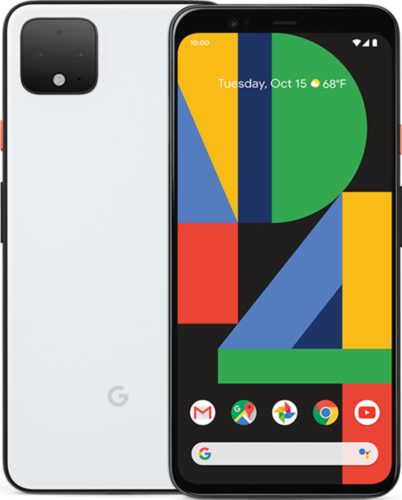 Just a very good camera
He doesn't like the look of it so it's time to look at the camera. There the Pixel always knows how to impress. The Pixel 4 doesn't disappoint either. Even with only 2 camera sensors. Still there is the 12.2 megapixel camera, f/1.7 lens, optical and electronic image stabilisation. This year he gets help from a 16 megapixel camera with telephoto lens for 2x zoom. It is the first time a Pixel gets a 2nd camera on the back and the choice for a zoom lens is a striking one. Many other manufacturers opt for an ultra-wide-angle lens that in practise is more useful than zoom. Moreover, Google has proven with processing power alone to be able to zoom on the sensor alone. However, we can complain what we want, the fact is that the Pixel shoots 4 studioworthy photos. Even at nite thanks to the Nite Sight which allows you to take great photos without flash. Even of the stars, something they call 'astrophotography' on Google.
Main Google Pixel 4 specifications
Compact 5.7 inch OLED screen with FHD+ resolution and 90Hz refresh rate
12.2 + 16 MP camera with 2x Super Res Zoom, Nite Sight and Astrophotography
8MP selfie camera above the screen with Motion Sense radar user input
Stereo speakers
IP68 waterproof aluminium body but with relatively fragile coating on the trim
Qualcomm Snapdragon 855 processor at up to 2,84 GHz with 6 GB RAM memory (RAM)
Choice of 64 or 128 GB non-expandable memory
Questionable battery capacity of 2800 mAh but with 18 Watt fast charge
Motion Sense: big bet
And then back to the beginning. There is still space above the screen, which is used for Motion Sense, amongst other things. This is a technique for recognising hand movements. Thanks to radar, these movements are recognised and you can browse thru music and mute your alarm clock. Helped by Motion Sense, the Pixel 4 now also supports secure face recognition, even in the dark. Google is doing a little Apple work here because it completely exchanges fingerprint recognition for facial recognition. That will take some getting used to for Pixel fans, but also for Motion Sense. In practise it doesn't add much and then the technique seems like a fair guess. It does leave its mark on the appearance of this Pixel 4 and possible future Pixel 4 fans want to stick to it.
---
Google Pixel 4 specification summary
Dimensions
147,1 x 68,8 x 8,2 mm
Weight
162 gr
Product code
G020I
Code name
Google Flame
EAN code
8720574214277, 0842776115522, 0842776115515, 0842776115492, 0842776115485, 0842776115447, 0842776115430, 0842776115423, 0842776115348, 0842776115331, 0842776115324, 0842776115317, 0842776115300Show 16 others

, 0842776115157, 0842776115133, 0842776115126, 0842776115102, 0842776115096, 0842776115072, 0842776115065, 0842776114983, 0842776114976, 0842776114969, 0842776114952, 0842776114945, 0400063876381, 0400063876374, 0400063876367, 0400063876350, 0400063876312

Fingerprint recognition
Android
10
Colour display
5.7 inch, Full HD+ Flexible OLED
Camera
12.2 MP, 16 MP, dual camera sensor
Dirt and waterproof
Front camera
8 MP
Processor
1.78 GHz, 2.84 GHz, Qualcomm Snapdragon 855, octa core
4G (LTE)
Internal memory
128 GB (Storage), 64 GB (Storage)
Memory card slot
Battery
2800 mAh
Fast charging
Wireless charging
Audio jack plug
---
Videos about the Google Pixel 4
Ow! The Google Pixel 4 XL does not pass the bending test
The Google Pixel 4 with real-time transcription takes on a stenographer and the fastest-speaking woman.
T-Mobile takes the Google Pixel 4 outside for a hands-on
Google shares in 30 seconds what's new on the Pixel 4 and 4 XL
If you can look past the cursor you will see a promo of the upcoming Google Pixel 4.
---
Google Pixel 4 alternatives
Scroll the table below to see more
| | | | | | |
| --- | --- | --- | --- | --- | --- |
| | | | | | |
| | | | | | |
| | Current product | | | | |
| Fingerprint recognition | | | | | |
| Android | 10 | 11 | 9.0 (Pie) | 8.0 (Oreo) | |
| Colour display | 5.7 inch, Full HD+ Flexible OLED | 6.0 inch, OLED, hole-punch display | 6.1 inch, Curved Dynamic AMOLED Quad HD+, hole-punch display | 5.8 inch, Infinity Super AMOLED Quad HD+ | 5.5 inch, IPS |
| Camera | 12.2 MP, 16 MP, dual camera sensor | 12.2 MP, 16 MP, dual camera sensor | 12 MP, 12 MP, 16 MP | 12.2 MP | 12 MP, dual camera sensor |
| Dirt and waterproof | | | | | |
| Front camera | 8 MP | 8 MP | 10 MP | 8 MP | 7 MP |
| Processor | 1.78 GHz, 2.84 GHz, Qualcomm Snapdragon 855, octa core | 1.8 GHz, 2.2 GHz, 2.4 GHz, octa core | 1.7 GHz, 2.4 GHz, 2.8 GHz, octa core | 1.7 GHz, 2.8 GHz, Samsung Exynos 9810, octa core | Apple A11 Bionic |
| 4G (LTE) | | | | | |
| Internal memory | 128 GB (Storage), 64 GB (Storage) | 128 GB (Storage) | 128 GB (Storage), 512 GB (Storage) | 256 GB (Storage), 64 GB (Storage) | 128 GB (Storage), 256 GB (Storage), 64 GB (Storage) |
| Memory card slot | | | | | |
| Battery | 2800 mAh | 4080 mAh | 3400 mAh | 3000 mAh | 2691 mAh |
| Fast charging | | | | | |
| Wireless charging | | | | | |
| Audio jack plug | | | | | |
Complete comparison between the Google Pixel 4 and these alternatives or compare with other models
---