---
---
Pro and cons Huawei Mate 20 Lite
Quad camera with necessary AI
Large display
Reasonably fast thanks to powerful Kirin 970 processor
Large battery with fast charging
Pretty big so pokes out in your pocket
---
Price Huawei Mate 20 Lite SIM Free
---
Huawei Mate 20 Lite reviews
| | | |
| --- | --- | --- |
| 5 stars | | 1 review |
| 4 stars | | 0 reviews |
| 3 stars | | 0 reviews |
| 2 stars | | 0 reviews |
| 1 star | | 0 reviews |
---
---
Huawei Mate 20 Lite product description
The Huawei Mate 20 Lite is a large and powerful device that should appeal to a young business audience. Huawei hopes to do that by making it smart and attractive. Whether it is beautiful is up to you, he seems smart. That's because of a lot of artificial intelligence function. We will investigate whether this will be of use to you in practise.
Four cameras with AI
If a company, in this case Huawei, frequently uses the term AI in its mouth, we usually sound all the alarm bells. It is usually a rather empty slogan, such as machine learning, big data and blockchain of which the marketing department has heard the bell ringing but doesn't know where the clapper is. Artificial intelligence on the Huawei Mate 20 Lite is mainly used in the camera app. By analysing and comparing 500 scenarios even before you take a picture, the best one is chosen with the corresponding settings. The result should be a nicer picture. This used to be called the automatic mode, now it's called the AI camera and it's usually nothing more than marketing. In that respect, what you immediately benefit from is the double camera sensor. The 20 megapixel camera is accompanied by a 2 megapixel camera. This camera is not there to capture more detail or sharpness but to see depth. The Mate 20 Lite knows what is in the foreground and what is in the background. By taking the background out of focus, professional looking photos are created.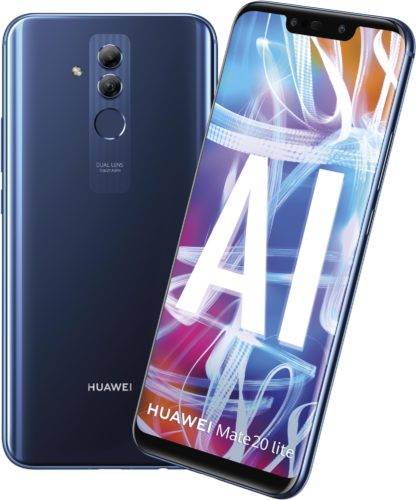 Clever powerhouse thanks to AI and Kirin 970
At the front are also two cameras, this time of an even higher 24 megapixel with 2 megapixel. Of course, razor-sharp selfies are guaranteed again with the necessary AI-violence for invisible improvements that, as a matter of fact, you shouldn't notice. All this artificial intelligence is provided by the fairly powerful Kirin 710 processor that performs calculations at lightning speed. The availability of 4 GB of RAM memory is sufficient to quickly change apps, for example. This chipset is powered by a 3750 mAh large battery. Such a large battery is no superfluous luxury considering the 6.3 inch screen size. Fast charging is possible so you will never be without power (for a long time). At the top of the Full HD+ screen is a notch in which the double selfie camera is located. Admit it; you have to luv a notch altho it does give you a modern look.
Main Huawei Mate 20 Lite specifications
FullView screen of 6.3 inch large with notch
Powerful Kirin 710 processor at up to 2,2 GHz with built-in AI functions
Fast mobile internet on the go thanks to 4G and Wi-Fi
Support for Dual SIM (shared with memory card slot)
Special dual 24 + 2 megapixel selfiecam
20 + 2 megapixel rear camera recognises 500 different scenarios for best setting
64 GB storage + a memory card slot for additional 256 GB
Android Oreo and EMUI 8.2
Huawei has equipped the Mate 20 Lite with Android 8.1 Oreo as standard. On top of this runs EMUI 8.2 in which Huawei, how could it be otherwise, again stopped some AI function. Walk into an elevator while calling and the Mate 20 Lite puts your call on hold instead of rudely disconnecting it. When you get out of the elevator the call will be picked up again. And when you walk into a busy room the other party hears you well thanks to noise cancelling. The Mate 20 Lite swallows no less than two SIM cards to put all your business on the right track. You have to share this second slot with the memory card slot. You have 64 GB of memory, which should be enough at first. More data can always be stored in the cloud, which can be accessed quickly thanks to Wi-Fi ac and 4G support. With this, it seems to have everything you need to be successful.
---
Huawei Mate 20 Lite specification summary
Dimensions
158,3 x 75,3 x 7,6 mm
Weight
172 gr
Product code
LX1
Code name
Huawei SydneyM
EAN code
6901443252541, 6901443252534, 6901443252503, 6901443251117, 6901443251100, 6901443251094, 6901443251087, 5412882743022
Fingerprint recognition
Android
8.1
Colour display
6.3 inch, LTPS, notch
Camera
2 MP, 20 MP, dual camera sensor
Front camera
2 MP, 24 MP
Processor
1.7 GHz, 2.2 GHz, HiSilicon Kirin 710, octa core
Dual SIM
4G (LTE)
Internal memory
64 GB (Storage)
Battery
3750 mAh
Fast charging
---
Huawei Mate 20 Lite alternatives
Scroll the table below to see more
| | | | | | |
| --- | --- | --- | --- | --- | --- |
| | | | | | |
| | | | | | |
| | Current product | | | | |
| Fingerprint recognition | | | | | |
| Android | 8.1 | 9.0 (Pie) | 10 | | 10 |
| Colour display | 6.3 inch, LTPS, notch | 6.3 inch, Full HD+ PureDisplay, notch | 6.4 inch, Max Vision Full HD+, hole-punch display | 6.5 inch, Infinity-O Display, hole-punch display | 6.7 inch, CinemaVision, hole-punch display |
| Camera | 2 MP, 20 MP, dual camera sensor | 48 MP, 5 MP, 8 MP | 16 MP, 2 MP, 8 MP, 8 MP | 2 MP, 2 MP, 48 MP, 8 MP | 2 MP, 48 MP, 5 MP, 8 MP |
| Front camera | 2 MP, 24 MP | 20 MP | 16 MP | 13 MP | 16 MP, 8 MP |
| Processor | 1.7 GHz, 2.2 GHz, HiSilicon Kirin 710, octa core | Qualcomm Snapdragon 660, octa core | Qualcomm Snapdragon 665, octa core | 2.0 GHz, octa core | Octa core |
| Dual SIM | | | | | |
| 4G (LTE) | | | | | |
| Internal memory | 64 GB (Storage) | 128 GB (Storage) | 64 GB (Storage) | 32 GB (Storage), 64 GB (Storage) | 128 GB (Storage), 64 GB (Storage) |
| Battery | 3750 mAh | 3500 mAh | 5000 mAh | 5000 mAh | 5000 mAh |
| Fast charging | | | | | |
Complete comparison between the Huawei Mate 20 Lite and these alternatives or compare with other models
---
FAQs about the Huawei 20 Lite