---
Huawei Mate 20 Pro reviews
| | | |
| --- | --- | --- |
| 5 stars | | 0 reviews |
| 4 stars | | 0 reviews |
| 3 stars | | 0 reviews |
| 2 stars | | 0 reviews |
| 1 star | | 0 reviews |
---
---
Huawei Mate 20 Pro product description
The Huawei Mate 20 Pro is the company's most comprehensive model in the Mate 20 series from 2018/2019. The model is equipped with a brighter screen, higher resolution Triple Camera from Leica, more accurate face recognition and larger battery that even allows you to charge other phones wirelessly. All this has its price, of course, and here's where we're going to find out if it's justified.
Giving away wireless power
If you look at the Mate 20 Series, you'll immediately notice the bigger notch of the Mate 20 Pro. This extra space is needed for Huawei's own 3D Face Unlock. 30 thousand points invisibly and rapidly map your face and give you access. If you don't feel like poking around, you can use the fingerprint scanner, which is integrated into the screen in a very modern way. You can't use the whole screen for this, but have to put it in a specially designated circle. This is quite high and because you can't feel it when you touch it, it can be a bit awkward. Another unique feature of this Mate 20 Pro is the lack of a headphone input, which makes it the only Mate 20 model that is water resistant (IP68 certified). It is also the only one in the series that can be charged wirelessly. Huawei even has a separately available 15 watt charger in the range that makes it quick to charge. And to top it all off, thanks to its large battery, you can even give away power. Add another smartphone that supports wireless charging, like a recent iPhone, and the Mate 20 Pro will charge it.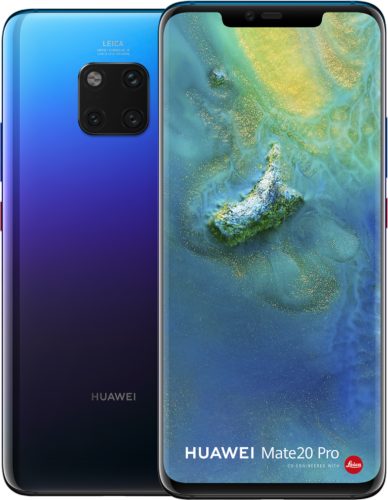 Triple Leica camera; one lens for every situation
Huawei has been working with Leica for some time now and that results in striking cameras. This is also the case with this Mate 20 Pro where Huawei uses 3 cameras in a square. It is a 40, 20 and 8 megapixel camera sensor but what makes it interesting is the lens. It concerns a wide-angle lens, an extra wide wide-angle lens and a telephoto zoom lens. With the first one you shoot every-day photos, the extra wide wide-angle lens is ideal for capturing landscapes and macro shots while using the telephoto zoom lens to zoom in. The software recognises up to 2,000 different scenarios from 25 categories with matching settings such as colour balance, contrast and brightness, increasing the chance of a perfect picture. The Mate 20 Pro is also able to put itself in the spotlight when it comes to video. For example, in AI Portrait Colour you can film in black and white with still one colour of your choice. AI Cinema Mode enables real-time HDR video with a 21:9 ratio and Director's Cut gives you a video editor at your fingertips.
Main Huawei Mate 20 Pro specifications
Big, bright and sharp 6.39 inch OLED screen with 3D glass
Triple Leica Camera consisting of 40, 20 and 8 megapixels with regular, wide-angle and telephoto zoom lens
Powerful Kirin 980 processor with extended 6 GB of RAM memory
Water and dust resistant housing (IP68 rating)
Fingerprint scanner built into screen or unlocking via precise facial recognition
The World's First Cat.21 phone with 4G speeds up to 1.4 Gbit/s
128GB of storage, expandable with Huawei's own NM memory cards
High 24 megapixel selfie camera with f/2.0 lens
Dual SIM support (2nd SIM slot shared with memory slot)
Wireless charging with the ability to charge other phones wirelessly
Quick performance, quick loading
In order to guaranty the necessary processing power, Huawei uses an entirely new type of processor; the Kirin 980. This chipset is fried at 7 nanometres and is, thanks to its Dual NPU, extremely suitable for artificial intelligence (AI). Besides being fast, this chip is also very economical. Altho you may wonder if it needs to be economical with a 4200 mAh battery. This is immense for smartphone concepts. On paper, you have to pass the two days. If that doesn't work, you can quickly top up your battery thanks to Huawei's SuperCharge technology. A power nap of 30 minutes is enough for a 70% full battery. For this you need the 40 watt Huawei SuperCharger charger with the corresponding USB-C cable. Huawei is releasing the Mate 20 Pro with Android 9.0 Pie which is neat; it is the latest Android version at the time of release. On top of that, EMUI version 9.0 runs completely with all its peculiarities, sloppy translations and drawing-like ikons. You have to be a fan of it but luckily Android gives you enough choice for an alternative launcher. Also a bit awkward is that the Mate 20 Pro doesn't swallow normal microSD memory cards. You have to rely on Huawei's own new NM memory cards. These are hard to come by and probably more expensive.
---
Huawei Mate 20 Pro specification summary
Dimensions
157,8 x 72,3 x 8,6 mm
Weight
189 gr
Product code
L29C
Code name
Huawei Laya
EAN code
6901443265688, 6901443265671, 6901443262441, 6901443262434, 6901443262427, 6901443262410, 6901443262403, 6901443262397, 6901443260744
Fingerprint recognition
Android
9.0 (Pie)
Colour display
OLED
Camera
20 MP, 40 MP, 8 MP
Dirt and waterproof
Front camera
24 MP
Processor
1.8 GHz, 1.92 GHz, 2.6 GHz, HiSilicon Kirin 980, octa core
Dual SIM
4G (LTE)
Internal memory
128 GB (Storage)
Battery
4200 mAh
Fast charging
Wireless charging
Audio jack plug
---
Huawei Mate 20 Pro alternatives
Scroll the table below to see more
| | | |
| --- | --- | --- |
| | | |
| | | |
| | Current product | |
| Fingerprint recognition | | |
| Android | 9.0 (Pie) | 10 |
| Colour display | OLED | Horizon Display, hole-punch display |
| Camera | 20 MP, 40 MP, 8 MP | 12 MP, 20 MP, 50 MP |
| Dirt and waterproof | | |
| Front camera | 24 MP | 13 MP |
| Processor | 1.8 GHz, 1.92 GHz, 2.6 GHz, HiSilicon Kirin 980, octa core | 2.05 GHz, 2.54 GHz, 3.13 GHz, HiSilicon Kirin 9000, octa core |
| Dual SIM | | |
| 4G (LTE) | | |
| Internal memory | 128 GB (Storage) | 256 GB (Storage) |
| Battery | 4200 mAh | 4400 mAh |
| Fast charging | | |
| Wireless charging | | |
| Audio jack plug | | |
Complete comparison between the Huawei Mate 20 Pro and these alternatives or compare with other models
---
FAQs about the Huawei 20 Pro