The Huawei P Smart Pro is an affordable Android smartphone with a large bezel-less screen on the front, pop-up selfie camera and on the back 3 cameras including a 48 megapixel one. But is it also the smart choice for those looking for a professional smartphone?
Auto pop-up
Looking at its specifications, the P Smart Pro is an impressive phone. Think of a large 6.59 inch and sharp screen, a triple camera of 48MP and a large battery. Yet the biggest surprise of the phone is inside. That is the 16MP large car pop-up selfie camera. It slides up when you need it. The advantage of this mechanism is that you have the whole screen at your disposal. There is no notch and there is no punch-hole. This provides an uninterrupted experience that few other phones currently have.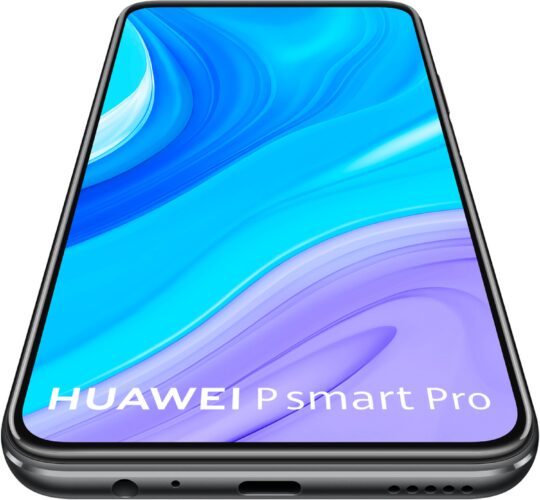 48MP triple AI camera
The camera on the back also impresses. The main camera is 48MP in size and therefore has enough detail and sharpness to shoot beautiful photos. This is also because the sensor is no less than 1/2" in size and can capture a lot of light. This means that the P Smart Pro has an above-average nite mode. There are also 2 other cameras; an 8MP with ultra-wide-angle lens and a 2MP depth camera. You shoot spatial shots with a maximum angle of view of 120° and portraits where you can blur the background. All your photos and videos are stored on the device itself. The memory is at 128GB namely nice and spacious and will not quickly fill up. Should that happen, you can expand it to 512GB via a separately available memory card
Main Huawei P Smart Pro specifications
Large continuous 6.59 inch screen with FHD+ resolution
Innovative 16MP auto pop-up selfie camera
Triple 48+8+2MP camera with AI functions and nite mode
Large 4000 mAh battery but without fast charging
Kirin 710F processor at up to 2,2 GHz and with ample 6GB of RAM work memory
128GB standard storage memory expandable by up to another 512GB
Introduced with Android 9 and EMUI 9.0
Speed freak
Speed comes from the Kirin 710F processor. This chipset consists of eight cores and has a generous 6GB of RAM memory. As a result, apps start quickly and switching between apps is almost instantaneous. Gaming is also possible. Speed can also be found in an unusual place. The fingerprint scanner, located on the right side, detects whether it's you after just 0.3 seconds. This P Smart Pro simply runs Android with its own skin called EMUI. It is not yet covered by the US trade boycot so you can just instal Android apps from Google's own Play Store and use Google services such as Gmail and YouTube. In terms of updates, it's a different storey. Huawei has announced an update from Android 9 to Android 10 for this P Smart Pro, but it is still unclear when it will come.