---
Pro and cons Huawei P20 Pro
Impressive Leica-cam
Processor with AI for better photos
Fresh Twilight colour
Long battery life
---
Huawei P20 Pro reviews
| | | |
| --- | --- | --- |
| 5 stars | | 0 reviews |
| 4 stars | | 0 reviews |
| 3 stars | | 0 reviews |
| 2 stars | | 0 reviews |
| 1 star | | 0 reviews |
---
---
Huawei P20 Pro product description
The Huawei P20 Pro is Huawei's most comprehensive, say, most professional smartphone for 2018. The camera has not 1, not 2, but 3 cameras on the back with a total resolution of 68(!) megapixel. That's not just to grab your attention, it should provide clearly sharper and clearer photos and videos. We are going to try to find out if that is possible.
New refreshing colour
But before we zoom in on the camera we first take a look at the housing. As with the P20, Huawei was obviously inspired by Apple. Where have we seen that notch before? Right, Apple also applies a similar notch to the iPhone. Huawei places the selfie camera and sensors there. In this way it is possible to pull the screen almost to the top. At the bottom of the screen there still seems to be some space left, but Huawei uses that for a home button with integrated fingerprint scanner. We think it's clever that Huawei manages to surprise us with a refreshing new colour version. They call it Twilight and it is a transition from green to purple. It looks successful, it is innovative and as far as we are concerned, other manufacturers are allowed to use it as well. Besides Twilight also Pink Gold has a similar colour gradient, the other colour versions are solid in colour. What a pity is that Huawei does not want to switch to 2K-resolution displays. Even the screen resolution of this P20 Pro model remains stuck on Full HD. That makes the screen not as sharp as some competitors.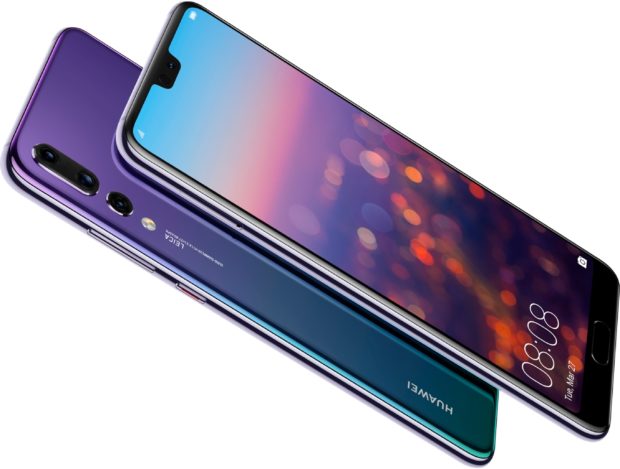 Leica Triple Camera
But enough about the looks and his screen, time to look at the camera. Huawei applies no less than 3 sensors at the back this year. At first you would think that this is pure marketing but appearances are deceiving. Huawei has had help from Leica and they know a lot about photography. The most important camera measures 40 megapixels, is equipped with a colour sensor and has an f/1.8 lens. That means he can see a lot of detail. The nice thing now is that this sensor gets help from a 20 megapixel black and white sensor. This one has an even more light sensitive f/1.6 lens. These two sensors combined make such impressive photos, especially in fairly dark conditions, that DxOMark's testers give it a score of 109. Not only is this the highest score ever assigned to a smartphone when the P20 Pro is released, it is also the first time that a mobile phone has passed the magic limit of 100. Where other manufacturers use two cameras to zoom in, Huawei uses it to take better pictures. In order to be able to zoom in this year without loss of quality, Huawei is using a third camera on the P20 Pro; an 8 megapixel telephoto zoom lens with an aperture of f/2.4. This allows you to zoom in optically up to 3x without loss of quality and up to 5x thanks to hybrid zoom. Movements are automatically compensated for by optical image stabilisation on all three cameras. The result is sharper photos, with more detail, true-to-life colours, predictive focus, excellent nite shots and slow-motion videos. In other words, the Huawei P20 Pro is a real camera beast.
Main Huawei P20 Pro specifications
6.1 inch large FullView OLED display
Unique 40, 20 and 8 megapixel Triple Leica Camera with top performance
24 megapixel selfie camera with 3D Portrait Lighting for studio-like lighting
Powerful Kirin 970 processor at max 2,4 GHz with built-in NPU
6GB of RAM memory, 128GB of non-extendible storage
Insert two SIM cards (Hybrid Dual SIM)
Fast mobile 4G internet
Dust and water resistant housing (IP67 certificate)
Processor with artificial intelligence
Huawei equips the P20 Pro with a proprietary Kirin 970 processor. Special about this chipset is its built-in NPU. This is the abbreviation of Neuronic Processing Unit that adds artificial intelligence. It's useful for automatically selecting the best camera settings and enhancing photos and videos. All that extra processing power comes in handy with Augmented Reality, also known as AR. This allows you to project images across the camera. Think of an Ikea app to place a chair in your living room, just to see if it's there before you buy it. All that extra power is only useful if you have enough stamina. That's why Huawei equips the P20 Pro with a 4000 mAh battery that has fast charging. In order to be able to switch apps quickly, having sufficient RAM memory is essential. Fortunately, there is as much as 6 GB of RAM available, which is more than many competitors. There is also 128 GB of storage memory, which unfortunately cannot be expanded by inserting a memory card yourself.
---
Huawei P20 Pro specification summary
Dimensions
155 x 73,9 x 7,8 mm
Weight
180 gr
Product code
CLT-L29C
Code name
Huawei Charlotte
EAN code
8032325175608, 6901443236060, 6901443228188, 6901443218394, 6901443214662, 6901443214655, 6901443214648, 6901443214631, 6901443214556, 6901443213511, 6901443213504
Fingerprint recognition
Android
8.1
Colour display
FullView OLED, notch
Camera
20 MP, 40 MP, 8 MP
Dirt and waterproof
Front camera
24.8 MP
Processor
1.8 GHz, 2.36 GHz, HiSilicon Kirin 970, octa core
Dual SIM
4G (LTE)
Internal memory
128 GB (Storage)
Memory card slot
Battery
4000 mAh
Fast charging
Audio jack plug
---
Huawei P20 Pro alternatives
Scroll the table below to see more
| | | |
| --- | --- | --- |
| | | |
| | | |
| | Current product | |
| Fingerprint recognition | | |
| Android | 8.1 | 9.0 (Pie) |
| Colour display | FullView OLED, notch | OLED, notch |
| Camera | 20 MP, 40 MP, 8 MP | 20 MP, 40 MP, 8 MP |
| Dirt and waterproof | | |
| Front camera | 24.8 MP | 32 MP |
| Processor | 1.8 GHz, 2.36 GHz, HiSilicon Kirin 970, octa core | 1.8 GHz, 1.92 GHz, 2.6 GHz, HiSilicon Kirin 980, octa core |
| Dual SIM | | |
| 4G (LTE) | | |
| Internal memory | 128 GB (Storage) | 128 GB (Storage), 256 GB (Storage) |
| Memory card slot | | |
| Battery | 4000 mAh | 4200 mAh |
| Fast charging | | |
| Audio jack plug | | |
Complete comparison between the Huawei P20 Pro and these alternatives or compare with other models
---
FAQs about the Huawei P20 Pro