Similar to the P20 lite and available
---
---
Huawei P20 lite reviews
| | | |
| --- | --- | --- |
| 5 stars | | 0 reviews |
| 4 stars | | 0 reviews |
| 3 stars | | 0 reviews |
| 2 stars | | 0 reviews |
| 1 star | | 0 reviews |
---
---
Huawei P20 lite product description
The Huawei P20 Lite is a neatly equipped smartphone with dual camera, modern borderless screen and long battery life. Personally, we find the name somewhat unfortunate, because the P20 Lite is anything but a lightweight. In this prevue we will take a closer look at exactly how that works.
High-end notch, low-end price
First let's have a look at the exterior features of the P20 Lite. We see a large screen of no less than 5.84 inches with a notch at the top. That is a cut-out intended for the selfie camera and a few other sensors, just like in the much more expensive P20 and P20 Pro. That notch makes it nice and modern without the high price tag. The edge of the housing is made of metal while the monitor and back are protected by tempered glass. The curves on the side make it comfortable to hold, so be careful not to drop it by accident. A protective cover can come in handy. If you don't necessarily have a phone with screen motch, you can also consider the P Smart from Huawei: they are quite similar in terms of specifications but are considerably cheaper at the time of writing.
Main Huawei P20 lite specifications
5.84 inch FullView IPS FHD+ screen with notch
Sharp 16 megapixel selfiecam with Light Fusion
Supports Hybrid Dual SIM (nanoSIM + nanoSIM / memory card)
16 + 2 megapixel rear camera with portrait mode
4GB of RAM memory and 64GB of storage memory (expandable to 256GB)
Proprietary Octa-core Kirin 659 processor at maximum 2,4 GHz
Support for fast 4G internet on the go
Camera with Light Fusion
When we look at the back of the Huawei P20 Lite, we immediately notice the double camera of 16 + 2 megapixels. Thanks to that second camera it is able to recognise depth and that results in beautiful sharpness/depth photos. Because Huawei works with a relatively low resolution for the second camera, it is not able to help capture extra light. The P20 Lite does not really excel in the dark, so you really need a more expensive phone. In terms of selfie camera, Huawei promises clear self-portraits thanks to a technique they call Light Fusion. We saw it with the other models in the P20 series as well, and it boils down to four smaller pixels working together to absorb more light. This results in brighter photos with less noise in the dark. Something the front camera can also do is face unlocking. It is a somewhat simple way that is less reliable as fingerprint recognition. More of a gimmick.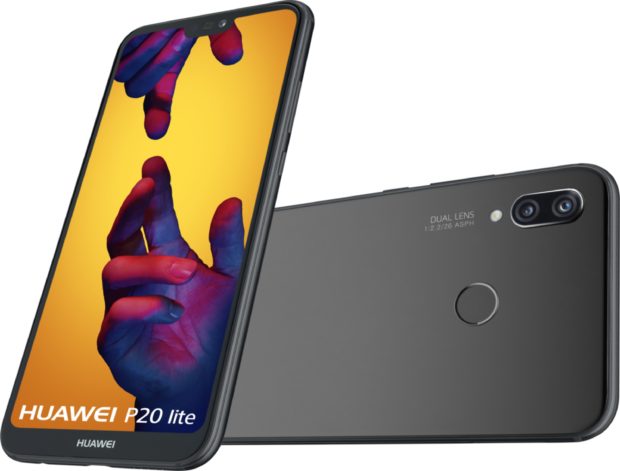 Quick charger without fast charging
To drive all this Huawei used a Kirin 659 processor. They make that chip themselves and it consists of eight cores. Sounds nice, but what's in it for you? The reviews we've seen all talk about the P20 Lite being nice and easy to use. However, if you are going to do more things at once, you can expect some hiccups. For house-garden-and-kitchen use it is therefore fine. Handy is that the battery with 3000 mAh is not exactly small. That means you'll soon have to do it for a day without recharging. Despite the fact that Huawei supplies a 9V/2A "quick charger" with the P20 Lite, it does not charge very quickly. Fully charging takes a few hours and you don't get tens of percent from short charging as with some other phones. It doesn't work with wireless charging either. Do we have more to complain about? Yes and that is Huawei's own EMUI software. That's still a bit of a problem child. It's quite cumbersome and cluttered, altho with Android you always have the possibility to exchange it for another launcher. Apart from that, the Huawei P20 Lite is just a very good buy for this amount of money.
---
Huawei P20 lite specification summary
Dimensions
148,6 x 71,2 x 7,4 mm
Weight
145 gr
Code name
Huawei Anne
EAN code
6901443229123, 6901443227082, 6901443217427, 6901443217410, 6901443217403, 6901443217380, 6901443217373, 6901443213337, 6901443213313, 2750090174263
Fingerprint recognition
Android
8.0 (Oreo)
Colour display
FullView IPS FHD+, notch
Camera
16 MP, 2 MP, dual camera sensor
Front camera
16 MP
Processor
1.7 GHz, 2.36 GHz, HiSilicon Kirin 659, octa core
Dual SIM
4G (LTE)
Internal memory
64 GB (Storage)
Battery
3000 mAh
---
Huawei P20 lite alternatives
Scroll the table below to see more
| | | |
| --- | --- | --- |
| | | |
| | | |
| | Current product | |
| Fingerprint recognition | | |
| Android | 8.0 (Oreo) | 9.0 (Pie) |
| Colour display | FullView IPS FHD+, notch | FullView IPS FHD+, notch |
| Camera | 16 MP, 2 MP, dual camera sensor | 2 MP, 48 MP, 8 MP |
| Front camera | 16 MP | 24 MP |
| Processor | 1.7 GHz, 2.36 GHz, HiSilicon Kirin 659, octa core | 1.7 GHz, 2.2 GHz, HiSilicon Kirin 710, octa core |
| Dual SIM | | |
| 4G (LTE) | | |
| Internal memory | 64 GB (Storage) | 128 GB (Storage) |
| Battery | 3000 mAh | 3340 mAh |
Complete comparison between the Huawei P20 lite and these alternatives or compare with other models
---
FAQs about the Huawei P20 lite