The Huawei P30 is Huawei's flagship for the first half of 2019. With a triple Leica camera in the back, large bezel-less screen in the front and powerful hardware inside, it will feel modern for a long time to come. Anyone who still needs more information to make a purchase should read this review further
Bigger and brighter screen
Huawei always makes two major announcements in a year; the Mate series at the end of the year and the P series at the beginning. The P30 and P30 Pro were announced at the beginning of 2019 and just don't look very different, they also see the world very differently. To start with the looks. Huawei applies a new type of screen that is virtually borderless. Only at the top is a small notch for the selfie camera. This is the first time that Huawei has applied an OLED screen to the entry-level P model as well. That's good news; this technique guarantees vivid colours with deep black tones. At 6.1 inches, the P30's screen measures slightly larger than last year in a housing that has remained virtually the same in terms of size.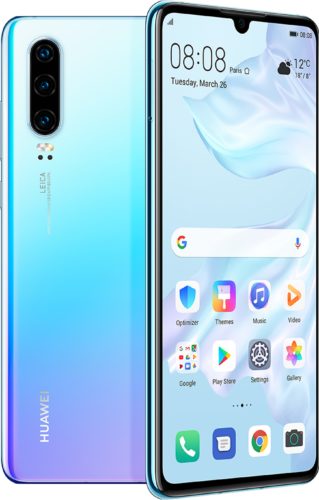 Camera seeing in the dark
Huawei's P 2019 models are clearly focussed on photography. For example, the Huawei P30 has a triple camera on the back. This Leica Triple Camera consists of a 40 megapixel Super Sensing main camera, 16 megapixel wide-angle lens and an 8 megapixel telephoto lens. The 40 megapixel sensor captures extra detail and, thanks to a new type of sensor, also extra light. Many other manufacturers use a sensor with RGGB format (also Bayer filter) where a pixel consists of one red, two green and one blue subpixel. Huawei has swapped those green subpixels for yellow ones, which naturally absorb more light. This results in a 40% more light-sensitive camera. For you it means that you can take better nite shots. Even in almost total darkness you can still take a useful picture because the P30 sees better than the human eye
Main Huawei P30 specifications
Greater 6,1 inch OLED screen with drop-shaped notch and fingerprint recognition
Leica camera consisting of 40 + 16 + 8 megapixel with nite vision
Powerful Kirin 980 processor with over 6 GB of RAM-RAM memory
128 GB storage memory (not expandable)
Very high-resolution 32 Mpixel selfie camera
Room for two sim cards (Dual SIM support)
On the go fast mobile internet thanks to 4G support
IP53 certified splash water resistant (not fully waterproof)
New portrait mode for nicer selfies
But we shouldn't forget the selfie camera either. With a resolution of 32 megapixels, that alone stands out. Selfies with that should become even more beautiful because the P30 is able to recognise you better compared to the background. By subtly blurring the image a nice portrait photo is created that can be used directly on social media. To keep all this on track, you'll find inside the Kirin 980. That's the processor that provides the P30 with the necessary processing power. There's 6GB of RAM memory to quickly switch between apps. There's 128GB of non-extendible storage, so you won't run out of space quickly. If that does become a problem, you can go to the P30 Pro which also has a 256 GB version available.