Huawei P30 Pro New Edition
---
---
Pro and cons P30 Pro New Edition
Including Google apps
Camera with lots of zoom
Large colourful 3D screen
Large battery with fast charging
Future updates is big question mark
---
Huawei P30 Pro New Edition with contract
No results were found that match your search query. Please remove some search options or try again.
Click here to view all deals
Looking for the lowest prices and best deals. One moment please, it's definitely worth the wait!
---
Huawei P30 Pro New Edition reviews
| | | |
| --- | --- | --- |
| 5 stars | | 0 reviews |
| 4 stars | | 0 reviews |
| 3 stars | | 0 reviews |
| 2 stars | | 0 reviews |
| 1 star | | 0 reviews |
---
---
Huawei P30 Pro New Edition product description
The Huawei P30 Pro New Edition is actually a P30 Pro but with Android 10. By rebranding an 'old' phone Huawei bypasses the American boycot. Therefore this P30 Pro New Edition has Google services and apps such as Gmail, YouTube and the Play Store.
Comes with Google apps
We recommend it more often; to save money you can also buy a top model from last year. Huawei announced the P30 Pro New Edition in 2020 but actually it is a model from a year earlier. Technically there is nothing wrong with that. A 6.57 inch OLED screen with curved edges and SuperSensing Leica Quad Camera with 50x zoom are still very much up to date in 2020. So little has changed in terms of hardware. However, new colours have been added. The P30 Pro New Edition is available in 'Silver Frost', 'Aurora Blue' with its beautiful gradient and 'Midnight Black'.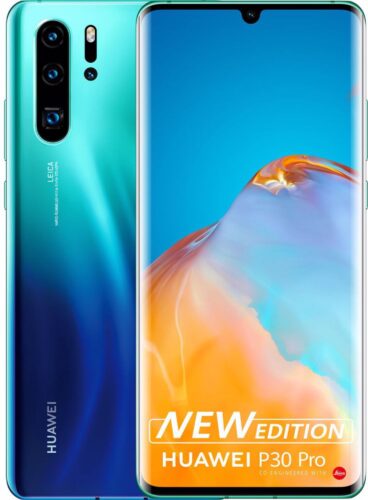 Quad Camera with periscope
On the back of the P30 Pro New Edition we find a SuperSensing Quad Camera from Leica. That sounds impressive but it boils down to the following. In total there are four different cameras; a 40MP main camera, a 20MP camera with ultra-wide-angle lens, a Time of Flight depth camera and a zoom camera with periscope lens. The latter lies on its side in the device and can zoom 5x optically, 10x hybrid and 50x digitally. The sharpest results can be achieved by zooming in optically. This is done with lenses so you don't compromise on image quality. Hybrid combines the lenses with digital and with pure digital zooming the image is blown up and gives the least sharp result. Phones with periscope lenses are quite exceptional. They offer the best quality and most zoom in a compact housing. The other cameras are also impressive with excellent nite mode, accurate portrait mode and smart HDR software.
Main Huawei P30 Pro New Edition specifications
6.47 inch OLED screen with built-in fingerprint recognition and speaker
32MP selfie camera in drop-shaped notch in the screen
Leica Quad Camera: 40+20+8MP with 5 to 50x zoom
Huawei Kirin 980 processor at up to 2.6GHz with ample 8GB of RAM memory
256GB of storage memory, not expandable
Dual SIM support: 2x nano SIM card
Waterproof housing IP68
4200 mAh battery with 40W fast charging and 15W wireless charging
Contemporary performance
High performance is provided by the Kirin 980 processor. This is the world's first mobile processor based on 7 nanometres. The smaller the transistor, the faster and more energy efficient. In 2020, and even beyond, this processor promises to be powerful enough to deliver fast performance. So the P30 Pro New Edition is and will remain a flagship. There is 8 GB of RAM memory which is a lot and in terms of storage memory there is only 1 choice; 256 GB. Also spacious enough. Inside is a 4200 mAh battery with both a power saving mode, extra fast charging and wireless charging. Wireless can be up to 15 Watt and wired up to 40 Watt. In half an hour the battery is already 70% full. The P30 Pro New Edition can also charge products wirelessly. Wireless earplugs for example or even your electric toothbrush. Just by putting it on the back.
---
Huawei P30 Pro New Edition specification summary
Dimensions
158 x 73,4 x 8,41 mm
Weight
192 gr
EAN code
6901443400065, 6901443399819, 6901443397266, 6901443397242, 6901443395804
Fingerprint recognition
Android
10
Colour display
6.47 inch, OLED, notch
Camera
20 MP, 40 MP, 8 MP
Dirt and waterproof
Front camera
32 MP
Processor
1.8 GHz, 1.92 GHz, 2.6 GHz, HiSilicon Kirin 980, octa core
Dual SIM
4G (LTE)
Internal memory
256 GB (Storage)
Memory card slot
Battery
4200 mAh
Fast charging
Wireless charging
Audio jack plug
---
Huawei P30 Pro New Edition alternatives
Scroll the table below to see more
| | | | | | |
| --- | --- | --- | --- | --- | --- |
| | | | | | |
| | | | | | |
| | Current product | | | | |
| Fingerprint recognition | | | | | |
| Android | 10 | 9.0 (Pie) | 9.0 (Pie) | 9.0 (Pie) | 8.1 |
| Colour display | 6.47 inch, OLED, notch | 6.47 inch, OLED, notch | 6.4 inch, Curved Dynamic AMOLED Quad HD+, hole-punch display | 6.8 inch, Dynamic AMOLED Infinity-O Display | 6.4 inch, Infinity Super AMOLED Quad HD+ |
| Camera | 20 MP, 40 MP, 8 MP | 20 MP, 40 MP, 8 MP | 12 MP, 12 MP, 16 MP | 12 MP, 12 MP, 16 MP, VGA camera | 12 MP, 12 MP, dual camera sensor |
| Dirt and waterproof | | | | | |
| Front camera | 32 MP | 32 MP | 10 MP, 8 MP | 10 MP | 8 MP |
| Processor | 1.8 GHz, 1.92 GHz, 2.6 GHz, HiSilicon Kirin 980, octa core | 1.8 GHz, 1.92 GHz, 2.6 GHz, HiSilicon Kirin 980, octa core | 1.7 GHz, 2.4 GHz, 2.8 GHz, octa core | Octa core | 1.8 GHz, 2.7 GHz, Samsung Exynos 9810, octa core |
| Dual SIM | | | | | |
| 4G (LTE) | | | | | |
| Internal memory | 256 GB (Storage) | 128 GB (Storage), 256 GB (Storage) | 1 TB (Storage), 128 GB (Storage), 512 GB (Storage) | 256 GB (Storage), 512 GB (Storage) | 128 GB (Storage), 512 GB (Storage) |
| Memory card slot | | | | | |
| Battery | 4200 mAh | 4200 mAh | 4100 mAh | 4300 mAh | 4000 mAh |
| Fast charging | | | | | |
| Wireless charging | | | | | |
| Audio jack plug | | | | | |
Complete comparison between the Huawei P30 Pro New Edition and these alternatives or compare with other models
---
FAQs about the Huawei P30 Pro New Edition