The LG V30 is part of the multimedia V-series, but somehow does not resemble its predecessor. Altho that is an advantage as far as we are concerned. Why exactly and what you get with the LG V30 we will try to explain here
New seamless screen
The LG V30 will have a new design that is largely copied from the G6. Gone is the second screen as well as the bezels, the screen edges. It makes the V30 despite its large 6 inch screen still a fairly compact phone. By the way, it is good to mention that LG finally used an OLED panel again. Officially they call it the QHD+ OLED FullVision Display. The pixels of this display give themselves light, so backlighting is not necessary. It produces an unprecedented high contrast with deep black tones, something we were used to from LG's OLED televisions before. The bezel-less design is waterproof and even receives the robust MIL STD-810G certification that we often see on rugged phones. We don't dare to call the LG V30 really robust, altho that's mainly because of its glass back. Glass has been chosen to make wireless charging possible.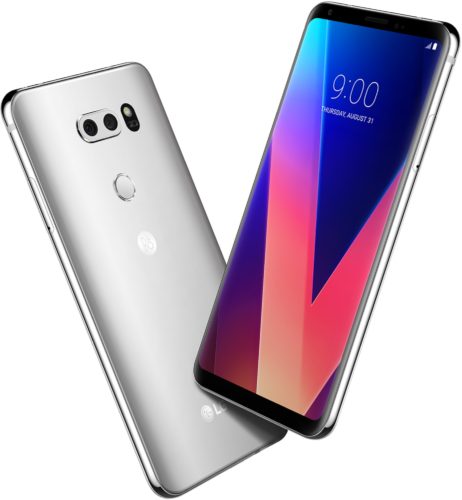 Glass camera lens
LG is clearly betting on the cameras with the V30. On the back we find a double camera of which one is equipped with 16 and the other with 13 megapixels. And yet we are going to talk about something else and that is the lens in front of it. In contrast to many other phones it is made of glass and not plastic. Glass is naturally brighter which in turn gives better exposed and sharper photos. What also helps is the impressive aperture of up to f/1.6, currently unique for a mobile phone. This means that extra light can reach the sensor. You benefit from this especially in low-light situations. The video camera also gets the necessary attention. The Cine Video mode, for example, gives you professional options. In this mode, you have access to 15 pre-selected filters that give your video an extra atmosphere. The Point Zoom function allows you to zoom in professionally and smoothly
Main LG V30 specifications
New seamless FullVision OLED QHD+ display
Powerful octacore processor (Snapdragon 835) for responsive user experience
Double camera with standard and wide-angle lens + bright f/1.6 lens
5 megapixel selfie camera with a choice of 82 and 90º wide-angle
Hi-Fi Quad DAC for rich, full and varied sound
Fast mobile 4G internet on the go (potentially gigabit speeds)
64GB of standard storage memory expandable up to 2 TB
Water and dustproof housing with IP68 and MIL-STD-810G rated
Pre-sets for personal sound
Image is nothing without sound and therefore LG has equipped the V30 with the necessary audio violence. Responsible for this is a Quad DAC. A DAC converts digital sound to analogue sound signals that your headphones or speaker can play. Because LG uses four of them, they are able to produce Hi-Fi sound that is richer, fuller and more varied. The most extensive music files can be played so you can listen to music as the musician intended. There are also some sound filters available to personalise sound. A little more bass or just a little more midrange is possible
Face and voice recognition
LG has come up with a number of additional ways to unlock the V30. Of course, there's a round fingerprint scanner on the back. It does not sit exactly next to the camera, as is the case with competitor Samsung, so you can easily smear it with greasy fingers, but it sits at a sufficient distance and can easily be found by touch. No, the V30 can also be unlocked via facial recognition and voice recognition. The facial recognition can mainly be seen as an alternative to fingerprint recognition. It doesn't get any faster so it's completely personal if you find it easier. The improved voice recognition is especially useful in combination with Google Assistant. This voice-activated assistant then only applies to your voice.