The Motorola Moto G50 is a 5G phone with smooth 90Hz screen. On the back we find a triple 48MP camera and inside a battery with a battery life of two days. What all this means exactly, what you'll get out of it and if it's all worth your money we'll explain here
Will the most affordable Moto 5G stand up?
The Moto G50 is Motorola's next-generation entry-level device. But with some premium features. Starting with a 90 Hz screen. Refreshing animations 90 times per second gives you smooth transitions. Scrolling thru a list, for example, looks much smoother than with the traditional 60 Hz. An additional advantage is that your phone feels much faster. What is also fast is the 5G support. This allows you to surf the internet, download files, play games and upload videos at lightning speed while on the move. This G50 was not Motorola's most affordable 5G phone at the time of its announcement, but it was one of the most affordable. The slightly older Moto G 5G is even cheaper, also has a sharper screen and a considerably more powerful processor.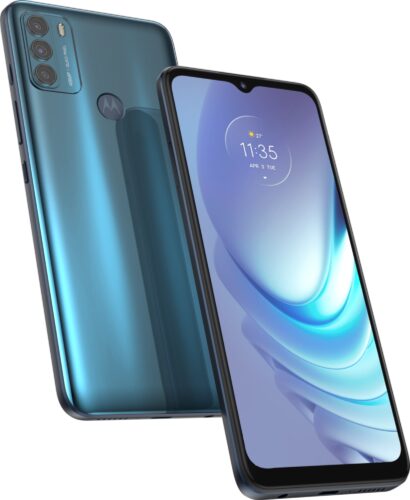 Fast charging but not out of the box
Another big plus of the Moto G50 is its built-in battery. It measures a generous 5000 mAh in capacity which is enough for 2 days of use. Fast charging is possible with up to 15 Watt but Motorola unfortunately only delivers a 10 Watt charger in the box. So you can charge faster by purchasing a separate charger. The chosen power source is the Snapdragon 480 processor. We know that the Snapdragon 4xx series are the least powerful but this 480 seems to be the exception to the rule. Thus, it is more powerful than the Snapdragon 662. The RAM memory comes out to a standard 4GB and the storage is available in 64 or 128 GB
Main Motorola Moto G50 specifications
6.5-inch Max Vision display with HD+ resolution and fast 90Hz playback
48+2+2MP camera with macro and depth + FHD video
13MP selfie camera in screen notch with f/2.2 lens
Snapdragon 480 processor with 4GB of RAM memory
5000 mAh battery with 15W fast charging (10W charger in the box)
64 or 128GB of storage memory (expandable up to 1TB)
Water repellant coating, not fully waterproof
Useable cameras
On the back of the Moto G50, we find a triple camera. The main sensor measures 48MP, making it sharp enough for every-day photos. There is also a 5MP macro-camera and a 2MP depth camera. This is the usual trio for cheaper phones and unfortunately, it doesn't get us very excited. We would rather see an ultra-wide-angle camera that is much more useful in practise. On the front, a 13MP selfie camera is hidden in (unfortunately) a somewhat old-fashioned notch. That is a drop-shaped notch in the screen. The predominantly plastic casing has been given a waterproof coating but it is not recommended to fully submerge it.