The Motorola Moto G9 Power is an affordable smartphone with gigantic battery. Moreover, it features a 64MP triple camera. However, comparing it to its predecessor, the G8 Power, it's not all progress. Let's see where it has made progress and where it hasn't
Large battery, fast charging and USB-C
The most important feature of the Moto G9 Power? That's without a doubt its 6000mAh battery. But how big is that exactly? According to Motorola enough to use it for 60 hours straight; 2.5 days. If we look at the reviews we see an average of 2 days but that is still an impressively long time. Moreover, the G9 Power is equipped with fast charging, something that is sometimes missing in this price category. Another good thing is that you can charge it with a USB Type C cable. It doesn't matter how you plug it in; it always fits.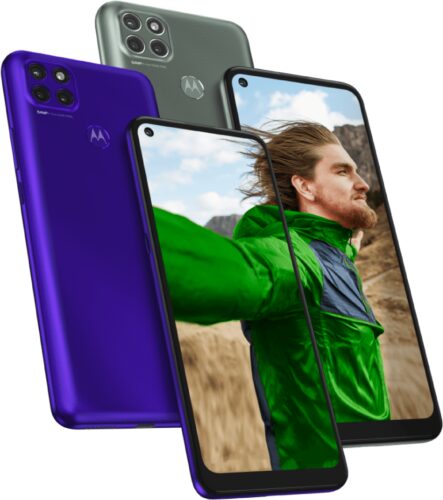 Larger screen size, but not as sharp
The Moto G9 Power has grown considerably in size compared to its predecessor. This is due to the placement of the 6.8-inch display. It is a Max Vision screen that maximises the space of the front. So no old-fashioned notch for the selfie camera, but a small punch-hole in the corner. A pity about the screen is that the resolution has gone down; from Full HD to HD. This may have been done to spare the battery, but it does result in less sharp images. Considering the considerably larger size, we are not sure if we would recommend G8 Power users to go for this G9 Power. The difference is very large indeed
Main Motorola Moto G9 Power Specifications
6.8-inch Max Vision HD+ screen with punch hole
64MP main camera, 2MP macro and 2MP depth camera + FHD video
16MP selfie camera with various selfie features including gesture recognition
6000 mAh large battery gives 2 days battery life + 20W fast charge
Qualcomm Snapdragon 662 processor with 4GB of RAM memory
128GB of storage (expandable up to 512GB)
Plastic body with water-repellant coating
4G support for fast mobile internet
Hybrid Dual SIM (2 nanosim or 1 nanosim + 1 microsd)
3 cameras but 1 really standouts
The Motorola Moto G9 Power is a budget phone with a big battery. And budget includes budget choices. Thus, the housing is made of plastic and you will find no 5G support. However, a Qualcomm processor has been used; the Snapdragon 662 with 4GB of RAM memory. That delivers decent performance, especially because this is not Qualcomm's absolute entry-level model. Also very neat is the standard amount of storage memory of 128GB. This is also expandable by up to 512GB. The rear camera counts up to 64MP and is accompanied by a 2MP macro and depth lens. A wide angle and zoom is sadly missing but the primary lens does perform above average.