The Motorola One Zoom with its versatile four headed camera system can shoot perfect pictures from almost every angle. There's even an optical zoom camera so you can shoot sharp pictures from far away
More than just zoom
If you look purely at his name, you'd think it was a so-called One-Trick Pony. That he's only good for zooming. Nothing could be further from the truth, which is why we're saving the camera for last. Fact is that the One Zoom is a very modern phone, both inside and outside. It starts at the screen with a diagonal of 6.4 inches. Motorola calls it a Max Vision screen. He has earned that name because the screen is close to the edge almost everywhere. The screen is an OLED panel which means that each pixel can emit its own light. Except black, which gives a very high contrast with deep black tones. The screen also houses another function: the fingerprint scanner. Not only is it always at your disposal, it also makes the One Zoom nice and modern.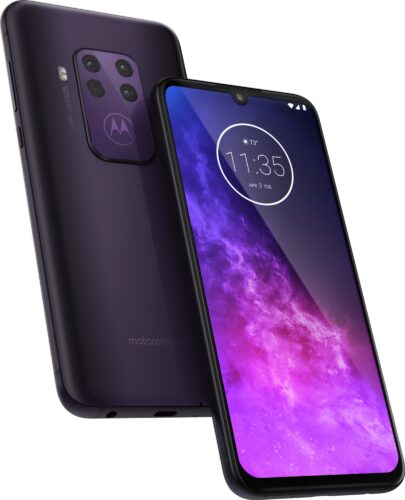 Stripped Android, not Android One
Inside, a Snapdragon 675 processor runs smoothly thru all tasks. It has access to 4 GB of RAM. We see this combination more often in mid-range phones, which makes it a bit average in this area. In terms of price, we expected quite a bit more punch. Fortunately Motorola did not put an extensive skin over Android. What's strange is that they didn't choose Android One. That's a very undressed Android version that is very fast and gets guaranteed updates. In contrast to almost all other Motorola One devices, this One Zoom does not use it
Main Motorola One Zoom specifications
Quad camera with 3x optical zoom, wide angle, depth, 4K video and OIS
6,4 inch Max Vision display (OLED) with built-in fingerprint scanner
Decent Qualcomm Snapdragon 675 processor with 4GB of RAM memory
4000 mAh battery with 15 Watt TurboPower fast charge
25MP selfie camera with Quad Pixel technology
Splashproof housing made of polished aluminium
Named after killer feature
And then, of course, his camera. The main camera gets a 48MP sensor with f/1.7 lens. You shoot 12MP pictures with it because 4 pixels are used to make 1 superpixel. That usually results in better exposed photos. Furthermore, we find a 16MP camera with ultra-wide-angle lens, 5MP depth camera and an 8MP telephoto camera. The One Zoom owes its name to that last camera. You can use it to zoom in optically 3 times. This way of zooming is not at the expense of the quality as is the case with digital zooming. The zoom camera is equipped with optical image stabilisation for sharper images, even when moving. This combination is quite exceptional in this price category, so we understand Motorola named it after them.