The Nokia 3310 (2017) is a modern remake of the ikonic 3310 that came out in the year 2000. Worldwide, 126 million copies of it were sold making it one of the best selling phone ever. This 3310 (2017) came out 17 years later and is therefore a completely different phone
Including Snake
What has remained the same are the many colours in which the device is available. The standby time of one month is also the same. Daily charging is not necessary. You can also play the popular nostalgic game Snake. But apart from that, this Nokia 3310 2017 is a completely different phone. How could it be otherwise? Technology never stands still. There is a much larger screen of 2.4 inches that can also display colours. The screen is slightly convex and also has a polarised layer, making it easier to read in direct sunlight.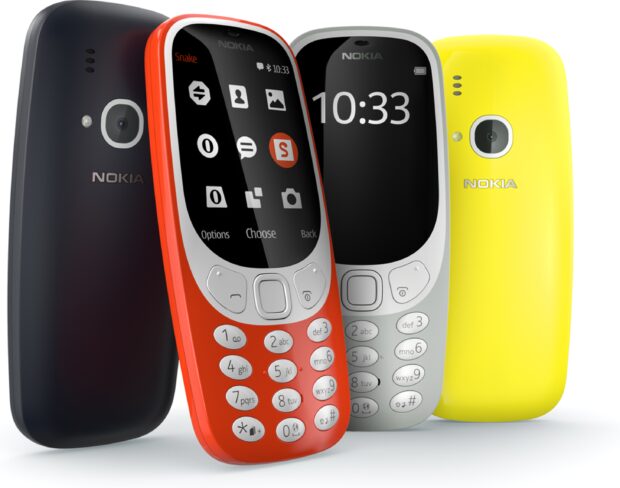 Take photos and listen to the radio
Altho it seems to have the same curves as its predecessor, the Nokia 3310 (2017) is a lot thinner. Nevertheless, the device with 12.8 millimetres can still be called a fatty. This time, the 2017 edition of the Nokia 3310 comes with a camera. This allows you to shoot photos and videos on the go. The resolution is 2 megapixels, which is enough for sharp photos on Instagram, Snapchat, or Facebook. There is even a flash to shine some light on dark moments. Charging is via USB and you can plug in your own headphones thanks to the 3.5 mm audio jack. This allows you to listen to the FM radio or music that you have stored on a memory card. Cards up to 32 GB are possible
Main Nokia 3310 (2017) specifications
2 megapixel rear camera with flash
2.4 inch colour screen
Memory card slots (up to 32 GB)
Built in FM radio receiver
Battery standby of just over a month
Of course it comes with the game Snake
Not for everyone
As fun and ikonic as the Nokia 3310 (2017) is, we have to give a few warnings. For one thing, this is not a smartphone. You can't download apps, you can't use WhatsApp, and the internet isn't exactly fast either due to the lack of 3G (let alone 4G). And because the Nokia 3310 2017 only supports dual-band, the device won't work in, say, the US. So we don't recommend using it as an emergency phone on vacation. So what is it suited for? Well, as a backup phone or as a festival phone, for example. As always, the phone can take a beating and because of the long battery life you won't have to look for an outlet quickly. The price is not an issue; only a few bucks and you can call yourself the owner.