---
---
Pro and cons Nokia 6300 4G
Nostalgic look & feel
WhatsApp and Facebook
4G internet and WiFi
Google Assistant
---
Price Nokia 6300 4G SIM Free
---
Nokia 6300 4G reviews
| | | |
| --- | --- | --- |
| 5 stars | | 0 reviews |
| 4 stars | | 0 reviews |
| 3 stars | | 0 reviews |
| 2 stars | | 0 reviews |
| 1 star | | 0 reviews |
---
---
Nokia 6300 4G product description
The Nokia 6300 4G is a simple looking phone but one you can still use in the 21st century. It has 4G support for fast mobile browsing, WiFi, it is compatible with WhatsApp and Facebook, and it understands voice commands thanks to the built-in Google Assistant. But the 6300 4G also has limitations. We'll explain it here.
Nostalgia offers advantages and disadvantages
Anyone who looks at the 6300 4G for the first time will think "what is that?!". HMD Global (the makers of this Nokia 6300 4G) like to call the device a "conversation starter". Ideal to break the ice with. Maybe literally, because it reminds you of the old, solid brick Nokia's from the past. Indestructible and with an impossibly long battery life. This 6300 4G is a modern remake of the original Nokia 6300 from 2006, but with 4G. It has an old-fashioned numeric keypad on the front, and a touchscreen is not included. It does not seem suitable for long emails, but the built-in Google Assistant support allows you to dictate emails.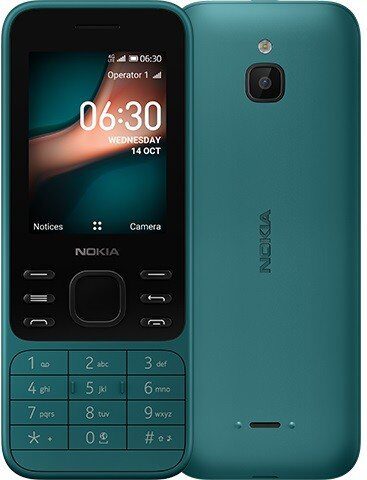 Smartphone in disguise
Despite its outdated appearance, the Nokia 6300 4G does offer modern features like WhatsApp and Facebook. You might not think it, but the 6300 4G is a smartphone that runs under KaiOS. It is a relatively simple operating system, but one with its own App Store from which you can instal apps. Besides 4G support for internet on the go, there is WiFi support for mobile home. YouTube videos can therefore be watched, altho the 2.4 inch screen will not be very ideal for long videos. If we turn the 6300 4G around, we even see a camera. It is an extremely simple one with a VGA resolution. That is less than 1 megapixel. Nokia has remained nostalgic in this regard.
Most important Nokia 6300 4G specifications
Compact 2.4-inch screen with QVGA resolution of only 320 by 240 pixels
VGA camera on the back with LED flash
Smartphone features thanks to KaiOS such as WhatsApp, Facebook & Google Assistant
Dual SIM support (2x nano SIM)
1500 mAh removable battery
3.5mm audio jack for your own headphone
4G support for fast mobile internet on the go
Accepts micro-SD memory card (up to 32GB)
But who is it actually for?
The battery doesn't seem big at 1500 mAh but since there aren't many power-hungry components, it lasts relatively long. It is also replaceable in the old fashioned way. There is also a headphone port for headphones. Plug those in and you can even listen to the radio. This makes the 6300 4G a basic phone with enough functions to last for several days. Perhaps the ideal festival phone, or emergency phone for the glove compartment. For camping, as a WiFi hotspot, or as a beginner's phone for your child. And the price is no problem, because it's not very expensive.
---
Nokia 6300 4G specification summary
Dimensions
131,4 x 53 x 13,7 mm
Weight
104,7 gr
Product code
TA-1286
EAN code
6438409054005, 6438409053992, 6438409053985, 6438409053800, 6438409053794, 6438409053787
Colour display
2.4 inch, TFT
Camera
VGA camera
Processor
1.1 GHz, Qualcomm Snapdragon 210, Dual Core
Front camera
Dual SIM
4G (LTE)
Internal memory
4 GB (Storage)
Battery
1500 mAh, user replaceable
---
Video about the Nokia 6300 4G
Get back to basics, but stay socially connected, with the Nokia 6300 4G. A very simple phone but still with social media apps
---
Nokia 6300 4G alternatives
Scroll the table below to see more
| | | | | |
| --- | --- | --- | --- | --- |
| | | | | |
| | | | | |
| | Current product | | | |
| Colour display | 2.4 inch, TFT | 2.4 inch, TFT | 2.4 inch, TFT | 2.4 inch, TFT |
| Camera | VGA camera | 2 MP | 2 MP | 2 MP |
| Processor | 1.1 GHz, Qualcomm Snapdragon 210, Dual Core | 208 MHz, Spreadtrum SC6531F | | |
| Front camera | | | | |
| Dual SIM | | | | |
| 4G (LTE) | | | | |
| Internal memory | 4 GB (Storage) | 8 MB (Storage) | 2 MB (Storage) | 4 GB (Storage) |
| Battery | 1500 mAh, user replaceable | 1500 mAh, user replaceable | 800 mAh, user replaceable | 800 mAh, user replaceable |
Complete comparison between the Nokia 6300 4G and these alternatives or compare with other models
---
FAQs about the Nokia 6300 4G