---
---
Pro and cons Nokia 8000 4G
Nostalgic appearance
Battery life of multiple days
4G and WiFi
Apps including WhatsApp
It's still a simple phone
---
Price Nokia 8000 4G SIM Free
---
Nokia 8000 4G reviews
| | | |
| --- | --- | --- |
| 5 stars | | 1 review |
| 4 stars | | 0 reviews |
| 3 stars | | 0 reviews |
| 2 stars | | 0 reviews |
| 1 star | | 0 reviews |
---
---
Nokia 8000 4G product description
With the Nokia 8000 4G you not only get a piece of nostalgia in return, you also get a modern 4G phone. One with WiFi, a camera and the possibility to use apps like Facebook and WhatsApp.
This classic just keeps going
But first the appearance of the 8000 4G. We can be brief about that; it's classic. The front is not a large touchscreen but a small compact screen with numeric keys underneath. The front and back feel like glass but are actually plastic. Yet its subtle curves and chrome finish make it feel very premium. The classic look gives the Nokia 8000 4G some advantages. Due to the lack of a large touchscreen, the battery life is extremely long. Multiple days without recharging is no exception. Another advantage; it survives a crash much easier than those other fragile expensive glass smartphones.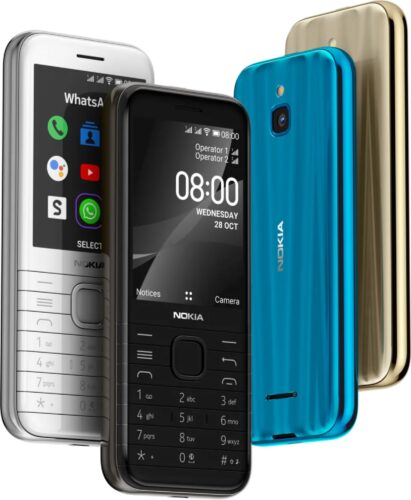 Modern operating system with app store
You can already tell from the name that this is a modern phone after all. You can use it on 4G. On the way fast internet is therefore just possible. You can even instal apps. The 8000 4G is a smartphone. It does not run Android but the Kai OS operating system. That will not immediately ring a bell with the general public but there are already over 100 million KaiOS phones sold. There is also an app store available with over 500 titles including Facebook, WhatsApp, Google Maps and YouTube. You don't use the screen but the keyboard underneath the app. That will take some getting used to in the beginning, but soon feels like old times again.
Main Nokia 8000 4G specifications
Compact 2.8 inch screen with QVGA resolution
Control by numeric keypad and 5-way button
2MP camera with flash that also works as a flashlight
Built-in FM-radio (only works with headphones)
1500 mAh battery is enough to last days
KaiOS operating system with app store
Dual SIM support (2x nanosim or 1 nano + 1 memory card)
Everybody on the internet
On the back of the Nokia 8000 we find a 2MP camera for simple photos. There is a flash on it, but you can also use it as a flashlight. A selfie camera is missing. Inside there is room for 2 nano SIM (4FF) type SIM cards. You can also use the space for the 2nd SIM card to place a memory card. The 8000 4G has a built-in FM-radio receiver but you need to plug in the headphones. This serves as an antenna. Charging is done via micro USB and the 1500 mAh battery will be full again in no time. Can you play Snake again, the old game you always found on Nokia's like this. Finally, the price is also interesting. It makes it ideal to use as an emergency phone in the car, spare phone or as a festival phone. But because you can also use it as a WiFi hotspot, it's also useful for camping; the whole family can still use it on the Internet.
---
Nokia 8000 4G specification summary
Dimensions
132,2 x 56,5 x 12,34 mm
Weight
110,2 gr
EAN code
6438409054029, 6438409054012, 6438409053978, 6438409053961, 6438409053954
Colour display
2.8 inch, TFT
Camera
2 MP
Processor
1.1 GHz, Qualcomm Snapdragon 210, Dual Core
Front camera
Dual SIM
4G (LTE)
Internal memory
4 GB (Storage)
Battery
1500 mAh, user replaceable
---
Video about the Nokia 8000 4G
Honestly, do you ever want to go back to the old days? For phones that didn't break down right away? Phones whose batteries lasted for weeks? But can't you say goodby to 4G and apps like WhatsApp? Then Nokia has the 8000 4G for you.
---
---
FAQs about the Nokia 8000 4G