Sometimes you see someone and wonder where you've seen them before. The same goes for the Nokia 8110 4G. A new mobile with modern features but with a familiar appearance. You're not wrong; it is the remake of the Nokia 8110 from 1996. The phone that gained a lot of fame thanks to the movie The Matrix has been given a modern look and that is what we are going to look at now
Nostalgia with modern features
When Nokia started making its own phones again, they had to have something to generate attention. This is achieved by re-releasing old popular models. The Nokia 3310 (2017) was the first and this 8110 4G is the second attempt. For attention, the 8110 is not shy; it got enough. Of course because the first 8110 was an ikon because of its curved shape reminiscent of a banana. And also the sliding mechanism makes you long for carefree times when the beer crates were still yellow, Twix was still called Raiders and you could buy an ice cream for a penny and get change back as well! Besides nostalgic, the 8110 4G is fortunately also modern. There is now a colour screen, 4G support and of course a camera. Next to that there is always a splashproof housing and thanks to the Smart Feature control system (based on KaiOS) you can use apps.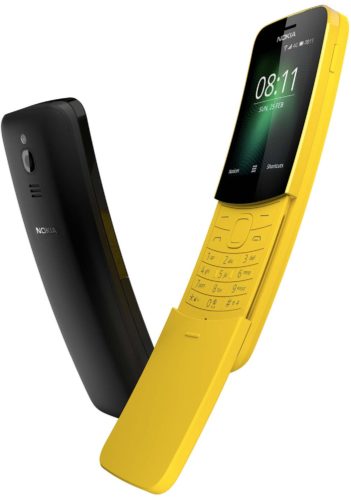 Snake
For a feature phone, the Nokia 8110 4G is a bit on the expensive side, the price is well below 100 euros, but there are cheaper alternatives. For that you do miss a rather unique sliding mechanism that protects the keyboard. Besides the fact that it looks nice, this also makes pocket calling a thing of the past. You also have access to Snake, the world famous game that has made almost all Nokia's big. The modern character of this 8110 4G is also reflected in the name; the presence of 4G. This allows you to quickly surf the internet while on the road. Not only that, you can also create a mobile hotspot for your laptop
Main Nokia 8110 4G specifications
Unique design with curved screen and sliding mechanism
4 GB storage memory, expandable up to 64 GB via memory card
Dual SIM functionality (shared with memory card slot)
Qualcomm 205 dual-core processor at 1.1 GHz
Rapid mobile 4G internet
2 megapixel camera with LED flash
Camera with sufficient storage
Nokia has placed a 2 megapixel camera with a LED flash on the back of the 8110 4G. If you want to use the Nokia 8110 4G as a festival phone, you can just take snapshots. The battery should last a long time. To ensure this, Nokia has opted for a relatively simple processor; the Qualcomm 205. For the 8110 4G, it is fast enough and at the same time energy efficient. There is 4 GB of storage memory, fairly generous for a featurephone. In case of lack of space, you can expand this to 64 GB by inserting a memory card. The Nokia 8110 4G also has a built-in radio, you can play MP3 music files and there is room for two SIM cards: a micro and a nanoSIM. This means you can be reached on two tracks at the same time. Or share your phone with a friend, it's up to you.