The Nokia X10 is a reasonably priced 5G phone with 48 MP quad-camera and Zeiss lenses. It's also a phone with a warranty: 3 years of Android upgrades and monthly security updates. In this price category, that's rather special. What else is special about the X10 we'll find out here
The promise of Android One
Ideally, you want your new mobile to last as long as possible. It helps not to let it fall apart in the meantime but then there are the software updates that you might miss. Every year there is a new version of Android with new features and capabilities. It's best not to miss out on those. But the cheaper a phone gets, the less likely it is that you will get that new Android version. HMD Global, the maker of this Nokia X10, is therefore making you the following promise: you will get Android upgrades and monthly security updates for up to 3 years. In other words, you will still get Android 14 on a phone that you don't pay top dollar for.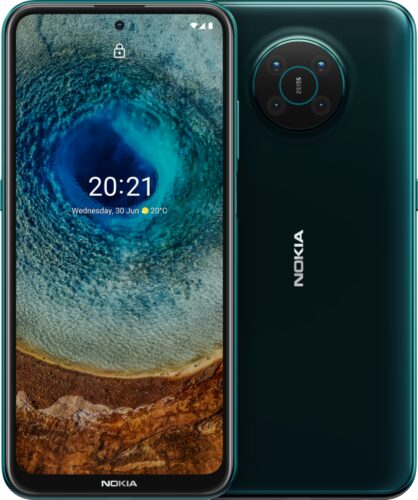 For not too much money, you get a phone with 5G support, a large 6.67-inch screen with Full HD+ resolution, and a quad camera on the back of it of up to 48MP. You might not be using 5G yet but it's reassuring to know it's already on there for when you do need it. The large screen doesn't have an old-fashioned notch for the selfie camera but a punch hole, an unobtrusive hole in other words. With a maximum brightness of 450 nits, the screen is not very bright in full day-light. The fingerprint scanner is found on the right side, which is also made of metal. The back is plastic and there we also find the quadruple camera. The main camera is 48MP and thus shoots reasonably sharp pictures. Then there is an ultra-wide-angle camera with 5MP, a depth camera of 2MP and a macro camera of also 2MP
Most important Nokia X10 specifications
Large 6,67-inch LCD with punch-hole and FHD+ resolution
Quad camera (48+5+2+2MP) with bright Zeiss lenses and photo editing apps
8MP selfie camera in modern punch-hole
Qualcomm Snapdragon 480 processor with ample 6GB of RAM memory
5G support for blazing fast internet on the go
64GB storage, expandable via memory card
3 years of Android promised upgrades and 3 years of monthly security updates
Built-in FM radio with OZO sound and headphone jack
Not the most powerful
Inside the X10, we find one of Qualcomm's least powerful processors; the Snapdragon 480. The spacious 6GB of RAM memory makes up for some of this, but not everything. It does not feel really smooth. The battery has a capacity of 4470 mAh, which on paper should be enough for 2 days of use. Fast charging is possible with up to 18W but the charger is not included in the box. You can buy it separately from Nokia. The proceeds then go to charity. Or you can use a USB charger you have lying around somewhere, that works too. Good for the environment, just like the included case. It is 100% biodegradable and can be disposed of in the biobasket when you are tyred of it.