---
---
Pro and cons OnePlus 7
Camera with nite mode
Stereo Dolby Atmos sound
Bright screen, little notch
Large battery + fast charging
Only small update of the 6T
---
Price OnePlus 7 SIM Free
---
OnePlus 7 reviews
| | | |
| --- | --- | --- |
| 5 stars | | 0 reviews |
| 4 stars | | 0 reviews |
| 3 stars | | 0 reviews |
| 2 stars | | 0 reviews |
| 1 star | | 0 reviews |
---
---
OnePlus 7 product description
The OnePlus 7 is the logical successor to the six months earlier announced OnePlus 6T. It looks almost the same, has almost the same features and should cost almost as much. Why this OnePlus 7 is the better or worse choice we would like to explain for you here.
Incremental improvements
To be honest, the OnePlus 7 is hardly worth considering if you already have a OnePlus 6T. The screen is exactly the same, the housing has no renewal and also the battery is the same. The differences that do exist justify an upgrade with difficulty. This does not mean that there are no differences. Let's list them all. Starting with the power source. OnePlus has chosen the latest Qualcomm Snapdragon; the Snapdragon 855. It's just a little faster and more powerful. Furthermore OnePlus applies a faster type of memory; UFS 3.0. Apps are therefore started faster. There are now also stereo speakers. OnePlus uses the bael-speaker with the loudspeaker at the bottom of the device. So they are not 'real' forward facing speakers.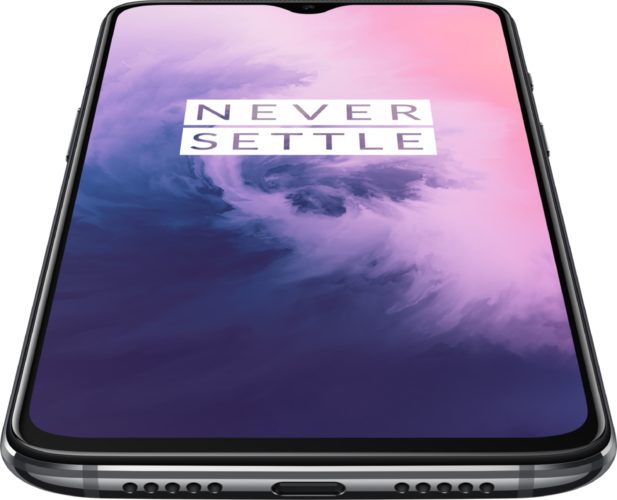 48 megapixel
Still, the biggest difference is in the camera. OnePlus still applies two, but on the OnePlus 7 we find this time a 48 megapixel main camera. This one has a double image stabilisation which not only prevents that you have less frequently moving photos but it also helps to capture longer light in the dark. So better nite shots. The OnePlus 7 has a special nite mode; Nightscape 2.0. In this mode you screw up the exposure even more for when it is really pitch dark. The second camera ensures that depth is recognised and is therefore able to take beautiful portrait photos. The selfie camera is an old acquaintance; we already found the 16 megapixel camera in the OnePlus 6T.
Main OnePlus 7 specifications
Spacious 6.41-inch Optic AMOLED screen with Gorilla Glass protection
48 + 5 megapixel camera with portrait mode
Powerful Qualcomm Snapdragon 855 at up to 2.84 GHz
Fast 4G Internet (LTE Cat.16)
Dualsim functionality
16 megapixel selfie camera with face unlock
Stereo speakers with Dolby Atmos support
Existing improvements
But also things we saw before have improved. Think of Screen Unlock. The integrated fingerprint scanner has become faster and more reliable. It's still imbedded in the 6.41-inch Optic AMOLED screen. The vibrator has also been overhauled and is now more powerful. Ideal for gaming. All in all, small improvements that add up to a lot. If you come from older OnePlus phones, the OnePlus 7 is a no-brainer. Do it! If you come from the 6T you might want to cheque out the OnePlus 7 Pro or wait half a year for the OnePlus 7T to come out.
---
OnePlus 7 specification summary
Dimensions
157,7 x 74,8 x 8,2 mm
Weight
182 gr
Code name
OnePlus Guacamoleb
EAN code
6921815607922, 6921815607915
Fingerprint recognition
Android
Colour display
Optic AMOLED, notch
Camera
48.0 MP, 5.0 MP, dual camera sensor
Dirt and waterproof housing
Front camera
16.0 MP
Processor
Qualcomm Snapdragon 855, octa core
Dual SIM
LTE (4G)
Internal memory
128 GB (Storage), 256 GB (Storage)
Memory card slot
Battery
3700 mAh
Fast charging
Audio jack plug
---
OnePlus 7 alternatives
Scroll the table below to see more
| | | |
| --- | --- | --- |
| | | |
| Photos at scale | | |
| | Current product | |
| Fingerprint recognition | | |
| Android | | 10 |
| Colour display | Optic AMOLED, notch | Fluid AMOLED, notch |
| Camera | 48.0 MP, 5.0 MP, dual camera sensor | 12.0 MP, 16.0 MP, 48.0 MP |
| Dirt and waterproof housing | | |
| Front camera | 16.0 MP | 16.0 MP |
| Processor | Qualcomm Snapdragon 855, octa core | Qualcomm Snapdragon 855+, octa core |
| Dual SIM | | |
| LTE (4G) | | |
| Internal memory | 128 GB (Storage), 256 GB (Storage) | 128 GB (Storage) |
| Memory card slot | | |
| Battery | 3700 mAh | 3800 mAh |
| Fast charging | | |
| Audio jack plug | | |
Complete comparison between the OnePlus 7 and these alternatives or compare with other models
---