The OnePlus 7 Pro is OnePlus its first Pro smartphone and immediately the bar is set high. The device is a further development of the OnePlus 7 but with some special and unique features. Features that you don't even see with the competition at the moment. Which exactly we would like to explain here
Picture, and action!
The 7 Pro is mainly about two things; the screen and the cameras. And those two have more in common than you might think. Starting with the screen. We see a gigantic 6.67 inches. Honestly, that's pretty big. So the OnePlus 7 Pro is a big phone and you have to luv it. But if you look closely, you won't detect any notch at all. No notch for the selfie camera. And yet the screen is tight against the edge. That's because the selfie camera is in the housing and only comes up when you need it. This makes the 7 Pro a little less suitable as a selfie phone because you don't have a selfie camera at your disposal.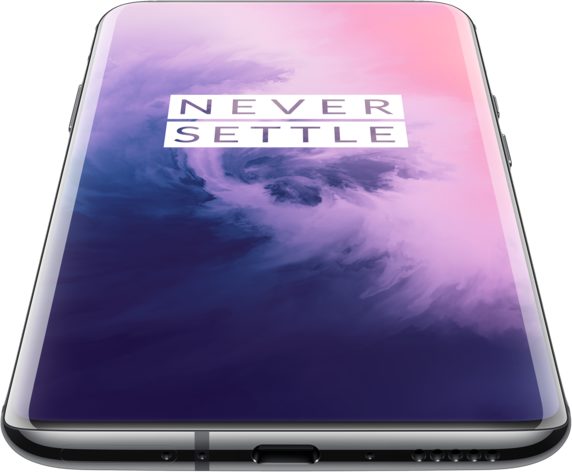 Fluid AMOLED
That screen is not only large but also fast. OnePlus applies a higher refresh rate of 90 Hertz, making animations, transitions and scrolling faster and smoother. This is something you have to experience and gives the illusion of a faster phone. That's what it is, but more on that later. OnePlus gives the screen the aptly named Fluid AMOLED and it's razor-sharp thanks to the QHD+ resolution. The fingerprint scanner is processed at the bottom of the screen, is larger this year and therefore you don't have to put your finger in the right place with as much accuracy. It unlocks within 0.21 seconds, which is faster than a year ago and faster than many other competitors
Main OnePlus 7 Pro specifications
Bright, sharp but above all fast Fluid AMOLED screen of 6.67 inch large
Pop-up 16 MP selfie camera
48 + 16 + 8 megapixel rear camera with wide-angle and telephoto zoom lens
Place two SIM cards thanks to Dual SIM support
Support for fast 4G Internet (LTE Cat.18)
New octa-core processor from Qualcomm: Snapdragon 855
Warp Charge 30: fully charged in 20 minutes
Join the big boys
Then the camera on the OnePlus 7 Pro. On the back, OnePlus applies 3 sensors for the first time; one of 48 megapixels for every-day photography, a 16 megapixel wide-angle lens for landscapes and an 8 megapixel for 3x zoom. The latter does not produce the sharpest photos as some other phones, but despite that, the OnePlus 7 Pro does receive a more than neat 111 score from DxOMark's testers. With this, it comes along nicely with the big guys. The selfie camera counts 16 megapixels and is extra sturdy by OnePlus. The retractable mechanism has been tested up to 300,000 movements and will withstand 150 selfies per day for the next 5 years. It is also dustproof and slides in automatically when the camera is dropped
UFS 3.0, Liquid Cooling, Gaming Mode
We've come to the end of this meeting but we haven't discussed everything yet. The faster UFS 3.0 memory for example, which makes it super fast, the new Snapdragon 855 which makes it suitable for gaming, the stereo Dolby Atmos speakers, Liquid cooling, the Gaming Mode with its Fnatic mode and fast 30 Watt charging. You still owe it all to us. Let's be clear: the OnePlus 7 Pro is an all-round phone with some unique features that you won't even see with the 1000-euro competitors. And that for an amount that is a few hundred euros lower anyway. This is higher than you are used to from OnePlus, but because of this it is competitive. Do we still have some drawbacks? It isn't certified waterproof (but it is somewhat waterproof), doesn't have a headphone port and you can't charge it wirelessly.