---
---
Pro and cons OnePlus 7T Pro
Special pop-up camera
Whole front is screen
Good & smooth performance
Loud stereo speakers
---
Price OnePlus 7T Pro SIM Free
---
OnePlus 7T Pro reviews
| | | |
| --- | --- | --- |
| 5 stars | | 0 reviews |
| 4 stars | | 1 review |
| 3 stars | | 0 reviews |
| 2 stars | | 0 reviews |
| 1 star | | 0 reviews |
---
---
OnePlus 7T Pro product description
The OnePlus 7T Pro is OnePlus' top model from the end of 2019 / beginning of 2020. Of course you still opt for McLaren Edition but you have to pay a lot more for that. This 7T Pro is equipped with a smooth screen, the latest Qualcomm chipset and a lot of storage memory for all your content.
Close to perfection
Because OnePlus releases new models so quickly, this OnePlus 7T Pro does not differ much from the 7 Pro. We can put the differences on a beer mat; a new processor, slightly larger battery and standard with 256GB memory. If you are currently using a OnePlus 7 Pro there is no reason to upgrade. That will be a different storey if you come from an older model, or have a non OnePlus phone. The 7T Pro is one of the few phones with a completely uninterrupted display. The selfie camera is not in a notch, not in a punch-hole and not above the screen. It sits in the device and slides up as soon as you need it. A pop-up selfie camera, we don't see that very often. This makes the entire front side of the camera a screen. It doesn't get much better than this.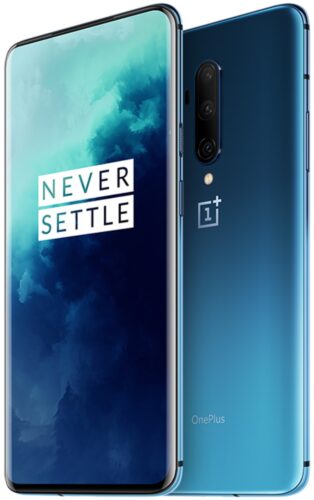 The right set of cameras
Another advantage of the screen is the smooth 90Hz refresh rate. Especially animations look a lot better because of this. And because the 7T Pro has a Quad HD+ screen resolution, its images are also razor-sharp. As we said, it doesn't get much better than this. But does that also apply to the camera? On the back is a triple camera system. OnePlus chooses a 48MP main camera with very bright f/1.6 lens, a 16MP ultra-wide-angle camera and an 8MP telephoto lens with 3x optical zoom. As far as we are concerned, this is the best composition. The primary lens takes crisp, clear photos even in the dark (Nightscape mode), the ultra-wide-angle camera is ideal for landscapes thanks to its large 117° angle of view, and the telephoto lens brings your images 3x closer with no loss of quality. There is a portrait mode where you can choose the focus and add background blur and you can shoot macro shots from 2.5 centimetres. Capture flowers or insects with great detail. The pop-up selfie camera is 16MP in size and the mechanism is fast. OnePlus has also tested the mechanism for durability; it should last up to 300,000 times.
Main OnePlus 7T Pro specifications
Full-front 6.67 inch large Fluid Display with 90Hz and QHD+ resolution
Special 16MP pop-up selfie camera with face recognition
48MP main camera, 16MP ultra-wide-angle and 8MP telephoto zoom (3x)
Powerful Snapdragon 855+ processor with generous and fast 8GB of RAM memory
256GB of storage memory (not expandable)
4085 mAh battery with 30 Watts Warp Charge fast charging
Stereo speakers with noise reduction and Dolby Atmos
Speedy 4G internet on the go (Cat18)
Exterior is water-repellant but not officially waterproof
Keeps it cool
As usual with OnePlus, the performance of the 7T Pro is good. Inside there is room for a Snapdragon 855+, which is a slight upgrade from the Snapdragon 855 in the 7 Pro, but because of that it has the fastest and most powerful performance of this moment. Gaming, heavy apps, frequent use; the 7T Pro doesn't turn a blind eye. It keeps its head cool thanks to a graphite cooling system and a heatpipe. The generous 8GB of RAM memory (LPDDR4X) makes it fast. The storage memory now comes standard at 256GB and is of the fast UFS 3.0 type. This time the battery comes out at 4085 mAh and can be charged up to 30 Watt fast (Warp Charge 30T). Wireless charging is one of the few things it can't do. Plugging in headphones is also going to be tricky; a 3.5mm audio jack is missing. Via a USB dongle it is possible and otherwise you can always listen to music thru the built-in stereo speakers.
---
OnePlus 7T Pro specification summary
Dimensions
162,6 x 75,9 x 8,8 mm
Weight
206 gr
Code name
OnePlus Hotdogb
EAN code
9505491789942, 9504667847899, 6921815608516, 5413729234932, 0009990001110
Fingerprint recognition
Android
10
Colour display
6.67 inch, Fluid AMOLED
Camera
16 MP, 48 MP, 8 MP
Dirt and waterproof
Front camera
16 MP
Processor
2.96 GHz, Qualcomm Snapdragon 855+, octa core
Dual SIM
4G (LTE)
Internal memory
256 GB (Storage)
Memory card slot
Battery
4085 mAh
Fast charging
Audio jack plug
---
Videos about the OnePlus 7T Pro
What does the popular YouTuber Marques Brownlee think of the OnePlus 7T Pro?
The OnePlus 7T series is here. Consisting of the 7T and 7T Pro and faster than ever before
---
OnePlus 7T Pro alternatives
Scroll the table below to see more
| | | | | | |
| --- | --- | --- | --- | --- | --- |
| | | | | | |
| | | | | | |
| | Current product | | | | |
| Fingerprint recognition | | | | | |
| Android | 10 | 10 | 9.0 (Pie) | 10 | 10 |
| Colour display | 6.67 inch, Fluid AMOLED | 6.78 inch, Fluid AMOLED, hole-punch display | 6.4 inch, Curved Dynamic AMOLED Quad HD+, hole-punch display | 6.5 inch, Infinity-O Display, hole-punch display | 6.5 inch, Infinity-O Display, hole-punch display |
| Camera | 16 MP, 48 MP, 8 MP | 48 MP, 48 MP, 5 MP, 8 MP | 12 MP, 12 MP, 16 MP | 12 MP, 12 MP, 8 MP | 12 MP, 12 MP, 8 MP |
| Dirt and waterproof | | | | | |
| Front camera | 16 MP | 16 MP | 10 MP, 8 MP | 32 MP | 32 MP |
| Processor | 2.96 GHz, Qualcomm Snapdragon 855+, octa core | 1.8 GHz, 2.42 GHz, 2.84 GHz, Qualcomm Snapdragon 865, octa core | 1.7 GHz, 2.4 GHz, 2.8 GHz, octa core | Qualcomm Snapdragon 865, octa core | Samsung Exynos 990, octa core |
| Dual SIM | | | | | |
| 4G (LTE) | | | | | |
| Internal memory | 256 GB (Storage) | 128 GB (Storage), 256 GB (Storage) | 1 TB (Storage), 128 GB (Storage), 512 GB (Storage) | 128 GB (Storage), 256 GB (Storage) | 128 GB (Storage), 256 GB (Storage) |
| Memory card slot | | | | | |
| Battery | 4085 mAh | 4510 mAh | 4100 mAh | 4500 mAh | 4500 mAh |
| Fast charging | | | | | |
| Audio jack plug | | | | | |
Complete comparison between the OnePlus 7T Pro and these alternatives or compare with other models
---
FAQs about the OnePlus 7T Pro