---
---
Pro and cons Oppo A53
Smooth 90Hz screen
Large 5000mAh battery
Stereo with 3D sound
13MP camera+portrait mode
---
Oppo A53 with contract
Monthly
Upfront
Duration
Minutes
Texts
Data
£ 13,00
£ 23,99
24 mo
unlimited
unlimited
10GB
View deal
£ 14,00
£ 0,00
24 mo
unlimited
unlimited
30GB
View deal
£ 14,00
£ 2,99
24 mo
unlimited
unlimited
10GB
View deal
£ 14,99
£ 0,00
24 mo
unlimited
unlimited
5GB
View deal
£ 15,00
£ 0,00
24 mo
unlimited
unlimited
10GB
View deal
£ 15,99
£ 0,00
24 mo
unlimited
unlimited
10GB
View deal
£ 16,00
£ 0,00
24 mo
unlimited
unlimited
50GB
View deal
£ 17,99
£ 0,00
24 mo
unlimited
unlimited
20GB
View deal
£ 18,99
£ 0,00
24 mo
unlimited
unlimited
50GB
View deal
£ 19,99
£ 0,00
24 mo
unlimited
unlimited
unlimited
View deal
£ 18,96
£ 30,00
24 mo
unlimited
unlimited
5GB
View deal
£ 21,00
£ 0,00
24 mo
unlimited
unlimited
6GB
View deal
£ 21,96
£ 30,00
24 mo
unlimited
unlimited
20GB
View deal
£ 24,00
£ 0,00
24 mo
unlimited
unlimited
25GB
View deal
£ 24,95
£ 0,00
24 mo
unlimited
unlimited
25GB
View deal
£ 23,95
£ 30,00
24 mo
unlimited
unlimited
30GB
View deal
£ 23,96
£ 30,00
24 mo
unlimited
unlimited
50GB
View deal
£ 26,00
£ 0,00
24 mo
unlimited
unlimited
25GB
View deal
£ 25,95
£ 30,00
24 mo
unlimited
unlimited
60GB
View deal
£ 25,96
£ 30,00
24 mo
unlimited
unlimited
250GB
View deal
£ 29,00
£ 0,00
24 mo
unlimited
unlimited
unlimited
View deal
Click here to view all deals
Looking for the lowest prices and best deals. One moment please, it's definitely worth the wait!
---
Price Oppo A53 SIM Free
---
Oppo A53 reviews
| | | |
| --- | --- | --- |
| 5 stars | | 0 reviews |
| 4 stars | | 0 reviews |
| 3 stars | | 0 reviews |
| 2 stars | | 0 reviews |
| 1 star | | 0 reviews |
---
---
Oppo A53 product description
The Oppo A53 is an affordable phone with a smooth 90Hz screen. Not only that, it also has a triple camera on the back. In combination with its large battery and Snapdragon processor, it offers great value for money on paper.
Neo-Display provides fluent images
You may have encountered the Oppo A53s as well. To clear up that misunderstanding right away; that is the version with 128GB of storage memory. The A53 has 64GB and is available in Fancy Blue (blue), there are no other differences. Both are available in Electric Black but for the green Mint Cream version you need to be with the A53. Both have a 6.5 inch screen with HD+ resolution. This makes the image razor sharp but text can seem a bit jagged up close. Special about the A53 is the 90Hz refresh rate. At the moment we only see this function on expensive flagships and it makes animations go extra smooth. Not only that, your device also feels a lot faster. Not bad for a phone of less than 200 euro.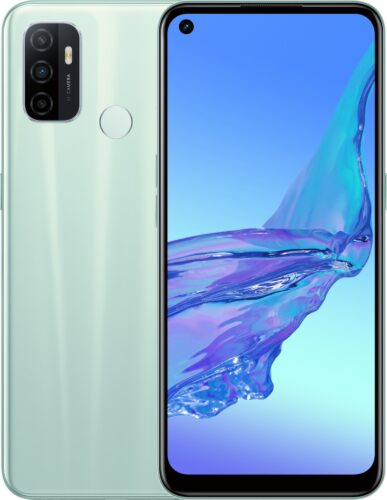 Large battery is quick to charge
Because the competition is fierce in this price segment, we see more often that the batteries of this kind of phones are extra large. So is the one in the Oppo A53. With a capacity of 5000 mAh it will last for many hours. One day should not be a problem, two days is even possible. Fast charging comes in the form of an 18W charger. Also interesting are the stereo speakers with which it is equipped. That makes it ideal for listening to music or watching video.
Main Oppo A53 specifications
Fluent 90Hz 6.5-inch Neo-Display with punch-hole for selfiecam
13+2+2MP camera with depth camera for portraits and macro lens for close-ups
8MP selfie camera with f/2.0 lens and artificial portrait mode
Entry level Snapdragon 460 processor with basic 4GB of RAM memory
64GB of storage memory, expandable to 256GB via optional memory card
5000 mAh large battery with 18W quick charge
Dual Stereo Speakers with 3D sound
Fingerprint scanner on the back for extra security
Fine but otherwise not special camera
So far only laudatory storeys about the A53 but of course there are some points of interest. For example, the Snapdragon 460 processor is not very powerful. For simple daily use it will do, but heavy games are too high. And even with the camera you won't win any prises. The A53 has no less than 3 different models; a 13MP main camera, a 2MP depth camera and a 2MP macro lens. With the latter you can shoot extreme close-ups from as little as 4cm. Nice to do but because of the low resolution not something you will use often. Still, with the camera system you can shoot your every-day photos, but the cover of the National Geographic you will not make it.
---
Oppo A53 specification summary
Dimensions
163,9 x 75,1 x 8,4 mm
Weight
186 gr
Product code
CPH2127
EAN code
6944284671140, 6944284671119, 6944284671102
Fingerprint recognition
Android
10
Colour display
6.5 inch, Neo-Display, hole-punch display
Camera
13 MP, 2 MP, 2 MP
Front camera
8 MP
Processor
1.8 GHz, Qualcomm Snapdragon 460, octa core
Dual SIM
4G (LTE)
Internal memory
64 GB (Storage)
Battery
5000 mAh
Fast charging
---
Video about the Oppo A53
Most attention is always paid to expensive flagships but even for little money you have a phone with a smooth 90Hz screen. The Oppo A53 for example. Time to take a closer look
---
Oppo A53 alternatives
Scroll the table below to see more
| | | | | | |
| --- | --- | --- | --- | --- | --- |
| | | | | | |
| | | | | | |
| | Current product | | | | |
| Fingerprint recognition | | | | | |
| Android | 10 | 11 | | | 10 |
| Colour display | 6.5 inch, Neo-Display, hole-punch display | 6.5 inch, LTPS, hole-punch display | 6.5 inch, Infinity-O Display, hole-punch display | 6.5 inch, Infinity V HD+, notch | 6.5 inch, Max Vision HD+, notch |
| Camera | 13 MP, 2 MP, 2 MP | 2 MP, 2 MP, 48 MP, 8 MP | 2 MP, 2 MP, 48 MP, 8 MP | 2 MP, 2 MP, 48 MP, 5 MP | 2 MP, 48 MP, dual camera sensor |
| Front camera | 8 MP | 16 MP | 13 MP | 8 MP | 8 MP |
| Processor | 1.8 GHz, Qualcomm Snapdragon 460, octa core | 2.0 GHz, Qualcomm Snapdragon 480, octa core | 2.0 GHz, octa core | 1.8 GHz, 2.3 GHz, octa core | 1.8 GHz, Qualcomm Snapdragon 460, octa core |
| Dual SIM | | | | | |
| 4G (LTE) | | | | | |
| Internal memory | 64 GB (Storage) | 64 GB (Storage) | 32 GB (Storage), 64 GB (Storage) | 128 GB (Storage), 32 GB (Storage), 64 GB (Storage) | 64 GB (Storage) |
| Battery | 5000 mAh | 5000 mAh | 5000 mAh | 5000 mAh | 5000 mAh |
| Fast charging | | | | | |
Complete comparison between the Oppo A53 and these alternatives or compare with other models
---