---
---
Pro and cons Oppo Find X2 Pro
Beautiful all-round screen
Versatile camera+zoom
Rapid charging
Premium waterproof appearance
Solid price & no wireless charging
---
Oppo Find X2 Pro with contract
Monthly
Upfront
Duration
Minutes
Texts
Data
£ 28,99
£ 49,99
24 mo
unlimited
unlimited
100GB
View deal
£ 29,99
£ 49,99
24 mo
unlimited
unlimited
unlimited
View deal
£ 17,00
£ 389,99
24 mo
unlimited
unlimited
10GB
View deal
£ 14,00
£ 465,99
24 mo
unlimited
unlimited
30GB
View deal
£ 13,00
£ 489,99
24 mo
unlimited
unlimited
10GB
View deal
£ 14,00
£ 468,99
24 mo
unlimited
unlimited
10GB
View deal
£ 15,00
£ 446,99
24 mo
unlimited
unlimited
30GB
View deal
£ 19,00
£ 351,99
24 mo
unlimited
unlimited
10GB
View deal
£ 15,00
£ 450,99
24 mo
unlimited
unlimited
10GB
View deal
£ 16,00
£ 427,99
24 mo
unlimited
unlimited
30GB
View deal
£ 17,00
£ 407,99
24 mo
unlimited
unlimited
30GB
View deal
£ 33,00
£ 29,99
24 mo
unlimited
unlimited
150GB
View deal
£ 18,00
£ 393,99
24 mo
unlimited
unlimited
10GB
View deal
£ 22,00
£ 298,99
24 mo
unlimited
unlimited
30GB
View deal
£ 16,00
£ 442,99
24 mo
unlimited
unlimited
50GB
View deal
£ 21,00
£ 326,99
24 mo
unlimited
unlimited
10GB
View deal
£ 17,00
£ 423,99
24 mo
unlimited
unlimited
50GB
View deal
£ 19,00
£ 376,99
24 mo
unlimited
unlimited
5GB
View deal
£ 18,00
£ 400,99
24 mo
unlimited
unlimited
50GB
View deal
£ 23,00
£ 282,99
24 mo
unlimited
unlimited
10GB
View deal
£ 20,00
£ 360,99
24 mo
unlimited
unlimited
10GB
View deal
Click here to view all deals
Looking for the lowest prices and best deals. One moment please, it's definitely worth the wait!
---
Price Oppo Find X2 Pro SIM Free
---
Oppo Find X2 Pro reviews
| | | |
| --- | --- | --- |
| 5 stars | | 0 reviews |
| 4 stars | | 0 reviews |
| 3 stars | | 0 reviews |
| 2 stars | | 0 reviews |
| 1 star | | 0 reviews |
---
---
Oppo Find X2 Pro product description
The Oppo Find X2 Pro is the ultimate flagship of Chinese Oppo and therefore the best they have to offer. Oppo has thought about everything; from the design, the materials to the specifications. All that is left to asked; is all this enough to justify the high price?
Phone with guts
To be honest, it takes a lot of guts to buy this phone. Pay lots of money for a phone from a fairly unknown brand. Oppo may not be very well known here, but they are quite a big player worldwide. That's because parent company BBK Electronics also owns brands such as Vivo, Realme and OnePlus. Chances are you've heard of them. So it has experience in making phones and we see that reflected in this Find X2 Pro. It has perhaps the most extensive screen in a smartphone so far. The resolution of Quad HD+ can't get any sharper, the 120 Hz refresh rate can't get any smoother and the HDR10+ colour reproduction can't get any more realistic. Reason enough for DisplayMate to assign an A+ score to this Ultra Vision Screen.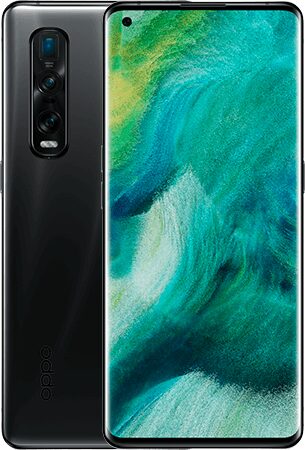 Professional camera with more zoom
Just like its smaller brother the Find X2, the Pro has a triple camera system of at least 48 megapixels. There are also differences. For example, the ultra-wide-angle camera has a higher 48 megapixel and the 13MP telephoto lens can zoom in further. This time it can zoom 5x optically, 10x hybrid and 60x digital. The regular Find X2 was able to bring 2x optical, 5x hybrid and 20x digital images closer. However, both devices share Ultra Nite Mode 3.0 and Ultra Steady Video Pro mode for extra exposed photos in the dark and more stable video images. On the front, processed in the screen, we find a 32MP selfie camera with filters such as AI Beautification and Fill Light for even more beautiful and artistic self-portraits.
Main Oppo Find X2 Pro specifications
Large 6.7-inch Ultra Vision Screen with 3K QHD+ resolution, 120Hz and HDR10+
48+48+13MP camera with OIS, 120° wide angle and up to 60x zoom
32MP selfie camera with various filters and effects
5G support for extra fast mobile internet
4260 mAh battery with 65W SuperVOOC 2.0 fast charging, full in 38 minutes
Snapdragon 865 processor with 12GB of RAM memory for smooth performance
Accurate Pulse Touch Vibration Motor for better interaction
Polished ceramic housing gives premium feel
Almost everything is quick
All this functionality may be so well-intentioned, but it's of little use if your phone isn't fast. To make the Find X2 Pro a powerful phone, room has been made for a Qualcomm Snapdragon 865 processor. This is not only the best chip available at the time of release, it's also a 5G compatible one. There's no shortage of memory because the RAM memory comes out at 12GB, about the most of all Android phones so far, and the storage memory has a more than generous 512GB. That's not expandable, but it won't be needed anytime soon. The battery has a capacity of 4260 mAh, which should be enough to last a whole day. If not, there is lightning fast charging in the form of SuperVOOC 2.0. This means that the X2 Pro is almost full again in 10 minutes of charging. This 65W charger is just in the box. Oppo releases 2 versions of the Find X2 Pro; in ceramic black and an orange version of fake leather. They call it 'Vegan Leather' but it is (unfortunately) not available everywhere.
---
Oppo Find X2 Pro specification summary
Dimensions
165,2 x 74,4 x 8,8 mm
Weight
207 gr
Product code
CPH2025
EAN code
6944284660199, 6944284659568, 6944284659551, 6944284658714, 6944284658707, 6944284658622, 6944284658615, 6944284658608, 5413729235823
Fingerprint recognition
Android
10
Colour display
6.7 inch, Ultra Vision Screen, hole-punch display
Camera
13 MP, 48 MP, 48 MP
Dirt and waterproof
Front camera
32 MP
Processor
2.84 GHz, Qualcomm Snapdragon 865, octa core
Dual SIM
4G (LTE)
5G
Internal memory
512 GB (Storage)
Memory card slot
Battery
4260 mAh
Fast charging
Audio jack plug
---
Videos about the Oppo Find X2 Pro
Eef is a clothing designer. See how she uses the colourful display of the Oppo Find X2 Pro for her work.
The Oppo Find X2 Pro features a professional video camera. But how do you shoot that like a real pro? Filmmaker Werner Herzog does it for
You can hardly make us happier than with a new mobile. That feeling starts as soon as the box is in front of us. That's why we totally understand Wisse when he takes his Oppo Find X2 Pro out of the box.
---
Oppo Find X2 Pro alternatives
Scroll the table below to see more
| | | | | | |
| --- | --- | --- | --- | --- | --- |
| | | | | | |
| | | | | | |
| | Current product | | | | |
| Fingerprint recognition | | | | | |
| Android | 10 | 11 | 10 | 10 | 10 |
| Colour display | 6.7 inch, Ultra Vision Screen, hole-punch display | 6.7 inch, Ultra Vision Screen, hole-punch display | 6.78 inch, Fluid AMOLED, hole-punch display | 6.58 inch, OLED, hole-punch display | 6.7 inch, Infinity-O Display, hole-punch display |
| Camera | 13 MP, 48 MP, 48 MP | 13 MP, 3 MP, 50 MP, 50 MP | 48 MP, 48 MP, 5 MP, 8 MP | 12 MP, 40 MP, 50 MP | 12 MP, 12 MP, 64 MP |
| Dirt and waterproof | | | | | |
| Front camera | 32 MP | 32 MP | 16 MP | 32 MP | 10 MP |
| Processor | 2.84 GHz, Qualcomm Snapdragon 865, octa core | 1.8 GHz, 2.4 GHz, 2.84 GHz, Qualcomm Snapdragon 888, octa core | 1.8 GHz, 2.42 GHz, 2.84 GHz, Qualcomm Snapdragon 865, octa core | 1.95 GHz, 2.36 GHz, 2.86 GHz, octa core | Octa core |
| Dual SIM | | | | | |
| 4G (LTE) | | | | | |
| 5G | | | | | |
| Internal memory | 512 GB (Storage) | 256 GB (Storage) | 128 GB (Storage), 256 GB (Storage) | 256 GB (Storage) | 128 GB (Storage) |
| Memory card slot | | | | | |
| Battery | 4260 mAh | 4500 mAh | 4510 mAh | 4200 mAh | 4500 mAh |
| Fast charging | | | | | |
| Audio jack plug | | | | | |
Complete comparison between the Oppo Find X2 Pro and these alternatives or compare with other models
---
FAQs about the Oppo Find X2 Pro