This Oppo Find X3 Lite is the cheapest of the Find X3 series but nonetheless features 5G support, a smooth 90Hz display, extra fast charging battery and an AI camera with enhanced nite mode. So what really makes this a Lite model? We're going to find out for you here.
What makes this a Lite phone?
Lite, Neo, Mini. We often see these names on phones and we are not very happy with them. It suggests that they are inferior phones. And then it is up to us to disprove or explain it. And that's also the case with this Find X3 Lite. Because if you look at its specifications purely, then you will not find much of a "Lite" in it. The Snapdragon 765G processor is only 1 step below the 8xx series; the current top model. We find the same chipset in the Google Pixel 5, the LG Wing and the Vivo X51 5G. Each of these phones are not exactly "Lite". So our advice is not to dwell too long on the name.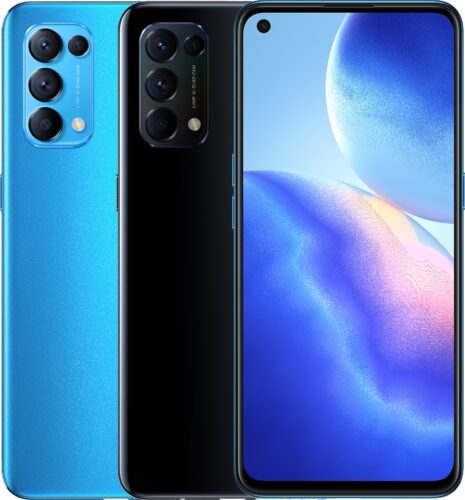 Colourful and fluid screen
And so we move on to the screen. On the front of the Find X3 Lite, we find a 6.43-inch AMOLED panel that produces colourful images with it and can also display animations quickly. All this thanks to the 90Hz support. Compared to the other Find X3 models, this X3 Lite has slightly thicker screen edges. This results in a slightly less compact phone. The maximum peak brightness of the screen is 750 nits, which is considerably less bright than the other Find X3 models. The selfie camera is neatly incorporated into a punch-hole in the corner. It is a high resolution 32MP camera with f/2.4 lens and 85° angle of view. The video camera has a function where you can simultaneously combine the image of the selfie camera with that of the back. Thanks to this Dual-view Video function, you also capture your own reaction.
Main Oppo Find X3 Lite Specifications
6.43-inch FHD+ AMOLED screen with smooth 90Hz display
32MP selfie camera with portrait mode and dual video recording
64+8+2+2MP Quad Camera with 119° ultra-wide angle, macro mode and 4K video (30fps)
Qualcomm Snapdragon 765G with 5G support and 8GB of RAM memory
128GB of storage (non-expandable)
4300 mAh battery with extra-fast wired fast charging
Somewhat redundant camera
On the back we find a 64MP main camera as well as an 8MP ultra wide-angle, 2MP mono lens and a 2MP macro lens. The latter appears to be fairly redundant in practise because of the blurred close-ups it produces. The main camera and the camera with ultra-wide-angle take better pictures. Also in the dark thanks to the Ultra Nite video mode and Nite Flare Portrait for portrait photos with background blur. Inside the Find X3 Lite is a 4300 mAh battery. What's special about it is how fast it can be charged. With a maximum of 65W you can put it on the charger. That's a lot more power than competing phones. Oppo claims that you can recharge for 4 hours in just 5 minutes. A full charge takes 35 minutes. The condition is that you use the 65W SuperVOOC 2.0 charger. This is included in the box, just like a free protective case.