---
---
Pro and cons Oppo RX17 Pro
Futuristic look
Triple rear camera system with 3D function
Large screen with small notch and fingerprint reader
Reasonably large battery with SuperVOOC fast charging
---
Oppo RX17 Pro with contract
Monthly
Upfront

▲

Duration
Minutes
Texts
Data
£ 29,00
£ 0,00
24 mo
unlimited
unlimited
15GB
View deal
£ 31,00
£ 0,00
24 mo
unlimited
unlimited
4GB
View deal
£ 32,00
£ 0,00
24 mo
unlimited
unlimited
25GB
View deal
£ 33,00
£ 0,00
24 mo
unlimited
unlimited
10GB
View deal
£ 34,00
£ 0,00
24 mo
unlimited
unlimited
6GB
View deal
£ 35,00
£ 0,00
24 mo
unlimited
unlimited
50GB
View deal
£ 37,00
£ 0,00
24 mo
unlimited
unlimited
20GB
View deal
£ 38,00
£ 0,00
24 mo
unlimited
unlimited
unlimited
View deal
£ 39,00
£ 0,00
24 mo
unlimited
unlimited
24GB
View deal
£ 41,00
£ 0,00
24 mo
unlimited
unlimited
75GB
View deal
£ 44,00
£ 0,00
24 mo
unlimited
unlimited
100GB
View deal
£ 44,00
£ 0,00
24 mo
unlimited
unlimited
48GB
View deal
£ 49,00
£ 0,00
24 mo
unlimited
unlimited
40GB
View deal
£ 50,00
£ 0,00
24 mo
unlimited
unlimited
unlimited
View deal
£ 47,00
£ 2,99
24 mo
unlimited
unlimited
48GB
View deal
£ 29,00
£ 5,99
24 mo
unlimited
unlimited
4GB
View deal
£ 29,00
£ 11,99
24 mo
unlimited
unlimited
1GB
View deal
£ 35,00
£ 13,99
24 mo
unlimited
unlimited
24GB
View deal
£ 45,00
£ 21,99
24 mo
unlimited
unlimited
unlimited
View deal
£ 28,00
£ 24,99
24 mo
unlimited
unlimited
30GB
View deal
£ 29,00
£ 30,99
24 mo
unlimited
unlimited
25GB
View deal
£ 37,00
£ 30,99
24 mo
unlimited
unlimited
6GB
View deal
£ 30,00
£ 38,99
24 mo
unlimited
unlimited
2GB
View deal
Click here to view all deals
Looking for the lowest prices and best deals. One moment please, it's definitely worth the wait!
---
Price Oppo RX17 Pro SIM Free
---
Oppo RX17 Pro reviews
| | | |
| --- | --- | --- |
| 5 stars | | 0 reviews |
| 4 stars | | 0 reviews |
| 3 stars | | 0 reviews |
| 2 stars | | 0 reviews |
| 1 star | | 0 reviews |
---
---
Oppo RX17 Pro product description
The Oppo RX17 Pro is a colourful smartphone with some impressive specifications. Think of a hidden fingerprint scanner in the screen, 3D camera with nite mode, virtually bezel-less screen with drop-shaped notch and two-colour glass casing with satin structure that prevents greasy fingerprints. Here's what's even more professional about the RX17 Pro.
Futuristic screen with drop-notch and fingerprint recognition
We start at the screen of the Oppo RX17 Pro. With 6.4 inches it can be called substantial. However, due to the thin screen edges, it achieves an impressive screen to housing ratio of 91.5%. This means that almost the entire front is made up of a screen. In front of the camera, only a drop-shaped cut-out has been made, which leaves you with a lot of screen. That screen is protected by sturdy Gorilla Glass 6, which at the time of writing is the most durable glass from manufacturer Corning. This makes version 6 more resistant to falls. Oppo uses a Samsung panel for the screen. This AMOLED panel is known for its bright colours and high contrast values. Black, for example, is really black and the screen is bright enough for outdoor use. And the resolution of 2340 by 1080 pixels ensures sharp images. To finish it off, the screen has a built-in fingerprint scanner. You can't find it by touch, but it's futuristic.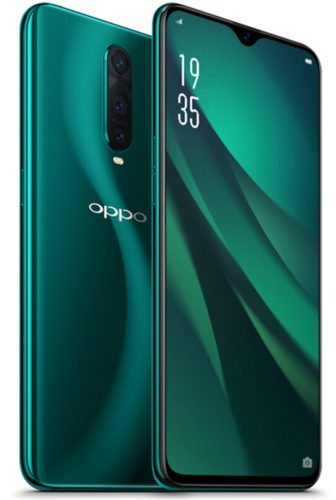 Three rear cameras with 3D
The Oppo RX17 Pro uses even more Samsung components than the screen alone. The camera also comes from the South Koreans. It concerns the camera from the Galaxy S9, S9+ and Note9 with a variable aperture. By being able to switch between an aperture of f/1.5 and f/2.4, you can take sharp photos both in the dark and during the day. The lens features optical image stabilisation for sharper images without motion blur. In addition to this camera, the RX17 Pro has 2 more cameras on the back. A 20 megapixel with f/2.6 lens for portrait photos and zoom and a TOF 3D camera that can see thanks to infra-red depth. With this, Oppo goes a step further than manufacturers who use a 'normal' 2nd camera to capture sharpness/depth. Also a not nauseous one has been chosen; a 25 megapixel AI Beauty camera. With this camera, you can apply filters that make your selfies just a little bit more fun.
Main Oppo RX17 Pro specifications
6.4 inch AMOLED display with Gorilla Glass 6 and drop-shaped notch
128GB of built-in storage (expandable with max. 256GB)
Dual SIM support (2nd SIM card shared with memory card)
Selfie camera with 25 megapixel large sensor and beauty filters
12 + 20 megapixel variable aperture camera + separate 3D camera
Eight core Snapdragon 710 processor with 6GB of RAM RAM memory
Powerful phone, not waterproof
To make the RX17 Pro a serious fast phone, Oppo has chosen the Snapdragon 710 processor from Qualcomm. This relatively new chipset can be found in premium but affordable phones. It is not entirely coincidental that you can use the Oppo RX17 Pro amongst them. The powerful chip has an impressive amount of RAM memory at its disposal; 6 GB. This allows you to launch multiple apps at lightning speed and switch between them. The device's processing power makes it suitable for games, even if it's not primarily intended for that purpose. The RX17 Pro runs Oppo's own ColorOS 5.2 which is based on Android 8.1 Oreo. It is Oppo's own running on the most popular mobile operating system available; Android. You can run your own favourite Android apps on it but it looks a little different than you're used to. Too bad the Oppo RX17 Pro doesn't have a waterproof case and then it lacks wireless charging. That's what you'd expect from a professional phone today.
---
Oppo RX17 Pro specification summary
Dimensions
157,6 x 74,6 x 7,9 mm
Weight
183 gr
Product code
CPH1877
EAN code
6944284633902, 6944284633872, 6944284633865
Fingerprint recognition
Android
8.1
Colour display
AMOLED, notch
Camera
12.0 MP, 2.0 MP
Front camera
25.0 MP
Processor
Qualcomm Snapdragon 710, octa core
Dual SIM
LTE (4G)
Internal memory
128 GB (Storage)
Battery
3700 mAh
Fast charging
Audio jack plug
---
---
FAQs about the Oppo RX17 Pro