Similar to the Phone 2 and available
---
---
Razer Phone 2 reviews
| | | |
| --- | --- | --- |
| 5 stars | | 1 review |
| 4 stars | | 0 reviews |
| 3 stars | | 0 reviews |
| 2 stars | | 0 reviews |
| 1 star | | 0 reviews |
---
---
Razer Phone 2 product description
The Razer Phone 2 is the ultimate gaming phone from hardware manufacturer Razer that you mainly know from gaming keyboards and mice. This Razer Phone 2 is a further development of the Razer Phone announced in 2017 but with waterproof housing, wireless charging and luminous logo on the back.
Quick screen, high quality sound
The Razer Phone 2 is equipped with a large 5.72 inch IGZO screen. The difference between an IGZO screen and a traditional IPS panel is its lower power consumption and faster refresh rate. The latter is especially useful when playing games where you want the highest possible refresh rate. Razer is able to achieve an impressive 120 hertz. Images are refreshed 120 times per second, which gives a very smooth result. The sharpness is guaranteed by a Quad HD resolution and the brightness has increased by 50%. As the icing on the cake, the panel is also suitable for HDR content. Above and below the screen there are two speakers for stereo sound with Dolby Atmos and Dolby 5.1 Surround Sound support. If you prefer to listen with headphones you will have to use the included USB-C DAC. This provides instead of the usual 16-bit the higher 24-bit for high quality Hi-Fi sound.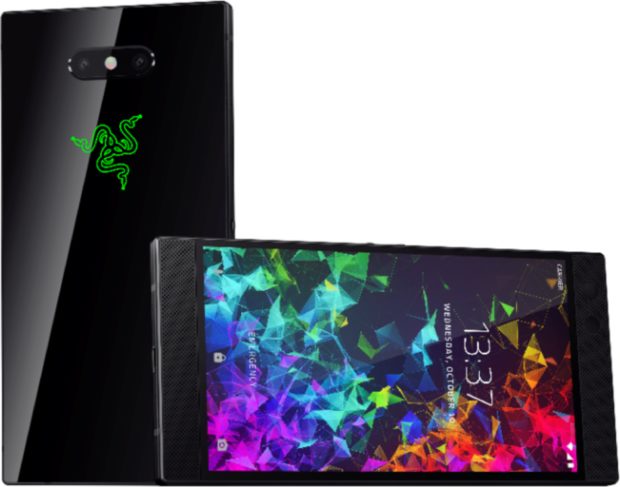 Razer Chroma RGB lighting
A nice picture and strong sound are of little use if the rest of the camera is not fast. That's why Razer used a Snapdragon 845 processor from Qualcomm. This is at the time of release the most powerful and fastest chipset. To keep the head cool, innovative Vapour Chamber cooling has been used. A pity somewhere is that you don't get to see all this because it is built deep into the device. What you can see is the luminous logo on the back. This uses Razer Chroma where you can set the colour yourself. There is a choice of 16.8 million colours with special effects such as static, breathing and spectrum. You can even have the logo light up when you receive a message. So it also serves as a notification light.
Main Razer Phone 2 specifications
Quick 120Hz and 5.7-inch large IGZO display with Gorilla Glass 5 protection
Dust and waterproof (IP67 rating)
Wireless or extra quick wired charging
4G support for fast mobile internet on the go
Powerful Snapdragon 845-processor with ample 8GB of RAM memory
Relative high-resolution 8 megapixel selfiecam with 60fps FHD video
Double 12 Mpixel Sony camera with wide-angle and telephoto zoom lens
64 or 128GB of storage memory, expandable to 1 TB with microSD card
New glass body
Another new feature is that you can charge the Razer Phone 2 wirelessly thanks to Qi support. However, faster is via a wire. Thanks to the QuickCharge+ support, the 4000 mAh large battery will be full again in no time. This time the housing is on the back of glass, which is a bit more fingerprint sensitive. If you're allergic to this, then instead of the Mirror Black version, you should choose the matte Satin Black version, which also gets a larger 128 GB of storage. The case is now water and dust resistant. It's blessed with an IP67 certificate. This means it's not as waterproof as some other phones, but it has to survive a rainstorm. Razer also released the Phone 2 as standard with Android 8.1 Oreo with Nova Launcher Prime on top. You can decorate this launcher to your own taste.
---
Razer Phone 2 specification summary
Dimensions
158,5 x 78,99 x 8,5 mm
EAN code
8886419326045
Fingerprint recognition
Android
8.1
Colour display
IGZO
Camera
12 MP, 12 MP, dual camera sensor
Dirt and waterproof
Front camera
8 MP
Processor
Qualcomm Snapdragon 845, octa core
4G (LTE)
Internal memory
64 GB (Storage)
Battery
4000 mAh
Fast charging
Wireless charging
Audio jack plug
---
Video about the Razer Phone 2
The Razer Phone 2 is a serious gaming phone with now luminous R Î' Z Ξ R Chroma logo.
---
---
FAQs about the Razer Phone 2