The Samsung Galaxy A03 is a very affordable entry-level phone but one with all the necessities for daily activities. We mean a big screen, a dual camera, and a battery that is big enough to last long into the evening. But whether that makes it a phone for everyone, we'll find out here
Modern Infinity-V screen
With the Galaxy A series, Samsung traditionally targets young people who want a lot for little money. If your budget is limited, then this A03 is worth considering. It is one of the cheapest Galaxy phones that Samsung offers. And for not much money, you will be introduced to some Samsung technologies, including an Infinity-V Display. This is a borderless screen with a v-shaped notch at the top for the selfie camera. The screen measures a generous 6.5 inches and runs a relatively sharp HD+ resolution. Unfortunately, the screen is not of the AMOLED type where the colours splash off the screen. Instead, it is a traditional TFT LCD panel that displays colours slightly flatter.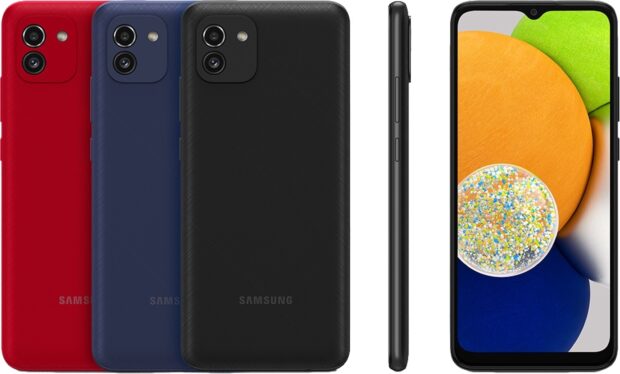 48MP camera with just a little more
Shooting pictures on the go is done with a 48MP camera on the back of the A03. This even shoots lovely photos in the dark, thanks to the bright f/1.8 lens. The camera is kept company by a 2MP depth camera. This allows the Galaxy A03 to distinguish foreground from background and to blur backgrounds. This enables you to shoot more decent photos where the focus is set on the foreground. The selfie camera on the front is 5 megapixels and is ideal for simple self-portraits or video calls. In addition, you can listen to music on the go with the spacious Dolby Atmos. Provided that you plug in headphones. The fact that this is possible is helpful in itself; most phones lack this port
Main Samsung Galaxy A03 specifications
6.5-inch Infinity-V display with HD+ resolution
48+2MP Duo camera with background blur and FHD video
5MP selfie camera with Life Focus effects
Simple 1.6 GHz processor with eight cores and 4GB of RAM
64GB of storage, expandable up to 1TB
3.5mm headphone port with Dolby Atmos support
Dual SIM support with room for 2 nano-SIM cards
Non-removable 5000mAh battery
Released with Android 11, support until October 2025
Long software promise
Samsung applies its One UI software, One UI Core, to be exact. That contains just a little fewer apps and features that even simpler hardware can handle smoothly. However, it is one of the most complete shells on top of Android that we know of. Despite this being an inexpensive phone, Samsung maintains it regularly. The Galaxy A03 will receive quarterly security updates until October 2025. You don't often see that with phones for this amount of money.