The front of the Samsung Galaxy A22 4G and the Galaxy A22 5G look identical to each other: a 6.4-inch large screen with a V-shaped notch at the top. That in itself is worth mentioning; the A21s had a slightly more modern punch hole in the corner. Also the recently introduced M12 got rid of the punch hole and reintroduced the somewhat ancient notch.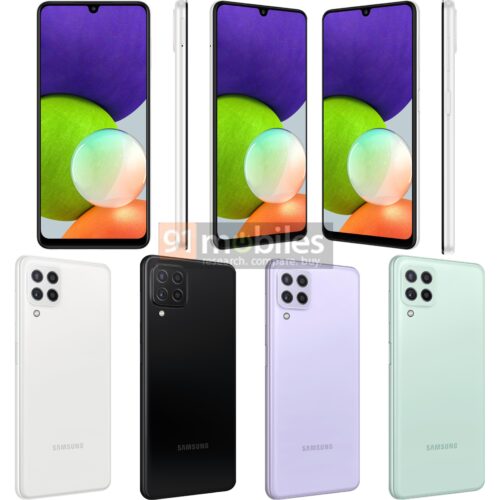 Apart from the similar screen size, the similarities between the A22 4G and A22 5G end. The 4G version has HD+ resolution on an AMOLED panel while the A22 5G has a sharper FHD+ resolution on an LCD panel. As it stands, both screens run at a maximum refresh rate of 60Hz. Smoother animations of 90Hz or higher will therefore remain exclusive to more expensive Galaxy models. For now that is.
Difference in cameras
We also find differences on the back. The 4G version of the Galaxy A22 gets a quadruple camera (48+5+2+2MP) with one 2MP camera less for the 5G version. It's possible that this was done to keep the cost of both models the same, though that remains to be seen for now. On the front, we find a 13MP selfie camera in both phones.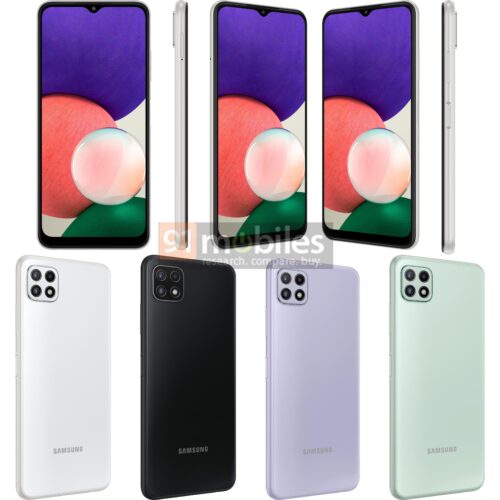 Galaxy A22 in stores
The Galaxy A22 4G is expected to be powered by a Helio G80 chipset from MediaTek. The Galaxy A22 5G is expected to have a MediaTek Dimensity 700 under the bonnet. Both versions will get a large 5000mAh battery with 15W fast charging. Now Samsung just needs to announce both of them. That will happen in white, black, purple and green. We will have to wait and see when and for how much we can buy the A22.
(via)