The Galaxy A22 5G will feature a 6.6-inch screen with FHD+ resolution. At the top is a V-shaped notch for the 8MP selfie camera. At the back, we find three more cameras; a 48MP main, 5MP ultra wide and 2MP depth camera. In parts of Europe, the A22 5G will be sold with 4GB of RAM and 64GB of storage.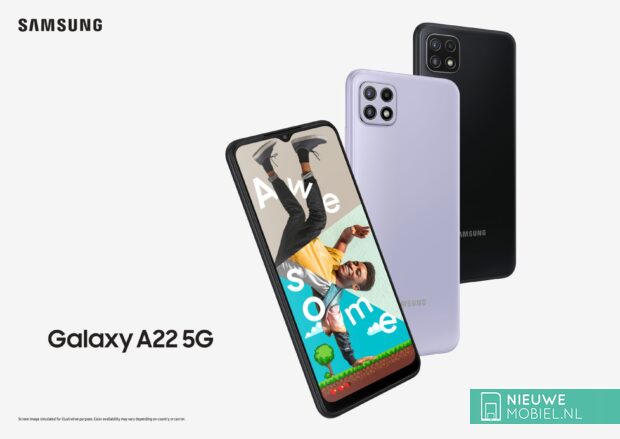 The battery measures 5000 mAh and features 15W fast charging. The fingerprint scanner is located on the right side of the housing, which is made of plastic. This is not so uncommon, as this A22 is found at the bottom of the Galaxy A series, where we find the cheapest smartphones. The recommended retail price is 229 Euros, with a choice of grey, white and purple versions. It will be available at the beginning of July.
Samsung Galaxy A22 4G
And then there is the Galaxy A22 4G. It is still unclear whether it will eventually find its way to most parts of Europe. It may share the name with its bigger brother, most of the differences do stop there. There is (of course) the lack of 5G support, but also the screen is completely different.
The A22 4G has a smaller 6.4 inch display, it is of the Super AMOLED type and has a high refresh rate of 90Hz. In other words, colours are brighter and animations look smoother. The resolution is lower and comes out at HD+. We also find a fourth camera, altho this 2MP macro-camera is of little use in practise for extreme close-ups. The higher 13MP selfie camera can come in handy for those who care about selfies.