---
---
Pro and cons Galaxy A22 5G
Affordable 5G phone
Smooth 90Hz screen
5000mAh large battery
48MP triple camera
---
Samsung Galaxy A22 5G with contract
Monthly
Upfront
Duration
Minutes
Texts
Data
£ 16,00
£ 0,00
24 mo
unlimited
unlimited
6GB
View deal
£ 17,00
£ 0,00
24 mo
unlimited
unlimited
10GB
View deal
£ 17,99
£ 0,00
24 mo
unlimited
unlimited
5GB
View deal
£ 16,00
£ 64,99
24 mo
unlimited
unlimited
6GB
View deal
£ 18,99
£ 0,00
24 mo
unlimited
unlimited
50GB
View deal
£ 19,00
£ 0,00
24 mo
unlimited
unlimited
30GB
View deal
£ 16,00
£ 89,00
24 mo
unlimited
unlimited
30GB
View deal
£ 19,99
£ 0,00
24 mo
unlimited
unlimited
20GB
View deal
£ 20,00
£ 0,00
24 mo
unlimited
unlimited
unlimited
View deal
£ 18,00
£ 49,00
24 mo
unlimited
unlimited
30GB
View deal
£ 19,00
£ 29,00
24 mo
unlimited
unlimited
unlimited
View deal
£ 17,00
£ 79,00
24 mo
unlimited
unlimited
unlimited
View deal
£ 20,99
£ 0,00
24 mo
unlimited
unlimited
unlimited
View deal
£ 21,00
£ 0,00
24 mo
unlimited
-
5GB
View deal
£ 21,00
£ 0,00
24 mo
unlimited
unlimited
5GB
View deal
£ 14,00
£ 169,00
24 mo
unlimited
unlimited
30GB
View deal
£ 20,00
£ 29,00
24 mo
unlimited
unlimited
unlimited
View deal
£ 17,00
£ 104,99
24 mo
unlimited
unlimited
30GB
View deal
£ 21,00
£ 9,00
24 mo
unlimited
unlimited
30GB
View deal
£ 19,00
£ 59,99
24 mo
unlimited
unlimited
30GB
View deal
£ 20,00
£ 39,99
24 mo
unlimited
unlimited
30GB
View deal
Click here to view all deals
Looking for the lowest prices and best deals. One moment please, it's definitely worth the wait!
---
Price Samsung Galaxy A22 5G SIM Free
---
Samsung Galaxy A22 5G reviews
| | | |
| --- | --- | --- |
| 5 stars | | 0 reviews |
| 4 stars | | 0 reviews |
| 3 stars | | 0 reviews |
| 2 stars | | 0 reviews |
| 1 star | | 0 reviews |
---
---
Samsung Galaxy A22 5G in the news
---
Samsung Galaxy A22 5G product description
The Samsung Galaxy A22 5G is a fast 5G phone with a smooth 90Hz screen. The screen is also fairly large, it has a high resolution camera and a low price tag. But does that make it suitable for everyone? That is something that we are going to investigate here.-Low points Samsung Galaxy A22 5G* Screen notch looks a little dated
5G available for everyone
5G is becoming more accessible. Samsung is now even applying it in the lower end of the Galaxy A series. Not long from now and it will be so common that manufacturers won't have to put it in the name anymore. Just like they did with 4G. The fact is that you can use fast mobile internet with this A22 5G. 5G may not be available everywhere yet, but the fact that your phone has it now means that you do not have to buy a new mobile phone when it is. But the Galaxy A22 5G is so much more than a 5G phone.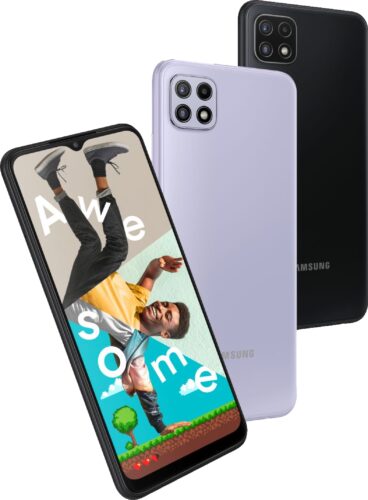 Flashing performance
It's also a phone with a big screen. 6.6 inches to be exact. At the top we find a small notch for the selfie camera, at the bottom a small chin. Special about the screen is the relatively high FHD+ resolution, where other phones in this price range often stick to HD+. Images and text appear sharper as a result. Also special is the higher refresh rate of 90Hz. By refreshing images 90 times per second instead of the regular 60 times, animations and transitions look much smoother. An additional advantage: your phone feels much faster. Speed is further provided by the MediaTek Dimensity 700 5G processor. This is an entry-level chipset but one that is built on 7nm and therefore almost 30% more powerful than a similar processor based on 8nm.
Main Samsung Galaxy A22 5G specifications
6.6-inch Infinity-V display with FHD+ resolution and 90Hz refresh rate
48MP (main) + 5MP (ultra-wide angle) + 2MP (depth) camera
8MP selfie camera with f/2.0 lens
5G support for extra fast mobile internet
MediaTek Dimensity 700 processor up to 2.2GHz starting with 4GB of RAM memory
5000 mAh large battery with 15W fast charging
Plastic body with fingerprint scanner on the side
Good value for money
On the camera front, Samsung has equipped the A22 5G with a 48MP main camera, a 5MP ultra-wide-angle and a 2MP depth camera. Luckily, Samsung does not follow the trend of useless macro cameras that allow you to make extreme close-ups. The depth camera does not have many megapixels, but in combination with the main camera, it is able to distinguish between foreground and background easily. This results in a useful portrait mode. The battery is on the large side with 5000 mAh and has a long battery life. Charging is done with a maximum of 15W, which is not that fast, but technically speaking, it is considered fast charging. All in all, a decent entry-level phone with some premium features for little money.
---
Samsung Galaxy A22 5G specification summary
Dimensions
167,2 x 76,4 x 9 mm
Weight
203 gr
Product code
SM-A226
EAN code
8806092266629, 8806092266612, 8806092266544, 8806092266513, 8806092266421, 8806092266407, 8806092266339, 8806092266230, 8806092266223, 8806092266162, 8806092266087, 8806092266056
Fingerprint recognition
Android
11
Colour display
6.6 inch, Infinity V FHD+, hole-punch display
Camera
2 MP, 48 MP, 5 MP
Front camera
8 MP
Processor
2.0 GHz, 2.2 GHz, MediaTek Dimensity 700, octa core
Dual SIM
4G (LTE)
5G
Internal memory
128 GB (Storage), 64 GB (Storage)
Battery
5000 mAh
Fast charging
---
Video about the Samsung Galaxy A22 5G
In this video we unbox the Samsung Galaxy A22 5G. What is in the box and what is not? We also show you the device from all sides and in all colours
---
Samsung Galaxy A22 5G alternatives
Scroll the table below to see more
| | | | | | |
| --- | --- | --- | --- | --- | --- |
| | | | | | |
| | | | | | |
| | Current product | | | | |
| Fingerprint recognition | | | | | |
| Android | 11 | | 10 | 10 | 10 |
| Colour display | 6.6 inch, Infinity V FHD+, hole-punch display | 6.5 inch, Infinity-O Display, hole-punch display | 6.4 inch, Max Vision Full HD+, hole-punch display | 6.4 inch, IPS, hole-punch display | 6.5 inch, TFT, hole-punch display |
| Camera | 2 MP, 48 MP, 5 MP | 2 MP, 2 MP, 48 MP, 8 MP | 16 MP, 2 MP, 8 MP, 8 MP | 2 MP, 48 MP, 8 MP | 2 MP, 2 MP, 48 MP, 8 MP |
| Front camera | 8 MP | 13 MP | 16 MP | 16 MP | 16 MP |
| Processor | 2.0 GHz, 2.2 GHz, MediaTek Dimensity 700, octa core | 2.0 GHz, octa core | Qualcomm Snapdragon 665, octa core | 1.88 GHz, 2.27 GHz, octa core | Qualcomm Snapdragon 665, octa core |
| Dual SIM | | | | | |
| 4G (LTE) | | | | | |
| 5G | | | | | |
| Internal memory | 128 GB (Storage), 64 GB (Storage) | 32 GB (Storage), 64 GB (Storage) | 64 GB (Storage) | 128 GB (Storage) | 128 GB (Storage) |
| Battery | 5000 mAh | 5000 mAh | 5000 mAh | 4200 mAh | 5000 mAh |
| Fast charging | | | | | |
Complete comparison between the Samsung Galaxy A22 5G and these alternatives or compare with other models
---
FAQs about the Samsung A22 5G