---
---
Pro and cons Samsung Galaxy A72
Water & dust resistant
Large and fluent screen
Camera with 3x zoom
Large 5000mAh battery
Less future-proof thanks to the lack of 5G
---
Samsung Galaxy A72 with contract
Monthly
Upfront
Duration
Minutes
Texts
Data
£ 17,00
£ 184,99
24 mo
unlimited
unlimited
10GB
View deal
£ 14,00
£ 260,99
24 mo
unlimited
unlimited
30GB
View deal
£ 13,00
£ 284,99
24 mo
unlimited
unlimited
10GB
View deal
£ 14,00
£ 263,99
24 mo
unlimited
unlimited
10GB
View deal
£ 15,00
£ 241,99
24 mo
unlimited
unlimited
30GB
View deal
£ 19,00
£ 146,99
24 mo
unlimited
unlimited
10GB
View deal
£ 15,00
£ 244,99
24 mo
unlimited
unlimited
10GB
View deal
£ 16,00
£ 222,99
24 mo
unlimited
unlimited
30GB
View deal
£ 17,00
£ 202,99
24 mo
unlimited
unlimited
30GB
View deal
£ 16,00
£ 236,99
24 mo
unlimited
unlimited
50GB
View deal
£ 22,00
£ 93,99
24 mo
unlimited
unlimited
30GB
View deal
£ 21,00
£ 121,99
24 mo
unlimited
unlimited
10GB
View deal
£ 18,00
£ 194,99
24 mo
unlimited
unlimited
50GB
View deal
£ 23,00
£ 76,99
24 mo
unlimited
unlimited
10GB
View deal
£ 19,00
£ 179,99
24 mo
unlimited
unlimited
50GB
View deal
£ 24,95
£ 47,99
24 mo
unlimited
unlimited
25GB
View deal
£ 24,00
£ 70,99
24 mo
unlimited
unlimited
30GB
View deal
£ 21,00
£ 142,99
24 mo
unlimited
unlimited
6GB
View deal
£ 23,00
£ 105,99
24 mo
unlimited
unlimited
6GB
View deal
£ 25,00
£ 72,99
24 mo
unlimited
unlimited
10GB
View deal
£ 26,00
£ 49,00
24 mo
unlimited
unlimited
24GB
View deal
Click here to view all deals
Looking for the lowest prices and best deals. One moment please, it's definitely worth the wait!
---
Price Samsung Galaxy A72 SIM Free
---
Samsung Galaxy A72 reviews
| | | |
| --- | --- | --- |
| 5 stars | | 1 review |
| 4 stars | | 0 reviews |
| 3 stars | | 0 reviews |
| 2 stars | | 0 reviews |
| 1 star | | 0 reviews |
---
---
Samsung Galaxy A72 in the news
---
Samsung Galaxy A72 product description
The Samsung Galaxy A72 is a large waterproof smartphone with a fast screen and a zoom camera on the back. On top of that, it is equipped with a big 5000 mAh battery that can last you 2 days. We would like to explain to you what else you can get with this A72.
Fluid screen, no 5G
Samsung announced the Galaxy A72 along with the A52 and A52 5G in mid-March 2021. At the time of the announcement, there is still no 5G version of the A72 and that is actually a bit crazy in the year 2021. Still, you can achieve very respectable internet speeds with 4G, but the lack of 5G makes it less future-proof. The housing of the A72 is water and dust resistant. That is not at all a usual feature in the A-series and especially not in this price category. Also neat is that you get a borderless AMOLED screen with 800 nits and 90Hz. So what's in this for you? Thanks to the AMOLED panel, colours are true to life, also readable outdoors and animations look very smooth. Who wouldn't want that?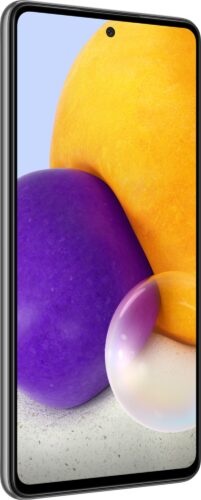 Camera with 3x optical zoom
In recent years, phone manufacturers only applied a telephoto camera in their most expensive flagships. This allows you to optically zoom in, so that you do not lose quality, as is the case with digital zooming. We were therefore pleasantly surprised that the Galaxy A72 has an 8MP telephoto camera with 3x optical zoom. Digitally, you can even zoom in up to 30x, where the A52 sticks to 10x. It is also nice that this zoom camera is equipped with optical image stabilisation (OIS). Especially when zooming, you want unintended movements to be neutralised, something that OIS does very well. The main camera also has stabilisation and counts 64MP. Enough for razor sharp shots. There is also a 12MP ultra-wide-angle camera that allows you to capture a little more and a 5MP macro camera for extreme closeups.
Most important Samsung Galaxy A72 specifications
Large 6,7-inch AMOLED screen with punch hole and smooth 90Hz
Quad camera with OIS image stabilisation and 3x optical zoom
32MP selfie camera with portrait mode
New looks with waterproof IP67 exterior
Stereo speakers by AKG
5000 mAh large battery with 25W fast charging
2,3 GHz octa-core processor with 6GB RAM memory
128GB storage memory, expandable up to 1TB
Dual SIM (slot shared with memory card)
Battery that lasts two days
Samsung has equipped the A72 with an octa-core processor with 6GB of RAM memory and 128GB of storage memory. If that's not enough, you can insert a memory card up to 1TB. That slot is shared with the 2nd SIM card. Both places do not fit. Inside is also a large 5000 mAh battery with support for fast charging. That goes up to a maximum of 25W. Samsung claims that you can do 2 days with a full charge and we are inclined to believe them. Wireless charging is unfortunately not included. Have we covered everything then? We could tell you more about the stereo speakers that have been tuned by AKG, but you have to listen to them yourself in order to make a good judgement.
---
Samsung Galaxy A72 specification summary
Dimensions
165 x 77,4 x 8,4 mm
Weight
203 gr
Product code
SM-A725
EAN code
8806092093195, 8806092093188, 8806092093164, 8806092092990, 8806092092860, 8806092092853, 8806092092846, 8806092091788, 8806092018914, 8806092018839, 8806092018815, 8806092018808, 8806092018679Show 8 others

, 8806092018662, 8806092018402, 7423406780728, 7423406779753, 7423406776752, 7423406768719, 5413729238473, 5413729238466, 5413729238459

Fingerprint recognition
Android
11
Colour display
6.7 inch, Infinity-O Display, hole-punch display
Camera
12 MP, 5 MP, 64 MP, 8 MP
Dirt and waterproof
Front camera
32 MP
Processor
1.8 GHz, 2.3 GHz, octa core
Dual SIM
4G (LTE)
Internal memory
128 GB (Storage), 256 GB (Storage)
Battery
5000 mAh
Fast charging
---
Videos about the Samsung Galaxy A72
The new Samsung Galaxy A52 5G and A72 have a waterproof body! That is handy when you want to take a sharp picture in wet conditions
"Awesome screen, awesome camera, long lasting battery life" is the best way to describe the Samsung Galaxy A 2021 series. Meet the A32, A52 5G and A72
The Samsung Galaxy A72 and A52 are coming and according to Samsung they are "Awesome"! March 17, 2021 we will know what they mean by that
Now also a moving render of the Samsung Galaxy A72 5G
---
Samsung Galaxy A72 alternatives
Scroll the table below to see more
| | | | | | |
| --- | --- | --- | --- | --- | --- |
| | | | | | |
| | | | | | |
| | Current product | | | | |
| Fingerprint recognition | | | | | |
| Android | 11 | | 10 | 11 | 11 |
| Colour display | 6.7 inch, Infinity-O Display, hole-punch display | 6.7 inch, Infinity-O Display | 6.55 inch, Fluid AMOLED, notch | 6.55 inch, Fluid AMOLED, hole-punch display | 6.7 inch, CinemaVision, hole-punch display |
| Camera | 12 MP, 5 MP, 64 MP, 8 MP | 12 MP, 5 MP, 5 MP, 64 MP | 12 MP, 16 MP, 48 MP | 16 MP, 2 MP, 48 MP, 5 MP | 16 MP, 2 MP, 64 MP |
| Dirt and waterproof | | | | | P2i coating |
| Front camera | 32 MP | 32 MP | 16 MP | 16 MP | 16 MP, 2 MP |
| Processor | 1.8 GHz, 2.3 GHz, octa core | 1.8 GHz, 2.2 GHz, octa core | 2.96 GHz, Qualcomm Snapdragon 855+, octa core | 1.8 GHz, 2.42 GHz, 2.84 GHz, Qualcomm Snapdragon 865, octa core | 1.80 GHz, 2.42 GHz, 2.84 GHz, Qualcomm Snapdragon 870, octa core |
| Dual SIM | | | | | |
| 4G (LTE) | | | | | |
| Internal memory | 128 GB (Storage), 256 GB (Storage) | 128 GB (Storage) | 128 GB (Storage) | 128 GB (Storage), 256 GB (Storage) | 128 GB (Storage) |
| Battery | 5000 mAh | 4500 mAh | 3800 mAh | 4500 mAh | 5000 mAh |
| Fast charging | | | | | |
Complete comparison between the Samsung Galaxy A72 and these alternatives or compare with other models
---
FAQs about the Samsung A72