The Samsung Galaxy A8 (2018) looks to be a beautifully designed smartphone with dual selfie camera, Infinity display, waterproof body and fast charging. At least if we are to believe Samsung's own press release. We're a lot more critical and in this prevue, we'll go over every aspect of the device to see if Samsung can live up to those claims
Double camera with Live Focus
The Galaxy A8 (2018) models are characterised by the dual selfie camera. This is a premium feature that is usually only destined for the very expensive smartphones. Samsung uses a 16 and 8 megapixel camera, both equipped with a lens with maximum aperture of f/1.9. This is handy, as it means that you do not need to use a flash in the twilight. There is no flash in the front either, so maybe that is why Samsung uses such a bright lens. Every camera has its strong points; one is ideal for close-ups and the other for portrait photos. The Dual Front Camera is also ideal for blurring the background. This is especially handy for portrait photos where the person is in focus but the background is blurred. Thanks to the Live Focus function, you can change the focus from the front to the background yourself. This even works after you have shot the photo if you change your mind.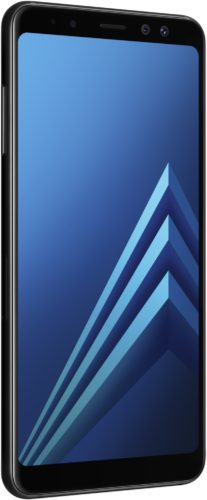 Stable videos thanks to image stabilisation
On the back we find an equally 16 megapixel camera that has to do it alone this time. Fortunately, there is an even brighter f/1.7 lens to help it along. Nite photography should be possible with this. If it should become too dark, then the main camera does have its own flash. Samsung has added extra functions such as a Food mode that allows you to better highlight food and various filters without having to instal any apps. Videos benefit from digital image stabilisation. This VDis function should prevent shaky video images. All these premium features come in an equally premium body. Front and back, it's made of curved glass held together by a metal frame. It does this so well that it is water and dust resistant. Officially it is IP68 certified which means that the A8 survives one and a half metres in fresh water for 30 minutes. Another advantage is that if it gets dirty you can play it under a tap
Main Samsung Galaxy A8 (2018) specifications
Waterproof and dust-resistant body (IP68 certified)
Powerful Exynos 7 processor at up to 2.2 GHz with 4GB of RAM memory
16-megapixel rear camera with bright f/1.7 lens
Double selfie camera (16+8 megapixels) with focus setting
5.6-inch Full HD+ Super AMOLED screen with curved glass
Featured with fast 4G mobile internet
32GB storage + memory card slot up to 400GB
Great display
Have we not discussed one other major plus point of the Galaxy A8 (2018) yet and that is its display. This so-called Infinity Display covers a large part of the front and has a modern elongated ratio, ideal for movies and video. The thin screen edges ensure that the 5.6-inch screen does not feel too big. Charging is done with a modern USB-C cable that due to the symmetrical connexion has no top or bottom. Never plug it in the wrong way again. You can also plug in normal headphones thanks to the presence of a 3.5 mm audio jack. Recharging is not required very often thanks to the 3000 mAh battery, but it is good to know that the device does fast charging. This means that if your battery does run out, you won't have to wait for hours to get back on the road. This Galaxy A8 2018 is the single SIM version which means that it can only hold one SIM card. There is also a Dual SIM version where there is room for two SIM cards, cheque out the Galaxy A8 (2018) Duos for that
Ageing software
A disadvantage is the lack of clarity regarding possible Android updates. You are fairly at the mercy of Samsung and its whims. For example, at the time of writing, you are on Android 7.1 Nougat while Android 9.0 Pie has already been announced. For a phone of this price, that's quite a downside. There is no telling when an update will follow. If you think fast Android updates are important, then it is advisable to look at a Android One phone in this price range.