The Samsung Galaxy M12 features a monstrously large 6000 mAh battery, a smooth 90Hz screen and a sharp 48MP camera. But it's also pretty inexpensive. All this sounds like an attractive package but does this make it fit to be your next mobile phone? We'll find out here
Large battery in a slim phone
With the Galaxy M series, Samsung is mainly focussing on one thing; a large battery. It seems to have succeeded quite well with the M12. It measures a capacity of 6000 mAh, which is above average. So big in fact, that you can use it for several days. It is also helped by the energy-efficient processor that provides it with processing power. The Exynos 850 processor is built on 8nm and has a fast 2.0 GHz clock speed, which makes it nice and fast for daily use. Yet you do not immediately see the large battery on the outside. With 9.7 millimetres, the housing has stayed neatly under the 10mm. The weight does reveal its large battery; at 212 grammes, it is a bit heavier than an average phone. Fortunately, the ribbed back helps prevent accidental drops.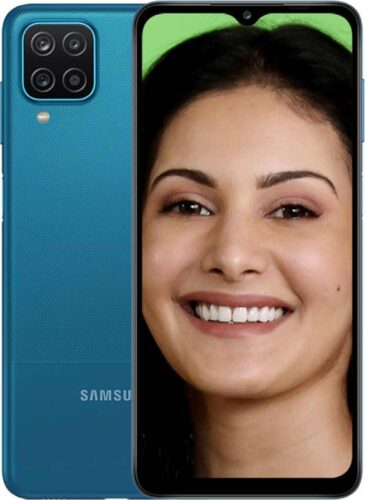 Fluid 90Hz Infinity V display
But the Galaxy M12 is so much more than just big battery. Up front is a 6.5-inch Infinity V display with HD+ resolution. What's special about this is the fast 90Hz refresh rate. This makes animations look smoother. Scrolling, for example. On the back, we find a 48MP camera with another 3 separate lenses. A 5MP with ultra-wide angle, a 2MP macro and a 2MP depth lens. This gives you enough resources to take a good picture in numerous situations. On the front we find another 8MP camera for all your selfies
Main Samsung Galaxy M12 specifications
6000 mAh big battery with long battery life + 15W fast charge
6.5 inch Infinity V display with HD+ resolution and 90Hz display
Four cameras (48+5+2+2MP) with ultra wide angle, macro and depth
8MP selfie camera with f/2.2 lens
2GHz octa-core processor with entry-level 4GB of RAM memory
64GB of storage (expandable up to 1TB)
Dual SIM support (2x nano-SIM + space for memory card)
Released with Android 11, updates till Android 13
Not only the battery that lasts long
Other than that, you should see the Galaxy M12 mainly as a relatively simple smartphone for admittedly long but simple use. That also translates back to an affordable price. Luxury features such as a sharp FHD+ screen resolution, camera with optical image stabilisation (OIS) or telephoto zoom, a lot of memory, NFC and fast Wi-Fi 802.11ac are missing. However, the M12 does feature Dual SIM (2x a nano SIM card), convenient USB-C and 3.5mm audio jack, a fingerprint scanner on the side and Android support up to at least Android 13. In other words, a reasonably future-proof choice for not too much money.