There are some varying rumours about the battery capacity of the Galaxy M22 though. One source thinks it will be 5000 mAh large but that would be 1000 mAh less than in the current Galaxy M21. That doesn't make a lot of sense so maybe we'll see a 6000 mAh unit after all.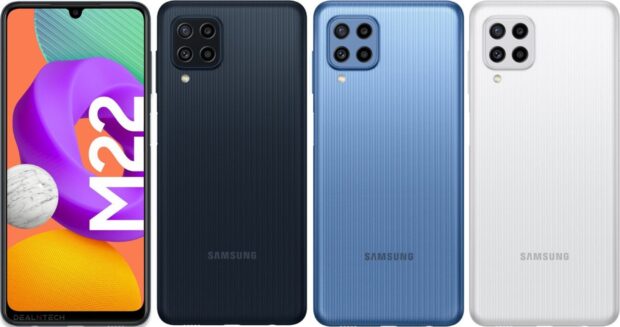 The support page for the M22 has now been put online by Samsung Singapore and Malaysia, as was noted by 91mobiles. A strong indication that an announcement is imminent. The device will receive model number M225FV/DS, with DS standing for Dual SIM.
Galaxy M22 specifications
Other specifications of the Samsung Galaxy M22 are a 6.5 inch large HD+ screen with smooth 90Hz refresh rate. On the back, a quadruple camera with at least 48MP is expected. Inside we'll find a MediaTek processor with 4GB of RAM memory and 128GB of storage. The latter would be double the current 64GB in the Galaxy M21
Whether all these specifications are correct will be seen when it is officially announced by Samsung. By then, we won't be able to say something meaningful about the battery capacity with certainty. And whether the rumour about faster charging of 25W is actually true.
Image: DealNTech