---
---
Pro and cons Samsung Galaxy S8
Engaging unique screen
Selfiecam with Smart Auto Focus
Iris security
Personal Assistant button
Uncomfortable place for fingerprint scanner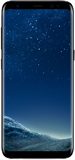 ---
Samsung Galaxy S8 reviews
| | | |
| --- | --- | --- |
| 5 stars | | 0 reviews |
| 4 stars | | 0 reviews |
| 3 stars | | 0 reviews |
| 2 stars | | 0 reviews |
| 1 star | | 0 reviews |
---
---
Samsung Galaxy S8 in the news
---
Samsung Galaxy S8 product description
The Samsung Galaxy S8 is Samsung's flagship for 2017 and is the first with the so-called Infinity Display that takes up almost the entire front. The effect this gives is difficult to capture on photos, you will have to see it in real life. Apart from the new display, the S8 brings even more innovation. Time to take a closer look at that.
Screen to dive into
With the Galaxy S8, Samsung has tried to come up with a new design for what we think a mobile phone is. The curved screen on the left and right hardly results in a screen border. Now the edges above and below the screen have almost disappeared as well. You are, as it were, sucked into the device. What's more, the result is a relatively compact device with a large screen. As said before, it is difficult to put into words, and photos and pictures do not do justice to the effect this Infinity screen gives. Only when you have it in your hands you know what we mean. This new all-encompassing screen does have one drawback: the familiar home button with fingerprint recognition is gone. The Home button is now displayed on the screen, as are the Back button and the Multitask view. The fingerprint scanner can now be found on the back of the screen right next to the camera. That's not only getting used to, you also leave a faster swipe on the same camera. Fortunately, the S8 warns you when the camera lens gets dirty.
Main Samsung Galaxy S8 specifications
5.8 inch large Infinity screen made of rugged Gorilla Glass 5
Powerful octacore processor (Exynos 8890) with high performance and low power consumption
Relative high 8 megapixel selfie camera with autofocus
Support for gigabit 4G Internet speeds
Standard with 64GB of storage, expandable up to 256 GB via microSD card
Still 12 megapixel main camera with bright f/1.7 lens and enhanced software
Waterproof and dustproof IP68 housing (up to 30 minutes to 1.5 metres)
New sharper selfie camera
The differences are smaller in the camera area. Samsung still uses a 12 megapixel Dual Pixel camera with an impressive bright lens with a maximum aperture of f/1.7. Additionally, there is optical image stabilisation. So expect clear and sharp photos even in the dark. In spite of the fact that the specs look the same, work has been done on the underlying software. Because of this, better settings are chosen, which results in nicer photos. The real innovation, however, can be found at the front. There is a higher resolution selfie camera of 8 megapixels which is now equipped with autofocus. That makes super close-ups possible. Furthermore, the S8's selfie camera is equipped with Smart Auto Focus that automatically follows and focuses on faces, even multiple faces.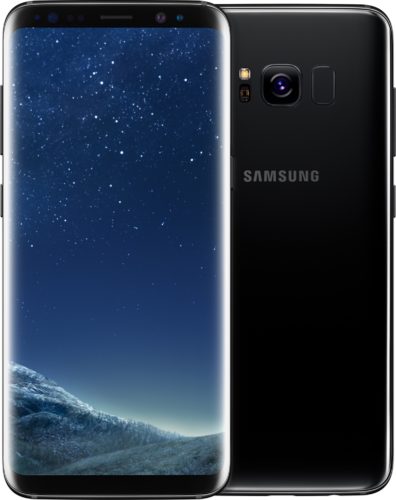 New biometric recognition
Samsung introduces a new extra way to unlock the Galaxy S8. Recognition of your iris. That part of your eye is unique and difficult to fake. It is a bit slower than fingerprint recognition, so it is more of an extra way than a good alternative. You can also use the iris recognition to get to your safe folder. It contains apps that only you are allowed to use. Other ways to unlock your S8 are fingerprint recognition, facial recognition, pattern, pin or password. So there's plenty of choice to secure your device. Facial recognition in particular is an interesting alternative to fingerprint recognition. If you cannot get used to the new location of the scanner, facial recognition is a quick and workable alternative.
Bixby; your personal butler
Samsung is one of the first phones to equip the Galaxy S8 with Bixby. That is her new personal assistant and therefore comparable with Siri on the iPhone and Cortana on Windows Phones. After its launch, the assistant is still in its infancy and can therefore only handle a few Samsung apps of her own. Eventually, several apps and languages will follow. Handy is that Bixby can not only be called up by shouting "Hey Bixby", he is at your service after a push on the button. A Bixby Convenience button has appeared on the left. Bixby immediately reads the screen and understands what you were doing. He can also recognise images looking for more information about them. Handy if you are on holiday and want more information about the monument you are standing for at that moment.
---
Samsung Galaxy S8 specification summary
Dimensions
148,9 x 68,1 x 8 mm
Weight
152 gr
Product code
SM-G950F
Code name
Samsung Dream
EAN code
8806088996363, 8806088848723, 8806088820255, 8806088730332, 8806088730271, 8806088722856, 8806088711362, 8806088711003, 8806088710648, 8806088709949, 8806088704562, 8806088704517, 8806088704470Show 20 others

, 8806088704463, 8806088704432, 8806088704319, 8806088702902, 8806088702568, 8806088701196, 8801643248659, 8801643072117, 8801643056780, 8801643044053, 8718256878121, 8056735013572, 8033779039157, 8033779039133, 5413729230767, 4773350373426, 2750076289509, 2750076289479, 2750076289462, 0887276218830, 0600736756846

Fingerprint recognition
Android
7.0 (Nougat)
Colour display
Infinity Super AMOLED Quad HD+
Camera
12.2 MP
Dirt and waterproof housing
Front camera
8.0 MP
Processor
Samsung Exynos 8890, octa core
LTE (4G)
Internal memory
64 GB (Storage)
Battery
3000 mAh
Fast charging
Wireless charging
Heart rate monitor
---
Samsung Galaxy S8 alternatives
Scroll the table below to see more
| | | |
| --- | --- | --- |
| | | |
| Photos at scale | | |
| | Current product | |
| Fingerprint recognition | | |
| Android | 7.0 (Nougat) | 8.0 (Oreo) |
| Colour display | Infinity Super AMOLED Quad HD+ | Infinity Super AMOLED Quad HD+ |
| Camera | 12.2 MP | 12.2 MP |
| Dirt and waterproof housing | | |
| Front camera | 8.0 MP | 8.0 MP |
| Processor | Samsung Exynos 8890, octa core | Samsung Exynos 9810, octa core |
| LTE (4G) | | |
| Internal memory | 64 GB (Storage) | 256 GB (Storage), 64 GB (Storage) |
| Battery | 3000 mAh | 3000 mAh |
| Fast charging | | |
| Wireless charging | | |
| Heart rate monitor | | |
Complete comparison between the Samsung Galaxy S8 and these alternatives or compare with other models
---
FAQs about the Samsung S8