The Samsung Galaxy Xcover Pro is a robust smartphone with a modern look. Previously that two did not go well together. For example, this Xcover Pro does have a large (reasonably) bezel-less display, a screen with built-in selfie camera and a double camera on the back. And yet you can drop it without any worries thanks to an impact-resistant housing that is IP68 water and dust resistant.
Robust giant
Previously, rugged phones did not have very large displays. This Galaxy Xcover Pro is therefore quite odd. With a 6.3 inch screen it has the largest screen in a robust phone ever. The reason why others prefer to keep the display small is because you often use this kind of phone outdoors and operate it with gloves. Samsung has thought of this: there are 2 programmable XCover Keys with which you can open the app you want with 1 push of a button. It also has a handy notification LED to let you know if you have unread messages or missed calls without unlocking it. The large screen stays protected thanks to the extra padding on the corners.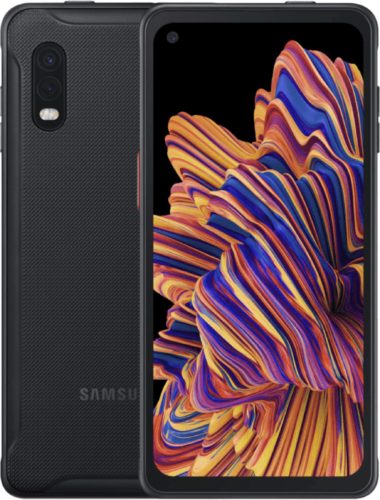 Double camera, removable battery
Something we don't often see on rugged phones are double cameras. On the back of the XCover Pro you will find a 25 megapixel camera and a 8 megapixel camera sensor. This allows the Pro to distinguish foreground from background and add an effects. For example the addition of background blurring. If you don't have to get fancy, the double camera sensor also helps to take better exposed shots, for example in the dark. The flash can also be used as a flashlight if the workplace gets too dark. Inside the phone we find a 4050 mAh battery. According to Samsung that is enough for 29 hours of phone calls or 15 hours of video. What we especially like about it is that you can replace it yourself. You don't see that much nowadays.
Main Samsung Galaxy XCover Pro specifications
Large 6.3 inch screen with glove control
25 + 8 megapixel main camera with effects and Full HD video
2 programmable Xcover keys
Fast mobile 4G internet
Possibility to insert memory cards (max 512GB)
Supports Dual SIM (2x nanoSIM)
Rapid processor at up to 2,3 GHz
Self-replaceable battery of 4050 mAh
2 sim cards + memory card
The version of the XCover Pro sold here offers space for 2 SIM cards. You can be reached at two different numbers. There is also room for a memory card and the beauty of this is that you can place all three. With some other Dual SIM phones you have to share the 2nd slot for the SIM card with the memory card. With this Pro you don't have to choose anymore. That's a good thing because of the internal storage memory of 64 GB there is 49.2 GB for you to use freely. That can be filled easily with a few photos, videos and apps so some extra memory is very welcome. You can expand up to 512 GB of memory by inserting a microSD card.
Enterprize Edition
Whoever buys a Samsung Galaxy XCover Pro here gets the so-called Enterprize Edition. This means guaranteed updates for a longer period. Samsung promises to release updates and upgrades for 4 years, so it will not quickly become obsolete. Convenient for companies, which is why it is mainly intended for the business user.